The Office for National Statistics estimates that during the summer of 2022, there were 4507 heat-related deaths in England, with just under 3000 excess deaths among the elderly in England and Wales. There strongly appears to have been a general increase in heat-related deaths since 2013 in summer, with a particularly marked uptick since 2018.
However, when adjusted for population growth, the rate during the period 2013-2022 is comparable to the rate that we saw during the period 1995-2006 when 1995 (which saw persistent hot weather during late June, July and August) was a high point with around 4000 excess deaths. 1997, 2003 and 2006 were other high years, all of which contained notable summer hot spells. The low values of 2007 to 2012 correspond to a run of wet, relatively cool and often cloudy summers, which caused some impacts of their own which aren't reflected in the numbers of heat-related deaths, such as the widespread flooding in July 2007. This perhaps points towards England adapting to the warming climate, though it remains to be seen whether the higher values since 2018 will be sustained in the future.
The record-breaking warm first third of September 2023 is now a fading memory for many as our weather has moved into a far more traditional autumnal pattern, with temperatures close to average for the time of year. It is probable that this late heatwave would have caused far more heat-related deaths had it happened in July or August, particularly given the exceptional heatwaves in the Mediterranean during July. But during July and August 2023, for much of the time, Britain was being affected by relatively cool and unsettled weather with westerly winds, which resulted in the heat being bottled up somewhat over north Africa and the Mediterranean before some of this heat headed our way during early September.
Today
We are in the middle of an unsettled and autumnal spell of weather at present, but today is looking set to be a quieter day with a ridge of high pressure moving eastwards across the British Isles. We have plenty of cloud and some light showers across the Scottish Lowlands and in south-east Scotland and north-east England, but most other regions have dawned with plenty of sunshine.
During the rest of today, we can expect the cloud and light showers to gradually clear away from parts of Scotland and north-east England, particularly during the afternoon, with some sunshine coming through, and for most of the rest of the UK, it will be a dry and sunny day. However, there will be cloud and rain moving through Northern Ireland during the afternoon, spreading from the west, and it will cloud over in Wales, south-west England and south-west Scotland during late afternoon and evening, with rain spreading into western coastal areas.
It will also turn increasingly windy in western Britain, especially Northern Ireland. Afternoon temperatures will generally reach between 17 and 19C in England, but for much of Scotland and Northern Ireland, they will only reach around 14C.
It will turn wet and windy overnight tonight, although East Anglia and south-east England look likely to miss the rain. Due to this, temperatures will hold up above 10C in most parts of the country, falling no lower than 12 or 13C in most parts of England, though parts of northern Scotland may fall to between 7 and 9C early on before the wind and rain arrives.
Sunday and beyond
On Sunday, the wet and windy weather, with potential for gales around exposed west and south-facing coasts, will persist over much of the country, but again East Anglia and south-east England will generally miss the rain, and during the afternoon, most of England and Wales will brighten up, with temperatures reaching between 20 and 22C widely.
North-east Scotland will also see quite a long window of drier weather, with highs of around 18C in the north and east of Scotland. During Sunday night, another band of rain will move from west to east, but again, not producing much rain in East Anglia and south-east England.
Monday looks set to be a bright day with a scattering of showers, while an organised band of rain will spread from west to east on Tuesday. A recurring theme will be that it will generally stay dry in East Anglia and the south-east, but this will change on Wednesday when we are watching the potential for a deep low-pressure system to track across southern England, which has the potential to bring very strong winds along the English Channel coast in particular.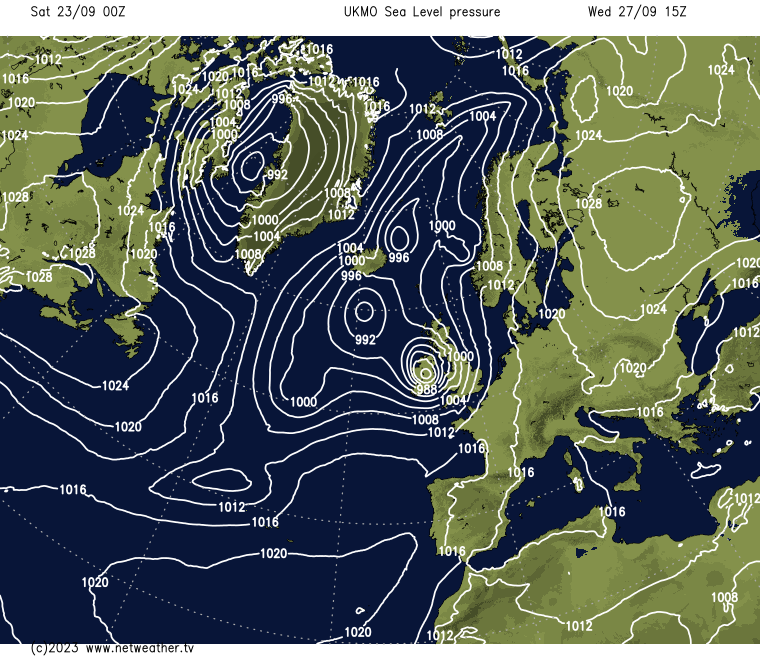 This southerly tracking low is highly likely to bring substantial rain to England and Wales, including East Anglia and the south-east, and it may well be that Scotland sees the quietest weather on Wednesday, with sunshine and a scattering of showers. However, there is some uncertainty over the path of this low, and it needs closely watching.