Autumn has arrived for the UK with two ex-hurricanes adding their tropical energy to low pressures impacting our weather. The first one, Lee has brought wet and windy weather for the start of Wednesday. Nigel nears on Sunday.
For the mid-week period, we are dealing with ex-hurricane Lee and some wild weather and heavy and persistent rain. For Tuesday night, there was heavy rain and gusty winds with flooding for Inverclyde including a submerged railway line west of Glasgow. There was also flooding in the Lake District and warnings for rain and flooding continue on Wednesday. As active fronts continue south-eastwards today there will be more heavy rain, the risk of thunderstorms and further surface water flooding.

Risk of severe weather on Weds 20th with heavy rain and strong wind risk. Netweather Radar from 11:25 showing heavy rain over Wales and England
"…organising convection into intense linear bands with potential for cold downdrafts surging forward from them, there is a risk of strong wind gusts (40-50mph). Also, convection could bring brief intense rainfall leading to localised flooding." Convective forecast
At 11am, there were 9 flood warnings from Natural Resources Wales and numerous alerts. SEPA had 14 flood warnings for Scotland across the mainland with several focused in the central region. Weather warnings continue today for NW England and Wales with heavy downpours extending into SW England this lunchtime. Southeast England across to the Isle of Wight, London and part of East Anglia has a yellow rain warning later today and overnight from the UK Met Office as the frontal band sets in. There will be strong gusty winds for England, particularly along the English Channel Coasts this afternoon as the lee gusts for northeast England and Yorkshire ease, as will conditions over the Pennines.
Heavy rain for Southeast
There is a yellow Rain warning from the Met Office with mentions the risk of travel disruption later today. Convective Forecast mentions "the potential for one or two brief tornadoes to form where breaks in line convection occur. Also, this may prolong heavy rainfall towards SE England which may lead to flash flooding." Torro has confirmed a tornado occurred on Tuesday at Littlehampton/Wick after investigating the damage caused. There will be some more lively weather this week.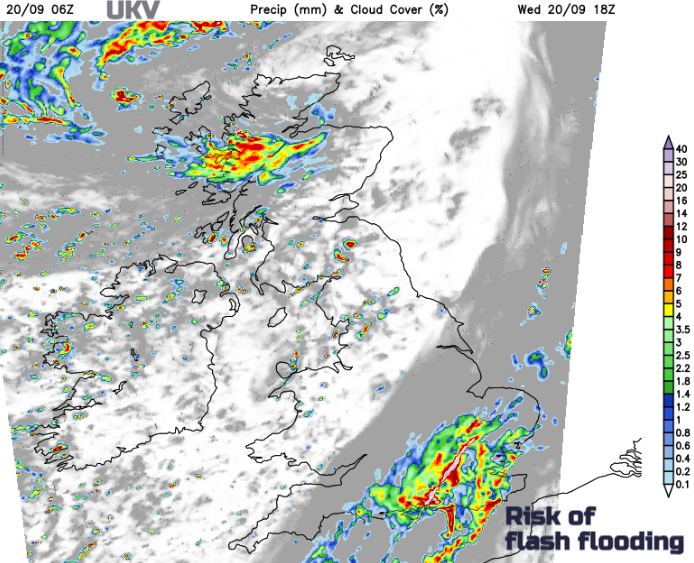 Southeast Britain will see a windy and wet end to the day with the risk of flash flooding in some of the more intense downpours. There will be some improvement for Wales, the north and west Midlands and Northern Ireland but worsening weather for parts of Scotland.
Inshore Waters Issued at 06Z on Wed 20 Sep 2023 –"An Atlantic low pressure pushes north-eastwards across Scotland during the next 24 hours…with gales expected at times in all areas, strengthening to severe gale or storm force winds for a time along the northern and western coastlines of Scotland and Northern Ireland." Met Office
The forecast mentions Gale 8, severe Gale 9 even Storm force 10 winds with very rough seas as the extratropical cyclone (ex-Lee) passes close to NW Scotland later today.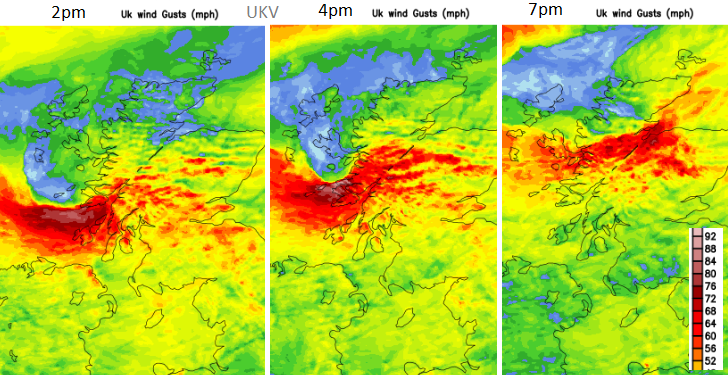 Wild Scotland tonight
The high winds transfer away from north coast Northern Ireland and look to intensify for Scotland. The ongoing gusty weather across Scotland will make conditions difficult on exposed roads and bridges but there are particular concerns about high gusts and strong winds for western Scotland this afternoon and evening with a yellow wind warning.
"Strong south-westerly winds may cause some localised disruption during Wednesday afternoon and evening... Gusts of 50-60 mph are expected fairly widely but a few places are likely to see gusts of 70-75 mph, particularly across Mull and Tiree." MO
A curl of stronger winds is showing on the forecast models as the low centre nears NW Scotland and the highest gusts impact Tiree, Mull then Skye and the Minch. The UKV model takes the strongest wind core along the Great Glen and then into the Moray Firth for Wednesday evening. West coast ferry services are already adding to their disruption information.
It will remain windy for the NW Highlands, the Northern Isles and the Minch on Thursday morning in a SW to S wind with clusters of heavy showers. There will also be a scattering for Northern Ireland and NW Wales but a bright and fine start elsewhere. It will feel cool and Friday morning will see much of the UK down into single figures as the dig of the north-westerly flow behind ex-Lee takes hold. Thursday will see plenty of sunny spells with a scattering of hefty showers. There will be more cloud and showery rain for Northern Ireland and parts of Scotland, focused from the north and west with fine weather for southeast Scotland and northeast England.
Later this week
The cool, blustery and showery flow continues on Friday with a lull for Saturday as pressure rises ahead of the ex-Hurricane Nigel low pressure. There could still be a lot of cloud caught up in the nose of high pressure but it looks drier and less windy. Under any thicker cloud, it will still feel cool but with sunny spells, it should feel okay. Warm air is caught up in the next low pressure which brings more wind and rain from the Atlantic. The current forecast shows that reaching Ireland on Saturday night with heavy rain and strong winds for western Britain and around the Irish Sea on Sunday afternoon, although brighter spots could see temperatures pop up into the low 20s C.