There are two hurricanes in the Atlantic. Hurricane Margot is way out at sea, mid-ocean and Hurricane Lee is the one to watch for those in New England, northeast USA and the Maritimes of southeast Canada.
The headline from the US National Hurricane Centre (NHC) is "Immense Hurricane Lee Setting Its Sights on New England and Atlantic Canada"
The Canadian Hurricane Centre (CHC) states "Hurricane Lee: This is a Saturday-into-Saturday-night event for the strongest impacts with lingering weaker conditions on Sunday. Approaching category-1 hurricane becoming a strong tropical storm then transitioning to post-tropical low while making landfall" Landfall expected anywhere from the border, or Bay of Fundy to the southern region of Nova Scotia on Saturday evening.
Hurricane Lee is expected to affect the northeast of North America later this week with widespread impacts due to its size. The region covers the NHC and CHC areas of responsibility, from the USA and Canada. Maine through the US/Canada border to New Brunswick and Nova Scotia already have Hurricane Watches in place and the cyclone should clear away from Newfoundland and Labrador by Monday 18th.
Hurricane Lee is currently close to Bermuda, away to the west, with Tropical Storm conditions affecting the island. NHC mention "Outer rain bands from Lee could produce rainfall amounts of 1 to 2", or 25-50mm, across Bermuda today into early Friday." Thursday 14th advisory 36A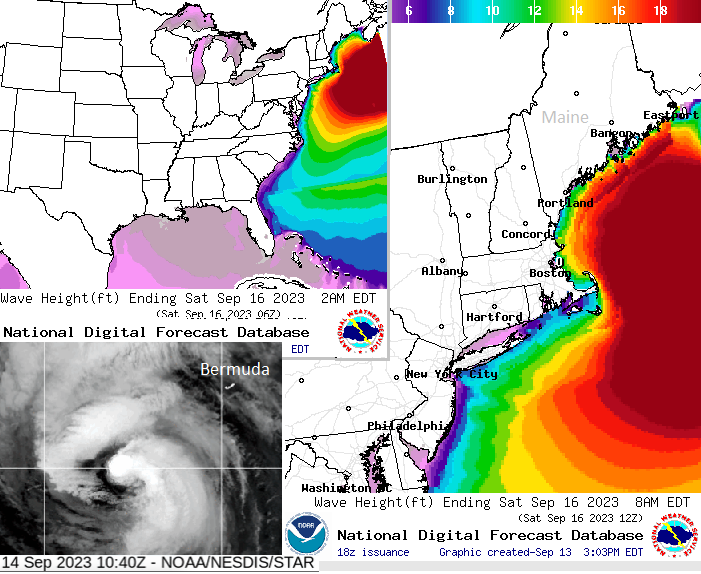 Tropical Storm conditions are possible for a large area of the New England coast by Friday night and there are concerns about a life-threatening storm surge for SE Massachusetts later on Friday. This is close to Boston and includes Cape Cod. Other places that might be familiar include Nantucket and Martha's Vineyard. By early Saturday the Tropical Storm conditions are forecast to be into 'Down East' Maine.
"The circulation of Hurricane Lee will be quite broad as it reaches our region so impacts will occur not only near the track but up to 300 km away from it." CHC
The hazards will extend well away from the centre of Lee and there still is some uncertainty about where will be worst affected by the high winds, the heavy rain and storm surge. It's keeping both hurricane centres on their toes.
The hurricane is moving northwards, steered by high pressure over the north Atlantic and troughs over North America. As it moves further north the Sea Surface Temperatures (SSTs) fall away and the cyclone is forecast to slowly drop in strength to a Tropical Storm and then post-tropical cyclone as it undergoes its extratropical transition. From a warm-core tropical cyclone to a more usual cold-core autumn storm but with tropical energy mixed in. For the folks on the ground, the messaging remains
"Regardless of its designation, Lee will remain a large and dangerous cyclone while it approaches eastern New England and Atlantic Canada into the weekend." NHC
Friday night and Saturday should see Lee near the coast of New England and Atlantic Canada. It is forecast to move across the Maritimes (Nova Scotia, PEI, SE New Brunswick) during Saturday night. Next, over the Gulf of St Lawrence and Newfoundland by Sunday night.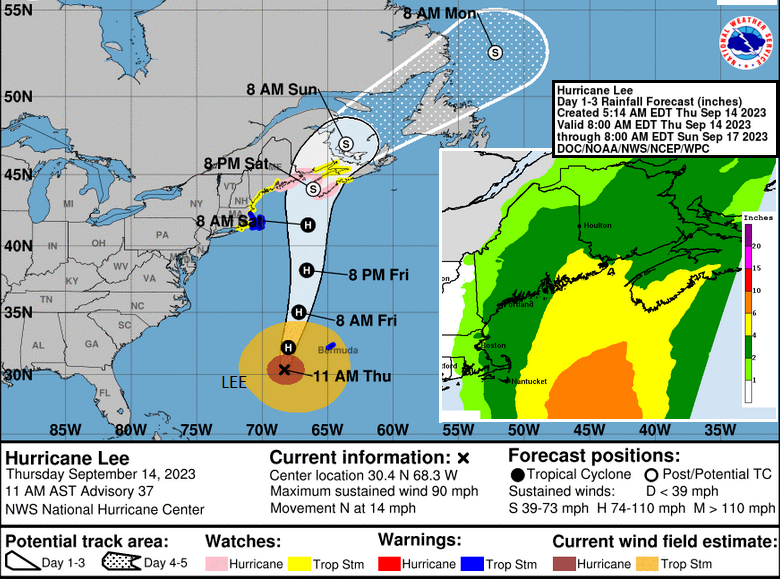 Rainfall: Lee is expected to bring 1 to 4" of rain to the area, which is 25 to 100mm, this will produce localised flooding.
Wind: After a wild Friday night, Hurricane conditions are possible for Down East Maine and Atlantic Canada on Saturday and gusts of 75mph possible around landfall. CHC "Most likely region for worst impacts: western Nova Scotia as well as Grand Manan and Coastal Charlotte County region of New Brunswick"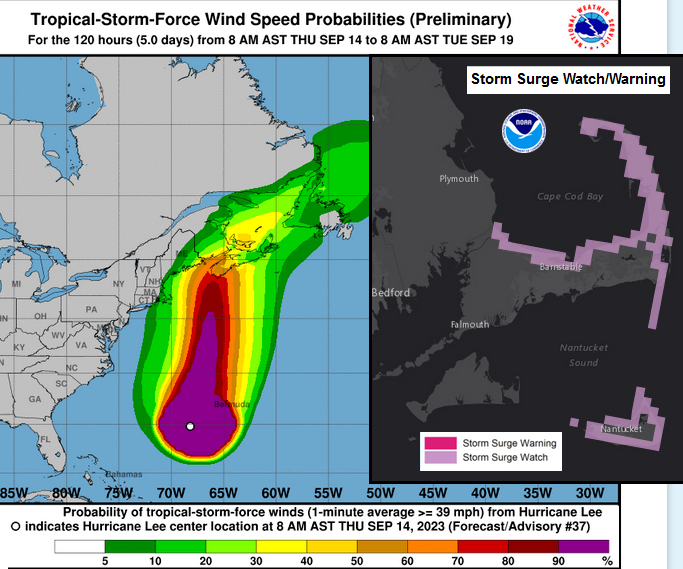 Storm Surge: There are concerns about large and destructive waves for the Atlantic coast of Nova Scotia, Maine and the Lundy coast of New Brunswick. Tidal ranges in this region are large, there is a new moon which means that there will be spring tides and then this push of water ahead of the hurricane. There is the potential of life-threatening storm surge flooding, if the worst of the conditions coincide. More widely, there will be dangerous surf and rip currents along the east coast.
CHC "For Atlantic coastal Nova Scotia, breaking waves of 4-6 metres (15 to 20 feet) are likely."
This region is used to severe autumn storms with wild winds and lashing rain but this extra hazard of storm surge, along with the tidal uncertainty at this stage, will mean some big preparations today and on Friday.