The models are now in good agreement that an area of much higher Theta-W (>16C 850mb wet bulb potential temperatures) will spread north from France into southern Britain later on Friday & persist until Tuesday. The very warm and moist airmass will be drawn north by a low pressure system named Storm Oscar, named by the Spanish Met Service (AEMET). The low is currently west of Iberia and will drift north over the Atlantic as high pressure that dominated our weather weeks temporarily retreats. The high theta-w airmass will be inherently unstable to subtle lift from troughs moving north ahead of upper low the west and diurnal surface breeze convergence developing later in the weekend and early next week with areas of thunderstorms likely to develop from Friday night and through the weekend into early next week.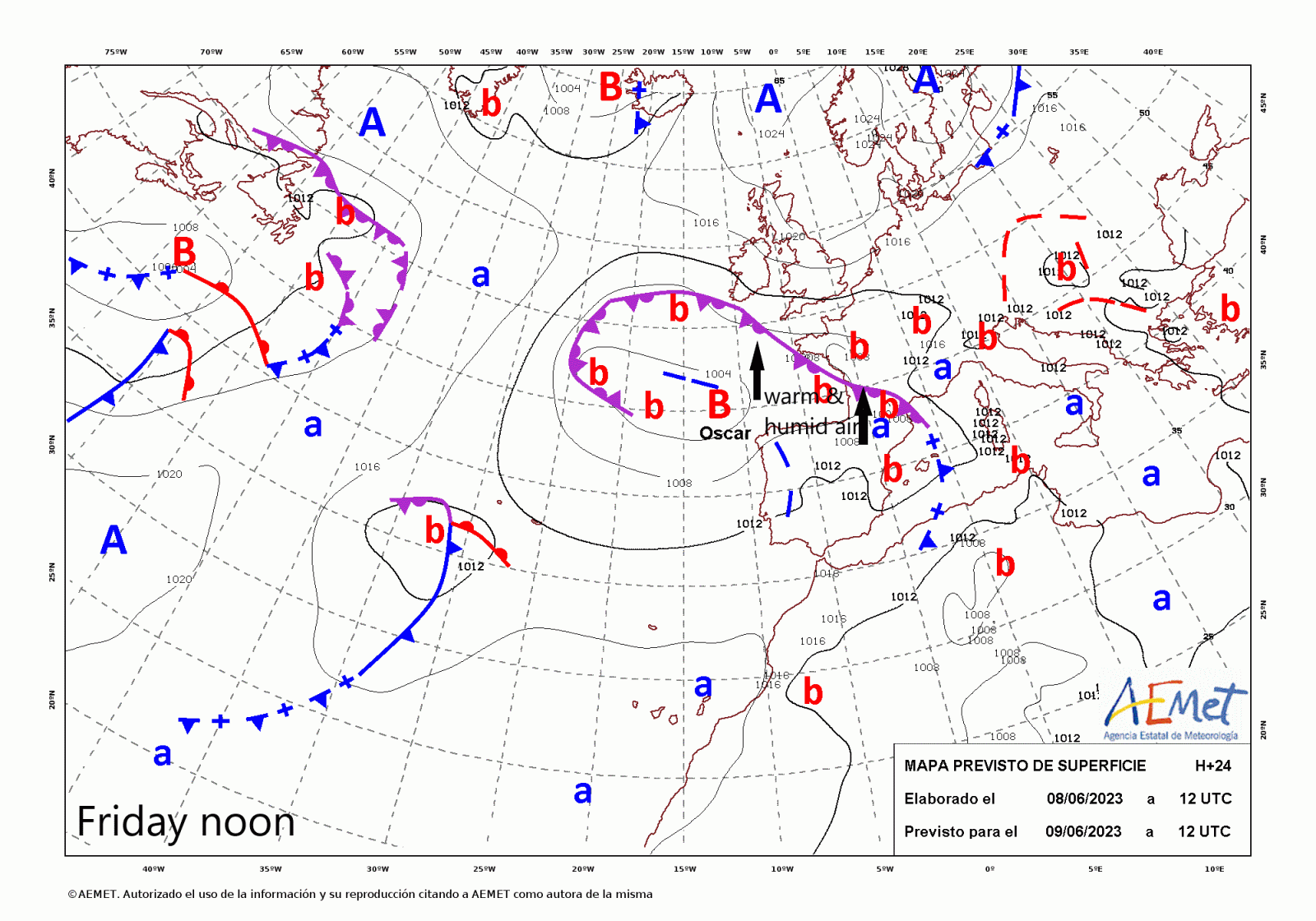 850 hPa theta-w loop below shows warm and moist air (>16C theta-w) spreading north across the UK into the weekend, providing the energy for thunderstorms in places. Charts courtesy of weatheronline.co.uk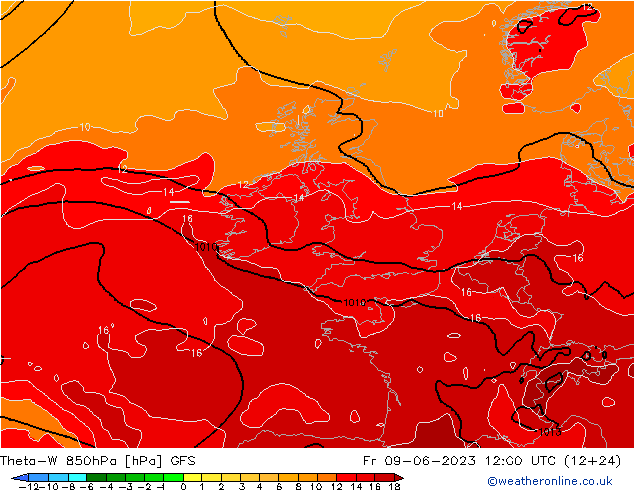 Storms will initially be elevated as they push north across the west on Saturday morning on the northern edge of the plume's advancement north, the following unstable very warm and moist airmass at lower levels will then support the risk of surface-based storms to develop with a trigger (surface heating and breeze convergence). The plume tends to stagnate from Sunday and into early next week, with surface heating in the afternoon in hot sunshine likely to trigger more surface-based thunderstorms Sunday, Monday and Tuesday – though areas of greatest risk will likely vary each of these days – generally storms most likely towards the west.
12z ECWMF from now until later on Tuesday - from when the storm risk will subside from the east.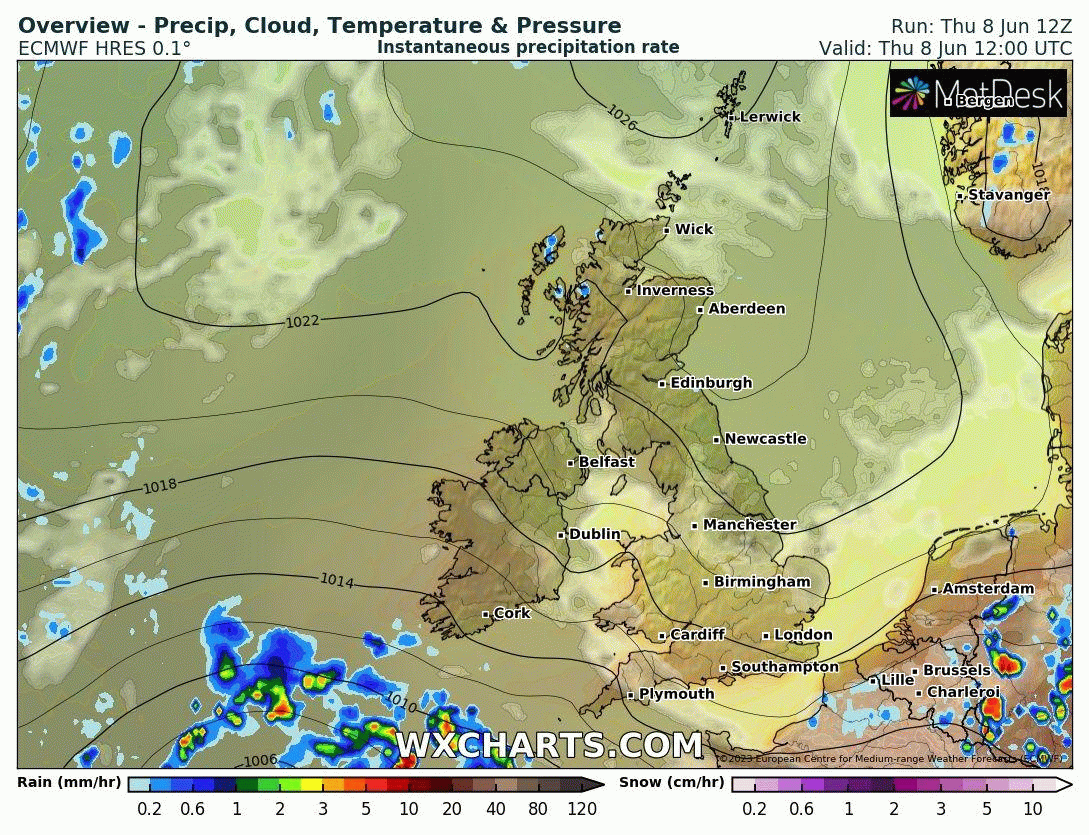 Tonight & Friday
The plume of warm and humid air will start to encroach aloft across the far SW of England and Channel Islands this evening and overnight, with an occluded front bringing a band of outbreaks of locally heavy and thundery rain across NW France pushing north across Cornwall and perhaps Devon tonight. Some modest destabilisation in the mid-levels may bring an isolated thunderstorm or two northwestwards amongst the showery bursts of rain tonight into early Friday, before these thundery showers tend to ease through Friday morning. Then further showers, perhaps thundery, returning from the southeast across SW England during Friday evening and night, perhaps affecting SW Wales and southern Ireland too.
This evening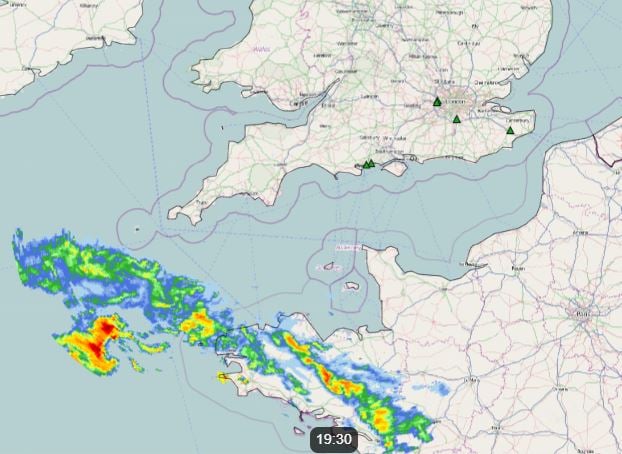 Friday evening (6pm)

Saturday
Then late on Friday and through Saturday, the higher theta-w plume will begin to spread further north across England, Wales and over the Irish Sea / Ireland toward N. Ireland. A low amplitude shortwave trough moving north ahead of the upper trough over the Atlantic to the west of France and Iberia will create large-scale ascent of the plume's northern edge on Saturday as it approaches from the south. This will allow heavy showers and elevated thunderstorms already affecting SW England, The Channel Islands and English Channel to start Saturday to push north across Wales, Irish Sea, Midlands, central southern and western parts of England through the morning, perhaps reaching NW England too early afternoon.
Lift looks weaker away from the west from this trough, so storms less likely /isolated further east. Into the afternoon, however, more surface-based storms may develop in wake of this morning activity moving north across the west, as breeze convergence develops inland and CAPE values are forecast to reach 1000-1500 j/kg as temperatures in sunshine rise into the high 20s. Storm development further east across SE / E England much less certain, with stronger capping likely here, though with temperatures reaching the high 20s and perhaps even low 30s in a few spots, convective temperature may be reached to trigger some isolated storms here. Thunderstorms are likely to be hit and miss in nature, so not everywhere in these areas may catch one.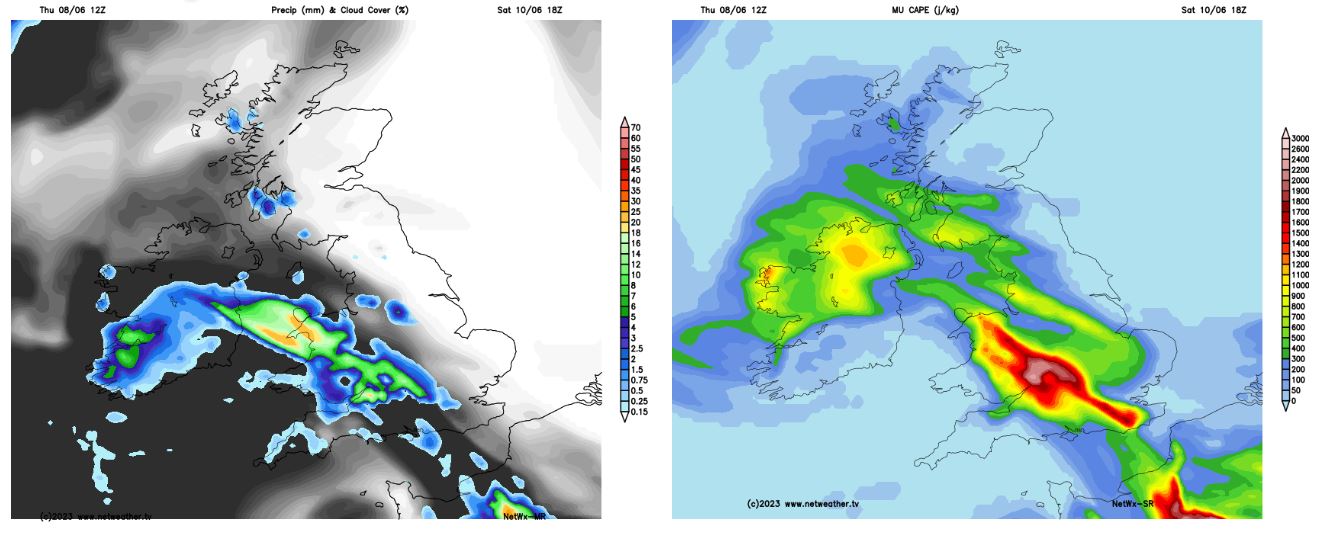 Vertical shear is forecast weak - so no organised severe weather is anticipated, but where they do pass over, given quite high amounts of MUCAPE (Most Unstable Convective Available Potential Energy) forecast – there is a risk of hail, frequent lightning, intense rainfall (30-40mm in an hour) and gusty winds. With ground widely dry and hard from weeks of no rain, intense rainfall will likely mostly run straight off rather than soak into the ground – which increases the risk of flooding – given potential rainfall totals. Where it stays dry and sunny, temperatures are forecast to reach the high 20s or even low 30s degress Celsius across England.
Heavy showers and storms could continue to rumble on northwards across the Irish Sea, eastern Ireland. N. Ireland, western and central areas of Britain Saturday night, perhaps reaching SW Scotland, as the upper trough continues its journey north, creating lift of the theta-w plume spreading north ahead of it.
Sunday
Then on Sunday the high theta-w plume is forecast to lie northwest to southeast from roughly SW Scotland southeastwards towards SE England. Again, large CAPE is evident on model output by Sunday afternoon during peak heating, particularly from east Wales eastwards across central and southern areas of England, a more isolate risk of storms further north across northern England and Scotland. Surface breeze convergence likely to be the focus of thunderstorms developing in the afternoon inland, though exact location of convergence can't be given.
Steering winds aloft are forecast to be rather weak, so slow-moving & intense thunderstorms are likely to develop – with a risk of hail and localised flash-flooding. Again, with weak vertical shear and weak winds aloft, storms will tend not to organise away from wind convergence, along with being slow-moving, so storms will tend to be hit and miss across England and Wales, with many places staying dry, especially towards coasts, while some places see torrential downpours lasting a while. Eastern Scotland and eastern England could stay with onshore easterly breeze.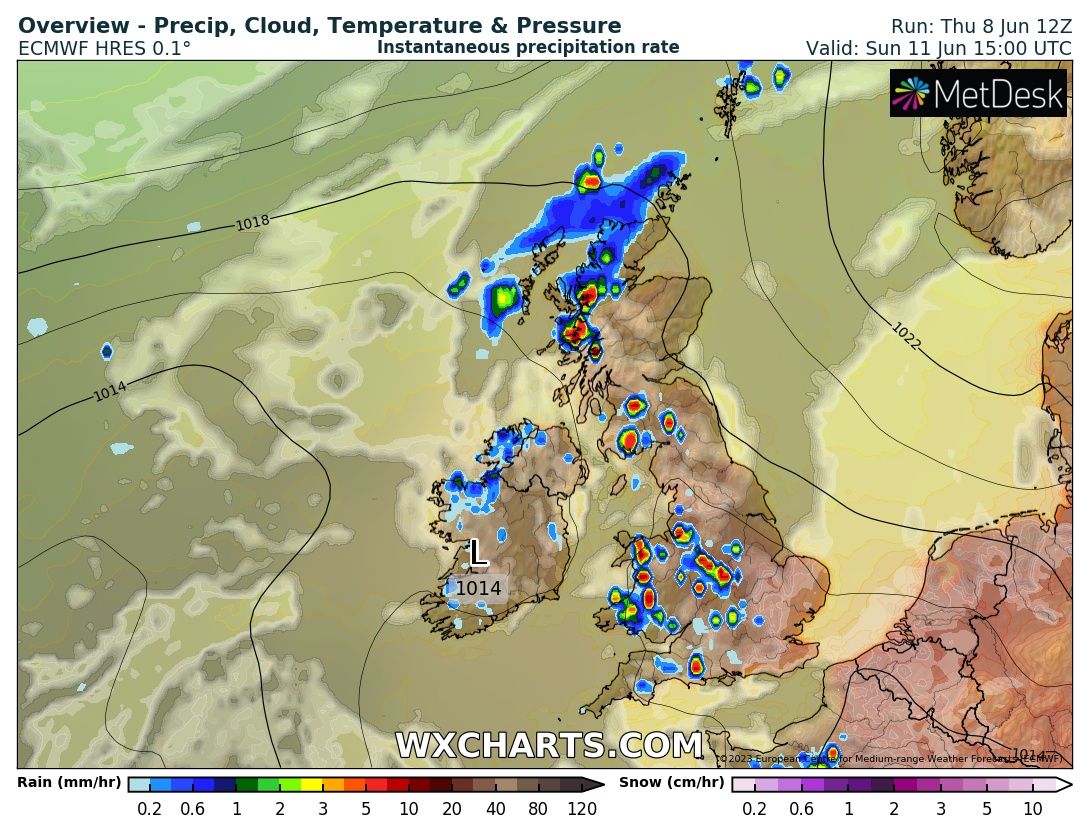 Monday & Tuesday
By Monday the theta-w plume still lingering across England, Wales, the island of Ireland and western Scotland. Heavy showers and thunderstorms likely to redevelop across more western areas of mainland UK and across Ireland and will again be slow-moving. Storms focusing near breeze convergence zones and also orographic lift from mountains in the west, Eastern Scotland and eastern England likely escaping dry, but with onshore cool breeze off the North Sea – so there could be low cloud near eastern coasts.
A low storm risk on Tuesday, any storm that does develop likely to be towards the west over SW England, Wales and western Scotland, as drier, less humid air air spreads west further east, reducing instability away from the far west. Some models keep most areas dry and sunny.
Watches & warnings
Yellow warnings for thunderstorms have already been issued by the Met Office for Saturday for all of Wales along with central and southern areas of England.
Netweather will issue Thunderstorm Watches here for each day during this thundery spell – giving more detail about the risks.