A change is on the way with very warm and humid air being pushed our way by a large low pressure which is impacting the Canary Islands today. Storm Oscar (named by AEMET, Spanish Met. service) will add to the unsettled weather for Portugal and Spain before it nudges northwards and shifts our UK weather. Along with the heat, there will be showers and potentially, a risk of thunderstorms for southern parts of the UK.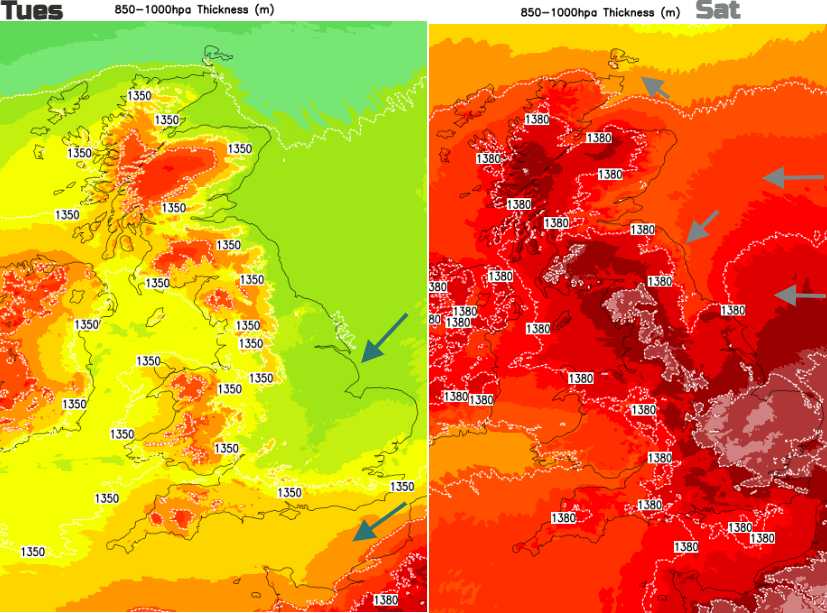 For now, it is another day with high pressure bringing steady dry weather to much of the UK. There has been an extensive blanket of cloud feed in off the North Sea overnight but western and southern shores of Britain do have sunshine, as does Northern Ireland. The same flow around the high continues to bring a cool breeze off the North Sea for The Wash, East Anglia, Kent to the Isle of Wight and for the Channel Islands.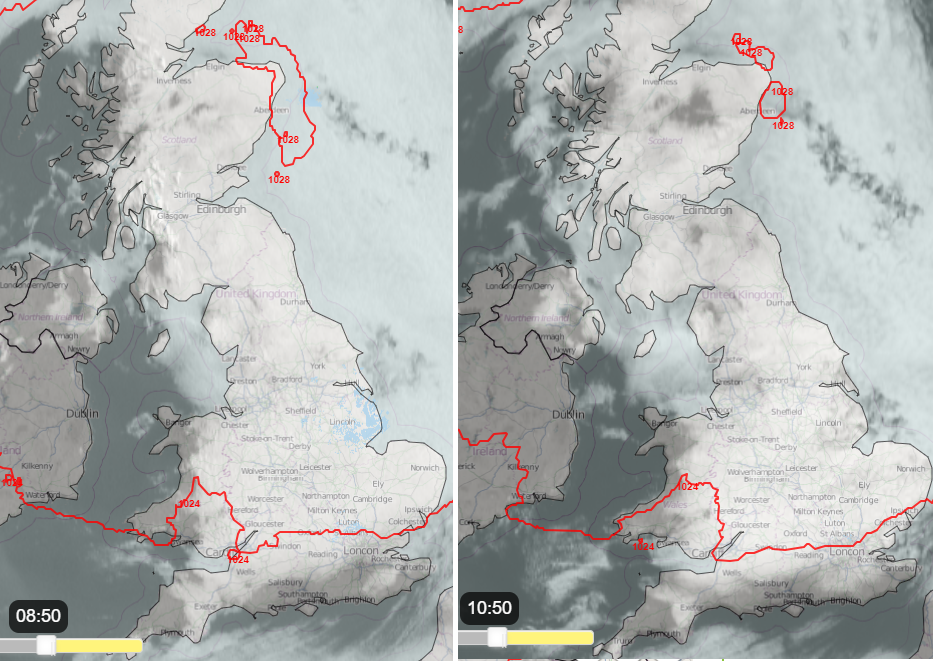 Widely warm Northern Ireland and western Wales saw 24C yesterday, western Scotland and Plymouth 23C. In contrast, Edinburgh didn't even reach 15C and Cromer stayed under 13C with the ongoing north-easterly breeze and a lot of cloud.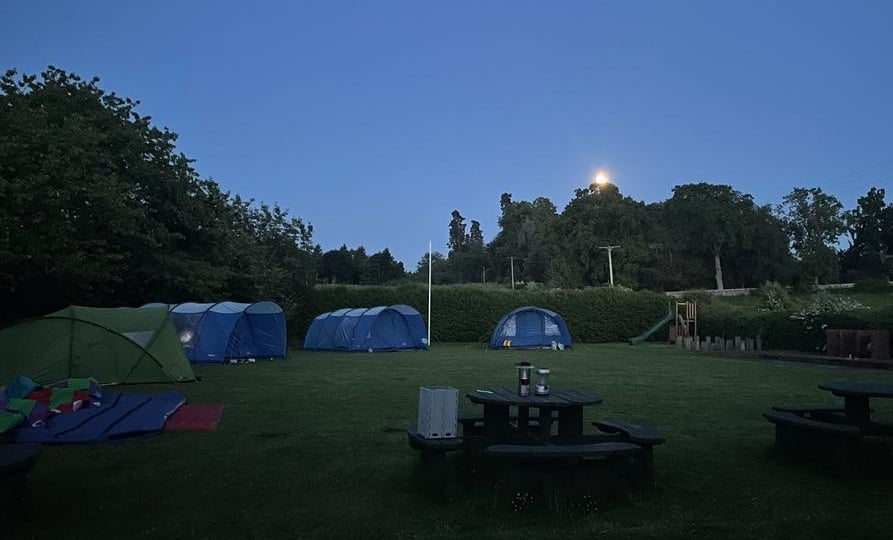 For anyone who has been camping recently you will know that this air has been cool because it turns so chilly by night. Slapping on sunscreen, drinking lots and keeping a sun hat on by day but really needing warm clothes in the evening and a woolly hat to sleep in a tent.
We've been under this high pressure for so long, we all know the score. Waiting to see if the cloud thins and breaks, disappearing as the sun does its work. This has been more likely in the west and either takes longer, or doesn't happen for eastern Britain. Here the cool air flow is noticeable whereas in the sunshine and with very light winds it is feeling warm at 20 to 24C.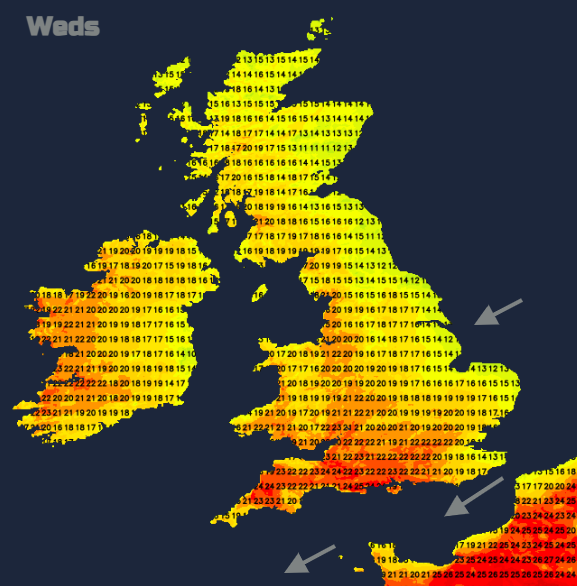 Canaries
People who booked a holiday to Spain or Portugal this June or even in late May might be feeling aggrieved with the recent heavy rain and low temperatures. No one wants to be heading off from Manchester or Glasgow airport to Spsanish rain and then hear about UK sunshine and mid-20s warmth. For the Canary Islands today, there will be heavy rain and strong winds for the mountainous regions. More widely it will be wet and windy for the beach resorts with large waves around the coasts. Eastern Lanzarote is less affected than say Tenerife and La Palma.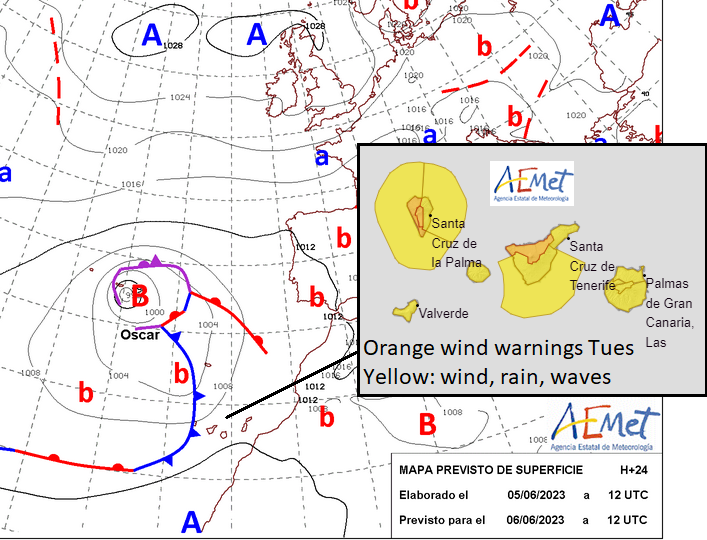 Rain will affect the islands throughout the week with some improvement by Sunday. There will also be more cloud and blustery showers for the Algarve as the low pressure passes by SW Iberia.
Central southern England and SW Britain become the focus of the highest UK temperatures by midweek but it will be later this week and at the weekend when how it feels changes. No longer chilly by night and close and muggy by day. Even when our UK temperatures have reached 23 or 24C in the sunny west over the past week or so, it has felt pleasant. This will be different, even sweaty.
The first signs of rain from the Atlantic low look to reach Cornwall on Thursday night as the winds strengthen. It will be chilly and calm for inland northern Britain but with more of a NE to easterly wind further south. Most places then have another fine, dry day on Friday again with the low cloud off the North Sea story and more sunshine appearing. Heavy, potentially thundery, showers begin to appear on the model fields later on Friday and into Saturday. They edge northwards through the weekend with a change for everyone by the end of the weekend. This is a showery setup so not everyone will see rain. Other places could see hefty downpours even thunderstorms. There is a lot of uncertainty around the detail of this plume but signals of the various ingredients are coming together, mainly for southern Britain.