There will be very little change in our weather during this new working week, with high pressure centred close to the northwest of Scotland continuing to dominate our weather. So we will see a continuation of dry and settled weather. Mornings are likely to start grey across large parts of England, east Wales and eastern Scotland, as stratocumulus rolls west from the North Sea each night, but burning back to the east coast each day – leaving most areas with warm sunshine. Highest temperatures will be across the west, where it will be sunniest longer and winds lighter. Cool along eastern coasts with the northeasterly breeze.
High pressure dominates through to the end of the week, but signs of a change from the south later on Friday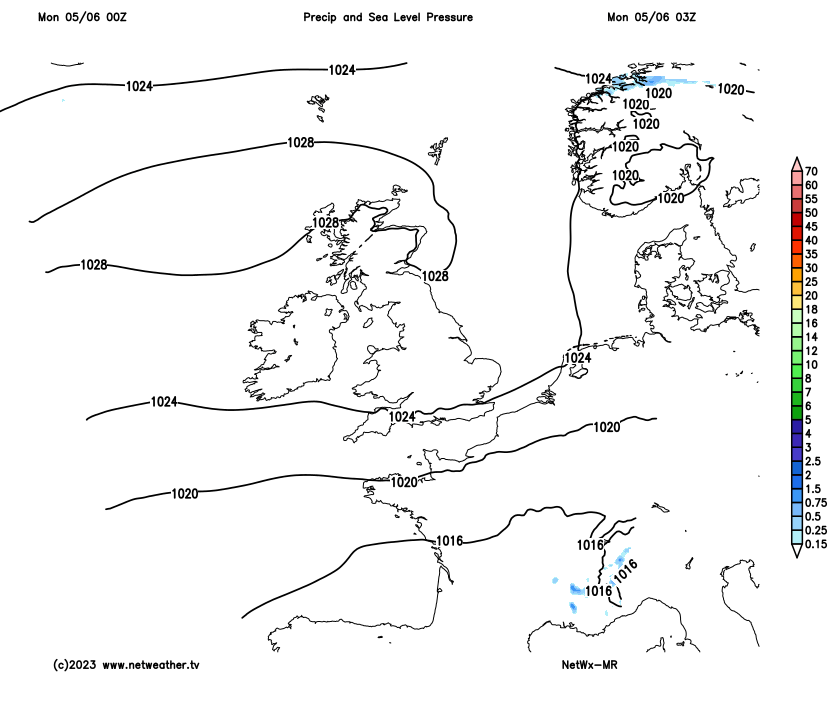 However, there are signs of a change from the south by the end of Friday after dry and settled high pressure-dominated weather for most since mid-May. High pressure close to Scotland will begin to retreat northeast over Scandinavia. This will allow the low pressure system, named Storm Oscar by the Spanish Met Service and bringing wet and windy weather to the Canary Islands this week, to move closer and spread very warm and humid air and also some thundery showers in across the south. Showers and thunderstorms could arrive as early as Friday afternoon across SW England before spreading north across parts of England, Wales and perhaps reaching N. Ireland over the weekend.
Very warm and humid air gets drawn off the near continent from Friday and over the weekend.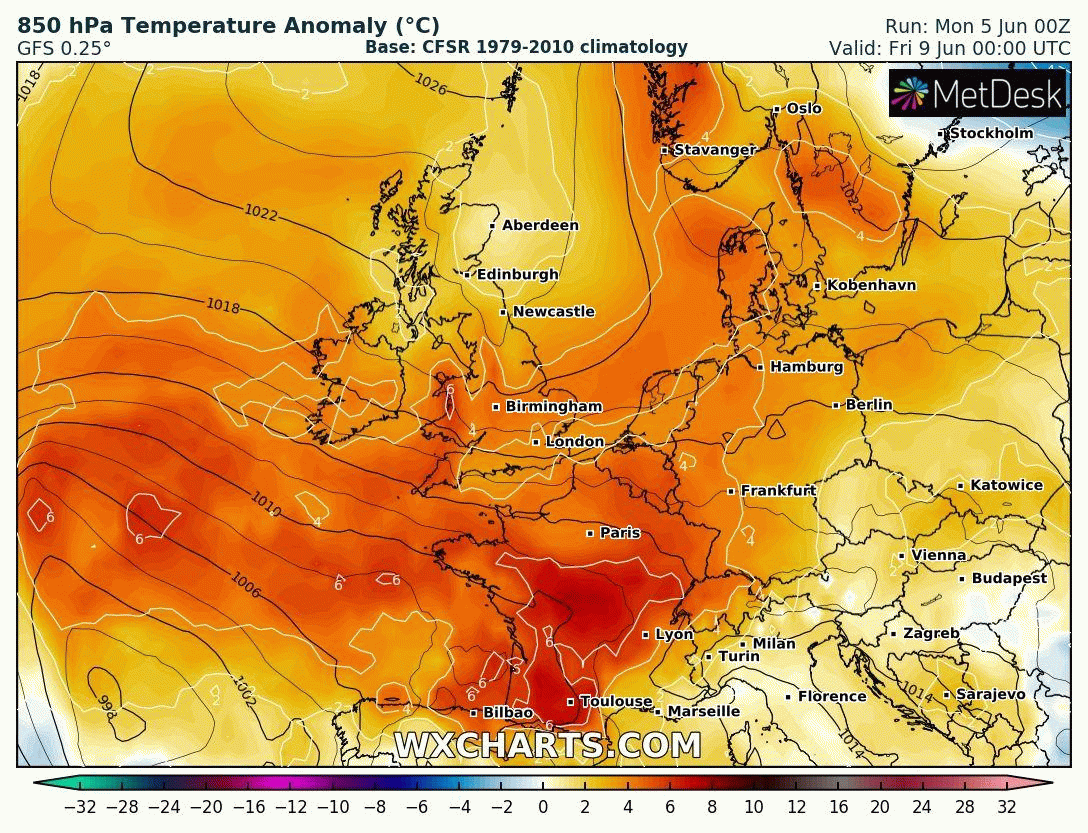 Today
But for now, a grey start for many, with a blanket of stratocumulus covering large parts of England away from the far west and south coast, east Wales and eastern Scotland. The cloud should gradually retreat eastward to the east coast through the morning and early afternoon, with most areas becoming sunny if they aren't already. For most it will be a dry day, but cloud will bubble up and perhaps produce an isolated shower across N. Ireland and southern Scotland. Warm in the sunshine today, yesterday reached 25C at Porthmadog in NW Wales and today the west will again see the highest temperatures. Temperatures reaching 21-23C across SW England, Wales, NW England, N. Ireland and western Scotland. 18-20C further east, though east coast cooler with onshore wind – reaching 14-17C here. A strong northeasterly breeze across southern areas.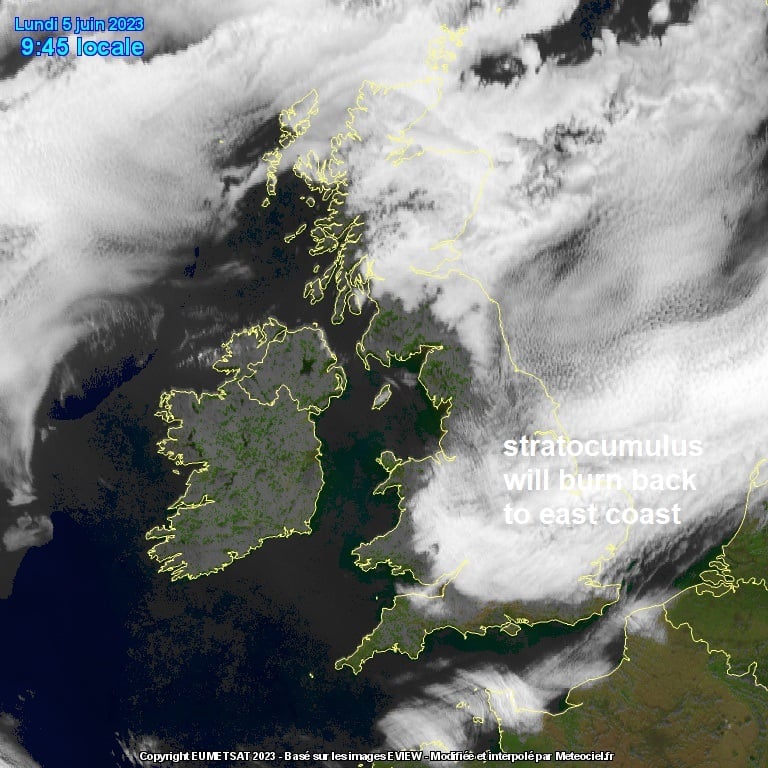 Tuesday to Thursday
Then it's a rinse and repeat pattern Tuesday to Thursday, as low cloud creeps inland across England and Scotland each night, reaching east Wales, but sparing western coastal areas. Cloud perhaps thick enough for the odd spot of drizzle and low enough to bring mist or fog (haar or sea fret) along eastern coast. The cloud then gradually erodes inland each day back to eastern coasts – where it may linger. A strong easterly breeze across southern and southwestern counties of England for rest of the week, lighter elsewhere. Highest temperatures across the west, reaching 21-23C, a few degrees lower in the east.
Friday
Friday should be another mostly dry and sunny day once the familiar morning cloudy start burns back to east coast. However, we may see an increase in mid-level cloud from the south across southern counties of England and Wales through the afternoon, which could produce some heavy showers, perhaps thundery, across SW England by evening. It will be a touch warmer and more humid across the south too, temperatures possibly reaching 24-27C across southern England, 19-23C elsewhere, cooler towards eastern coasts with onshore breeze.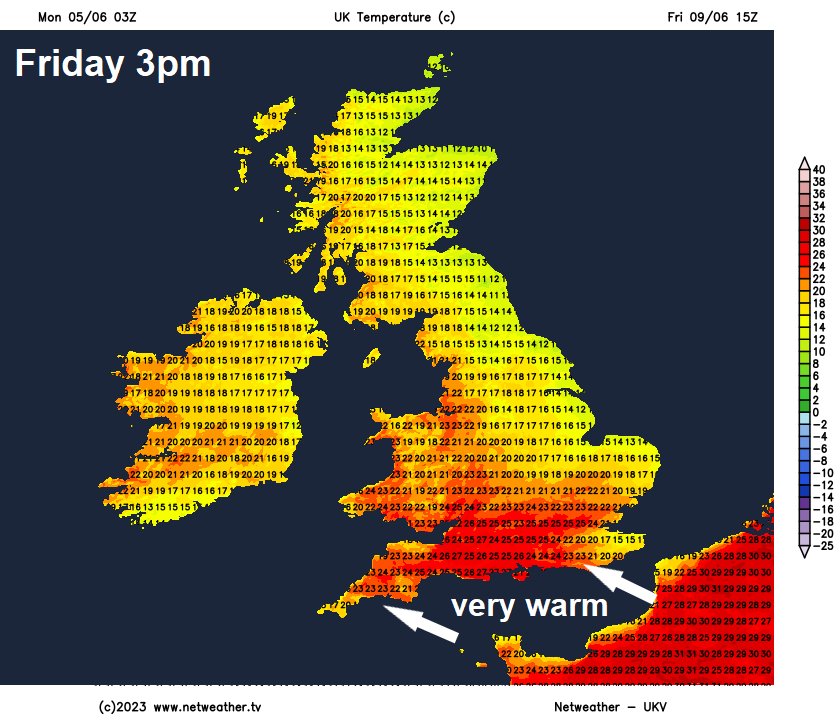 Weekend
A change in weather this coming weekend compared to what we've become used over the last few weeks. The influence of blocking high pressure that's dominated our weather for a long while will wane while an upper low to the northwest of Iberia will gain more influence. The low to the southwest will pull in some very warm and humid air from the south off the near continent across England and Wales, temperatures reaching 24-27C both days, perhaps 28C in SE England. Temperatures in the low twenties across Scotland and N. Ireland.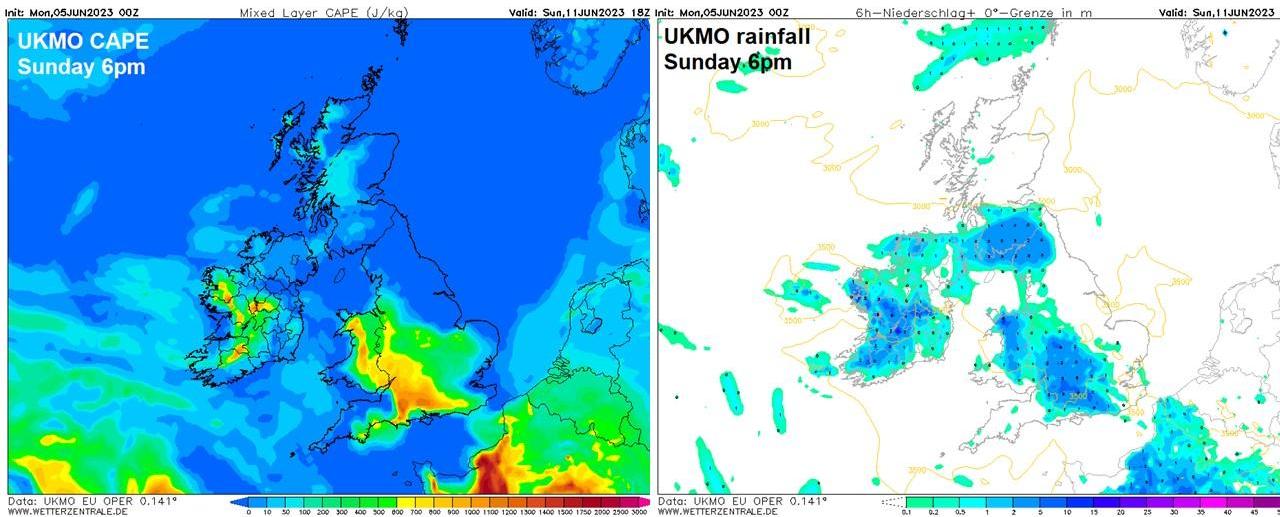 The humid air will be unstable too and with one or two fronts or troughs in association with the low to the southwest moving north, there is a risk of heavy thundery showers spreading or developing northwards across parts of England and Wales over the weekend. But it's too far off to give any detail of where will most likely see these downpours, with differences between models over timing and extent of rainfall. But where these downpours do occur, there could be a risk of localised flooding, given the hard ground given weeks of no rain. The unsettled, warm and humid conditions with further thundery downpours, but with sunshine at times, likely continuing into next week.