It's been very dry since mid-May across many areas, some places longer than that. Mumbles Head near Swansea in southwest Wales has gone 26 days without any rain. Many areas in the south and west 19-20 days with no rain. In southwest England (where there's already a hosepipe ban) two of the largest reservoirs are only 69% full.
Days with no rain (<0.2mm) in the UK - data courtesy of Starling Roost Weather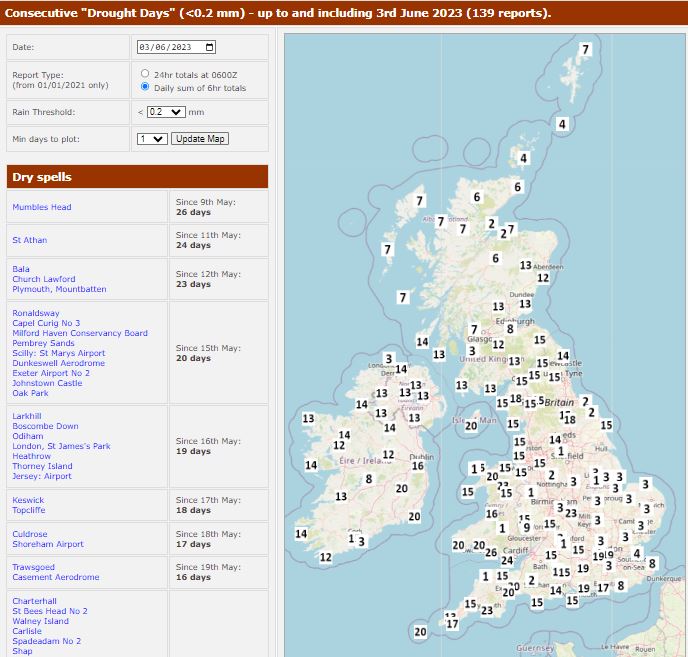 It looks to remain dry throughout the coming new working week. However, the models yesterday started to hint a breakdown next weekend, albeit perhaps temporary, with showers and perhaps storms spreading or developing from the south. With the increased threat of shower or storms in the south, turning very warm or hot too next weekend.
Potentially turning hot from the south next weekend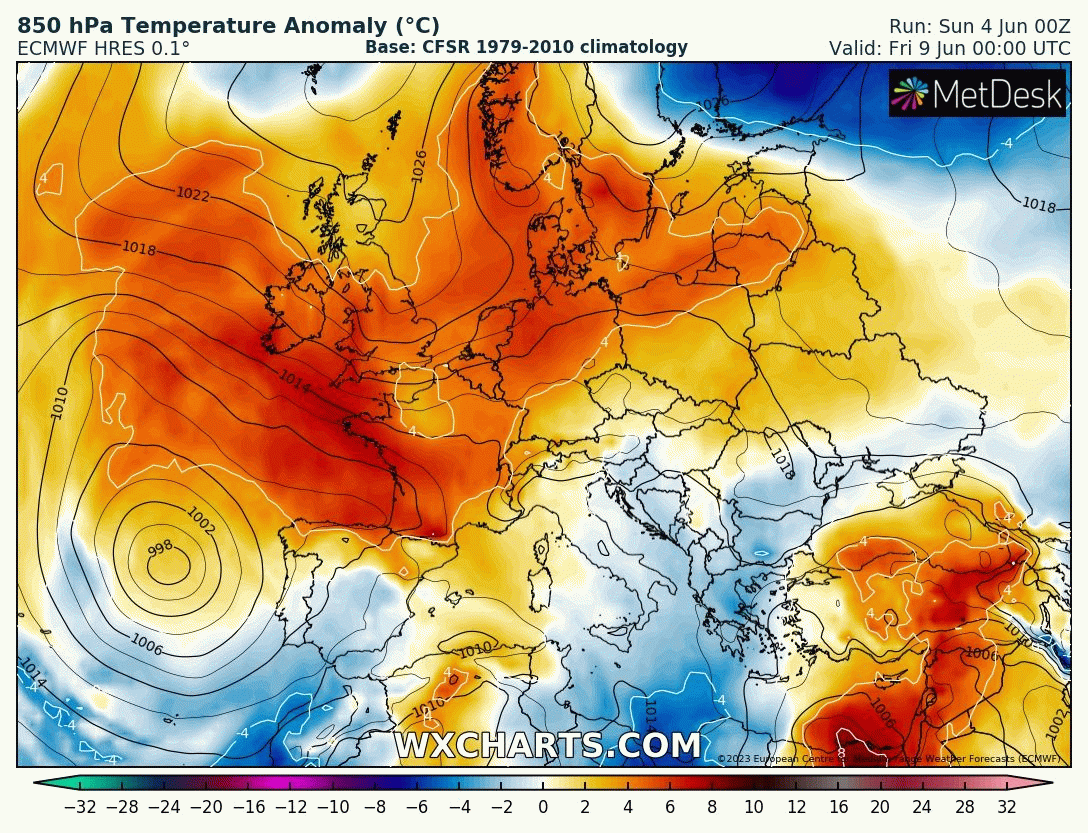 There is fair bit of divergence developing though between models this morning over the extent and timing of any breakdown from the south though. This has much to do with how much high pressure, which dominates UK weather now and this coming week, shifts north and east next weekend to allow more low pressure influence from the southwest.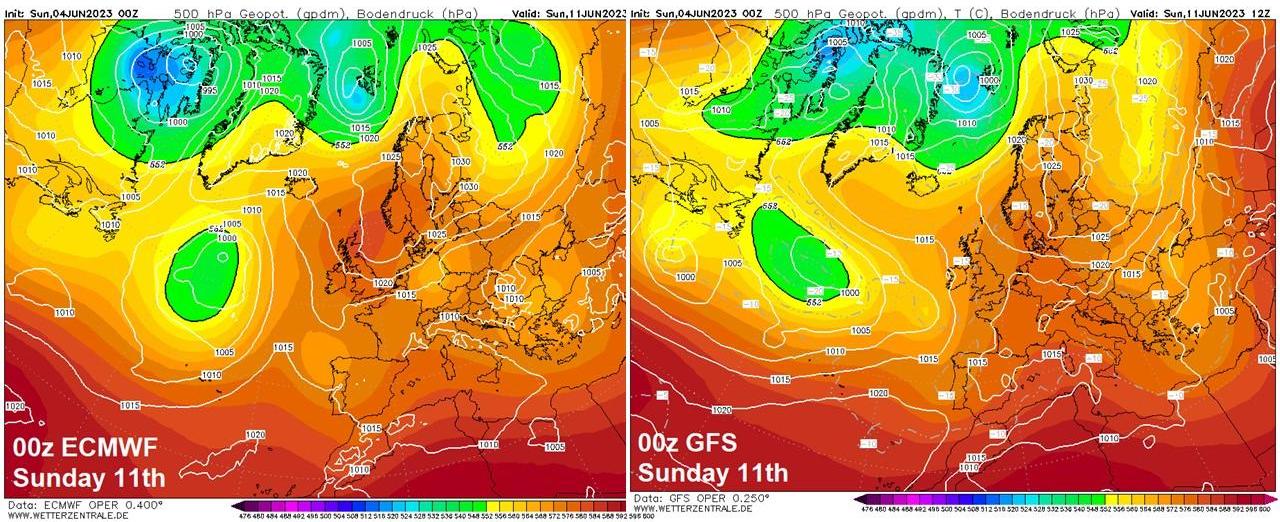 The American GFS model is the most bullish with a breakdown next weekend and across all parts too. It has a much more cyclonic southerly flow across the UK developing by Sunday, with closer influence of Atlantic upper troughing. This brings a widespread risk of showers or storms spreading or developing northwards across the UK next weekend. The unsettled conditions continuing through the following week, with low pressure shifting north to the west of Ireland and a showery southwesterly flow across the UK.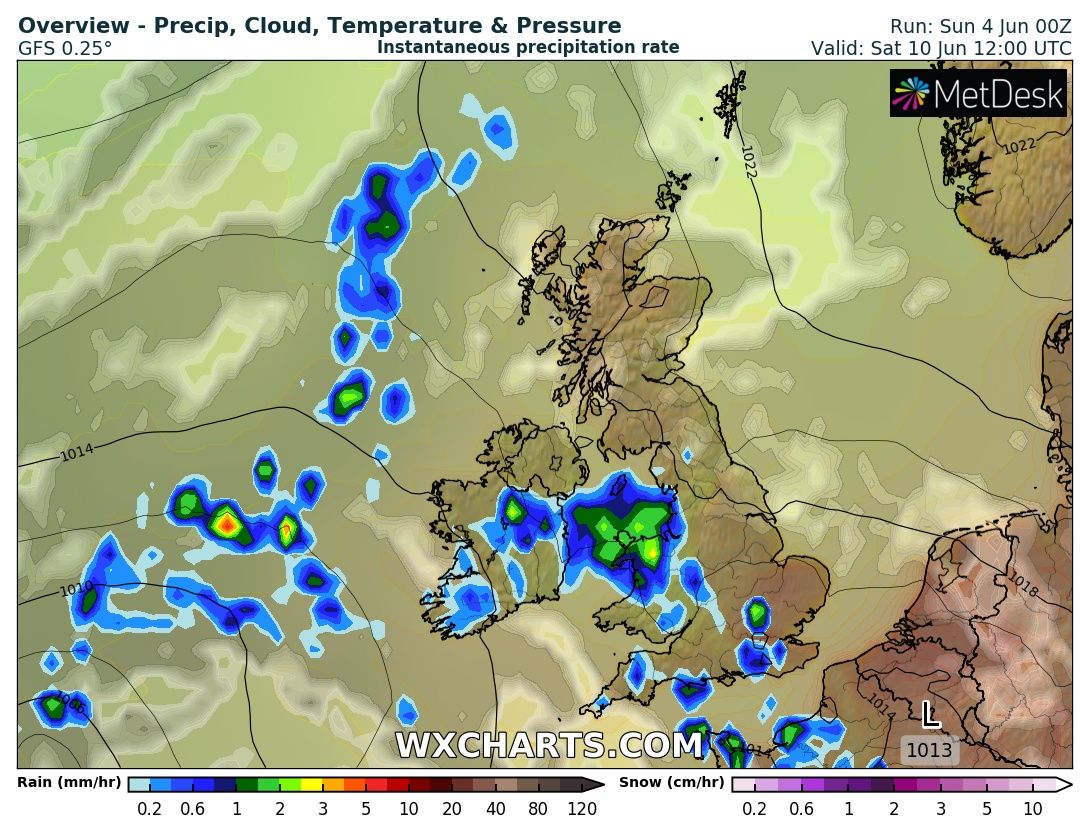 00z ECMWF, on the other hand, has blocking upper high over northern Britain next Sunday, with an anticyclonic flow across the UK, just the outside chance of a thundery shower across the far southwest on Sunday.
A look at 00z EPS clusters for 3 day period Friday 9th – Sunday 11th shows only one cluster and that supports upper high close to northern Britain. So it may stay mostly dry next weekend.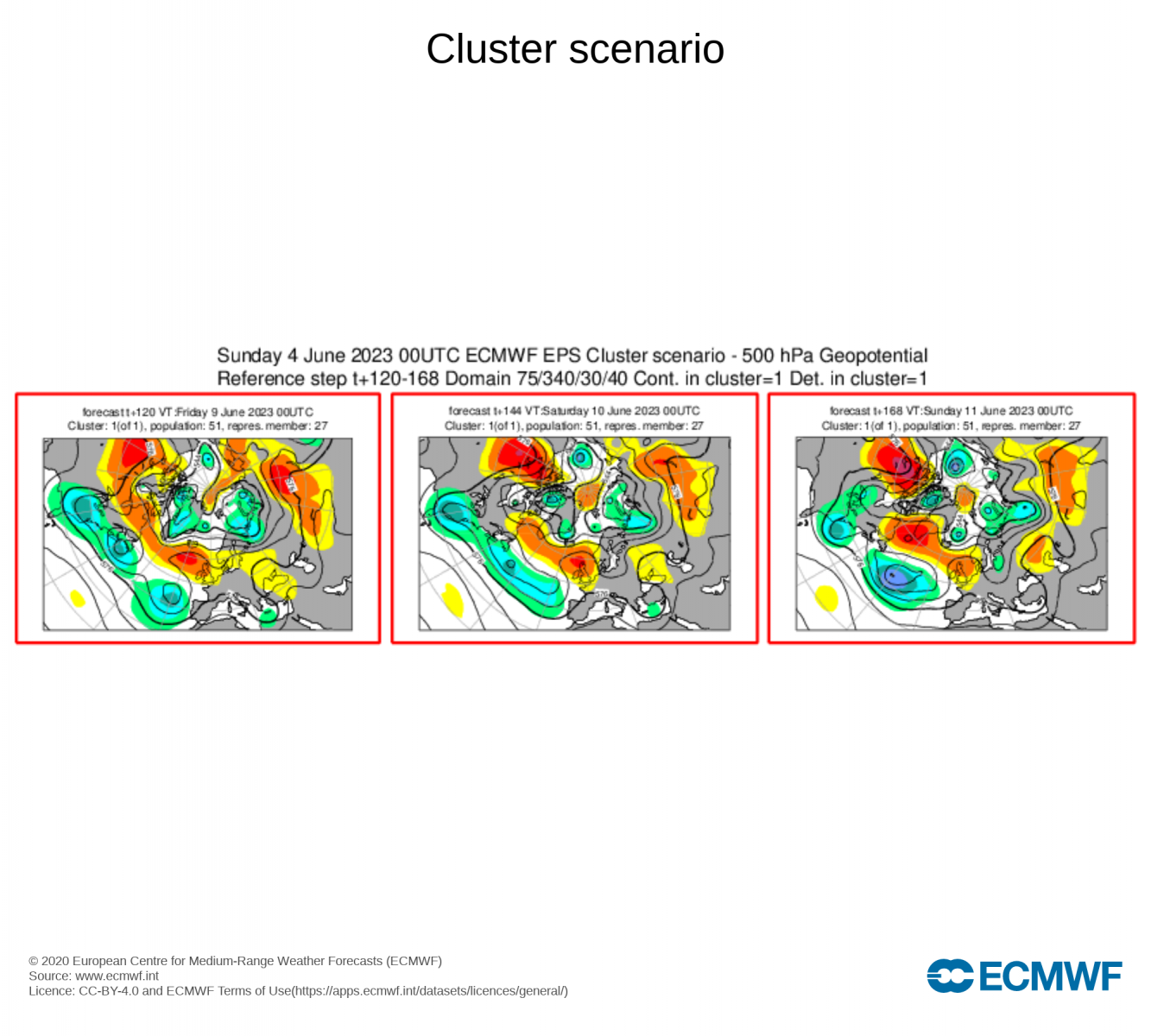 00z EPS clusters for the 3 day period Monday 12th – Wednesday 14th show 3 clusters, all 3 of which show upper high close to northern Britain but diverge whether the core will be to the northeast, north or northwest. Largest cluster, but only by one member from the 2nd largest, repositions the upper to the northeast, but close enough to still influence. But some cyclonic incursion (possible showers or storms) towards the west and south. 2nd largest cluster looks very much anticyclonic / dry and settled with a strong upper high signal close to the north. Smallest cluster not too dissimilar.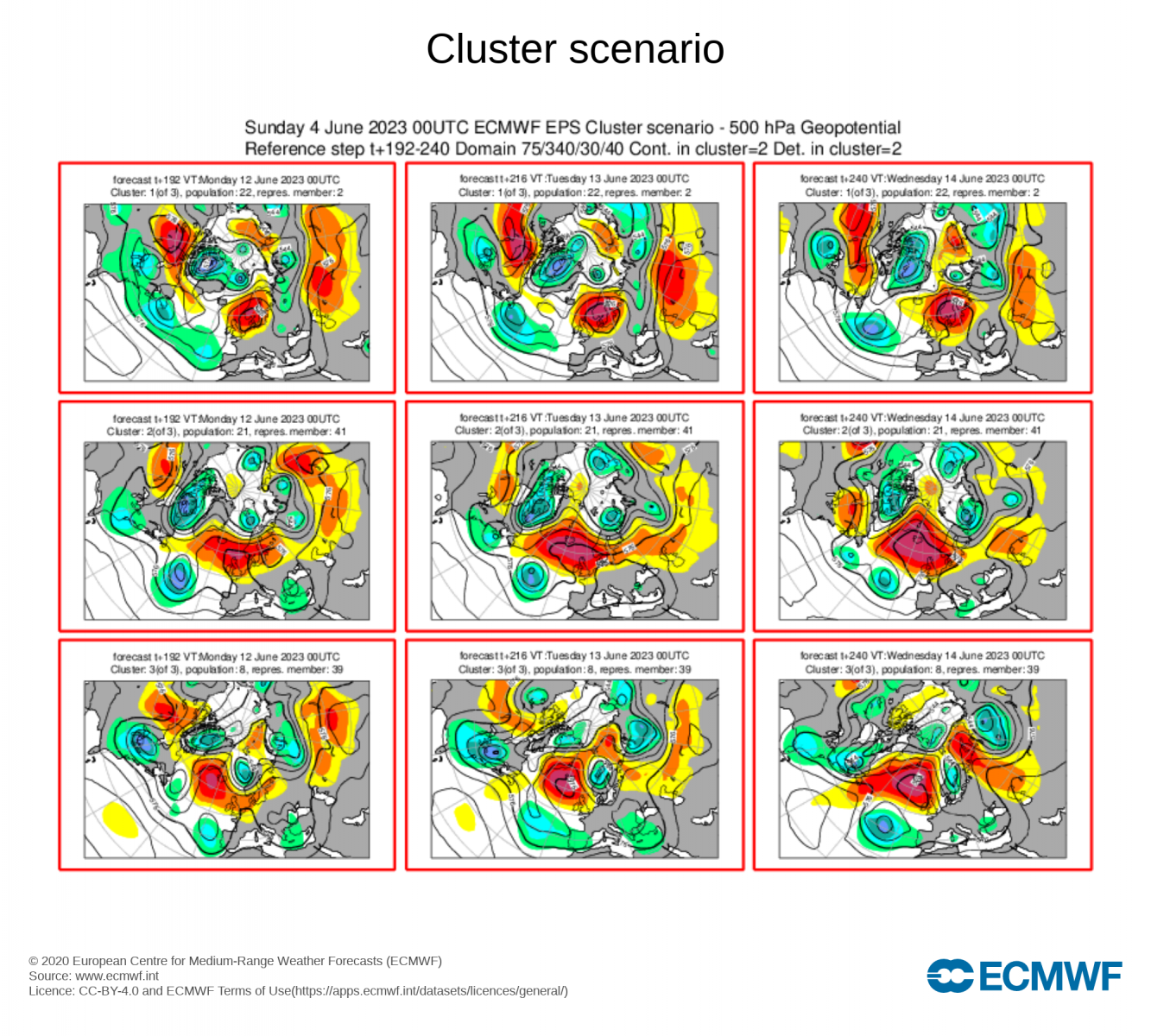 A look at GEFS 'postage stamps' for rainfall next Saturday, around 13 out of 20 members show rain for the south and west, many fewer for more widespread rainfall risk. So it seems likely the south and west would be most prone to the risk of showers or storms pushing up or developing from the south next weekend. But a great deal of uncertainty over any breakdown next weekend. It may stay dry for all apart from the far southwest of England as per 00z ECMWF. More runs needed.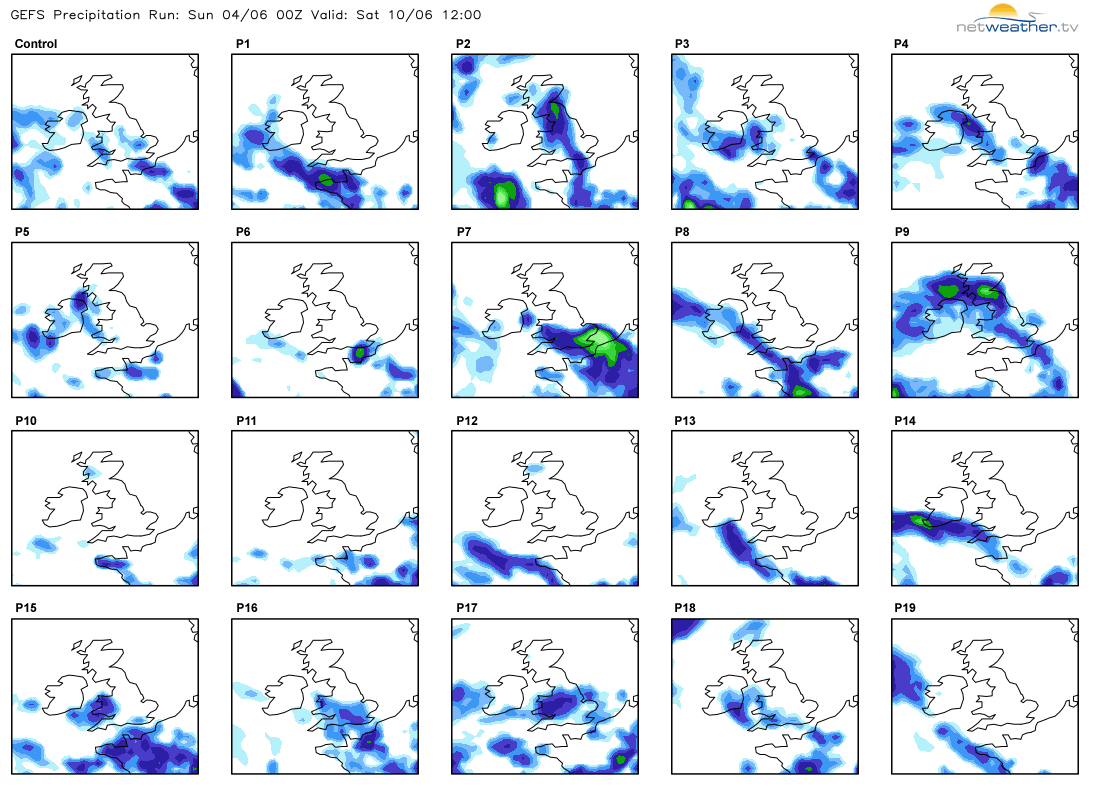 What looks more certain it turning very warm or perhaps locally hot across the south and west next weekend – depending on cloud cover if showers and storms do push up from the south. 00z EC has maxes of 27-28C across central southern England on Saturday and southwest England next Sunday. GFS has mid-20s across SE England. With these higher temperatures, likely an increase in humidity off the near continent too. Further north – more average temperatures for June, with low twenties, but eastern coasts could be cool with onshore easterly flow off the North Sea – perhaps with haar for eastern Scotland and NE England.