For those on half term, a week of high pressure and dry weather will be welcomed. The current setup brings areas of strong sunshine and warmth with temperatures widely in the high teens and low twenties Celsius. However, there is also a flow off the cool North Sea. This feeds in low cloud by night with some eastern counties of Britain clinging onto the sea fret or haar through a good part of the day.
The high is centred over northern Scotland which saw nearly 23C yesterday, a frost overnight and could reach 25C today with hardly any breeze. At the edge of the high, there is a more noticeable wind. It's coming in off the cool sea and for areas which keep the cloud, temperatures will struggle past 14C.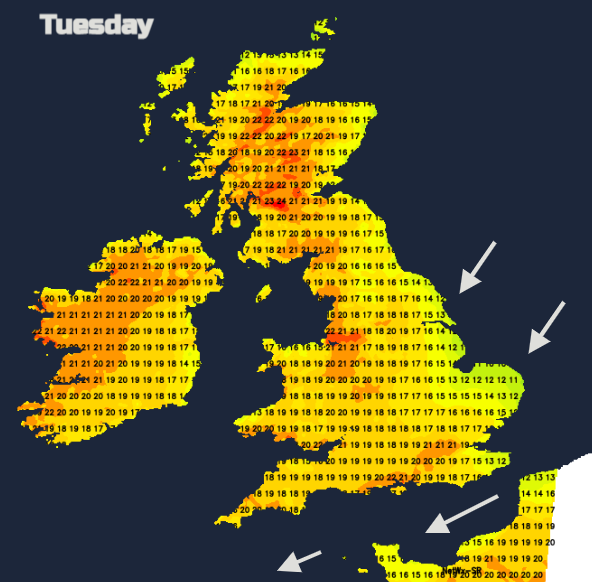 It's dry and the week looks dry. Good for getting out and about with children who are off school but we don't need it to be too long without some decent rain. Currently it is southern Europe seeing heavy, thundery rain. There are many areas in drought or with extreme fire risk here but torrential deluges bring extra problems.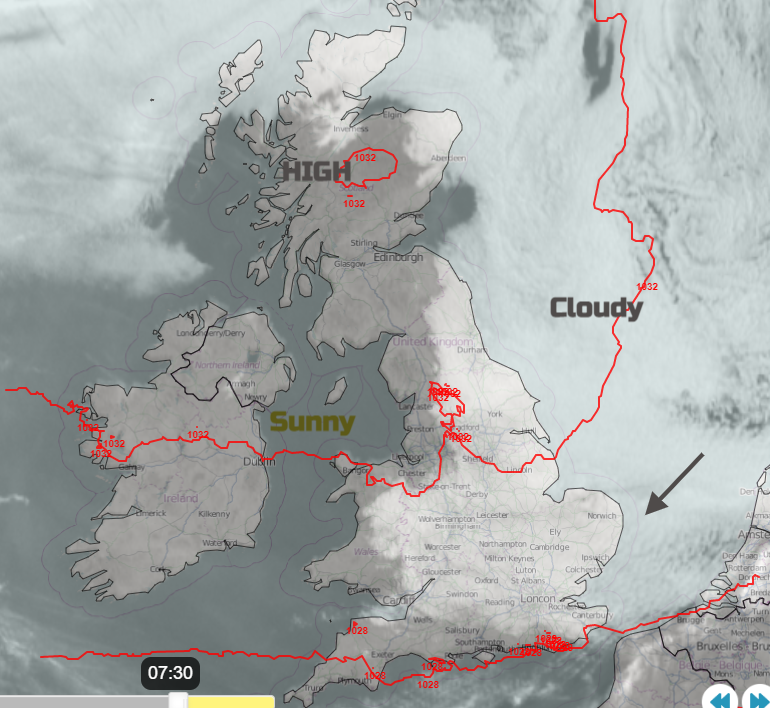 The high pressure is happily sitting in place over the UK, blocking any low pressures or changeable weather this week. Weak frontal bands occasionally manage to drape their way down the North Sea. This happens from midweek onwards when a slow-moving cold front brings more low cloud to parts of Britain. By Friday some of that gets funnelled along the English Channel all flowing around the edge of the High pressure.
This does mean that 'West is Best' for sunshine. And yet other parts of Britain could still see a fine, sunny day or brighten up gradually through the morning. Even through a layer of cloud, it is possible to get burnt so do slap on the sunscreen. The UV levels are high. The grass pollen season is also just getting going. Where the winds are very light, air quality will suffer.
"Light winds, coupled with fine and sunny weather has the potential to allow air pollution levels to build to Moderate across parts of Northern Ireland and Scotland, with the greatest risk through The Central Belt." DEFRA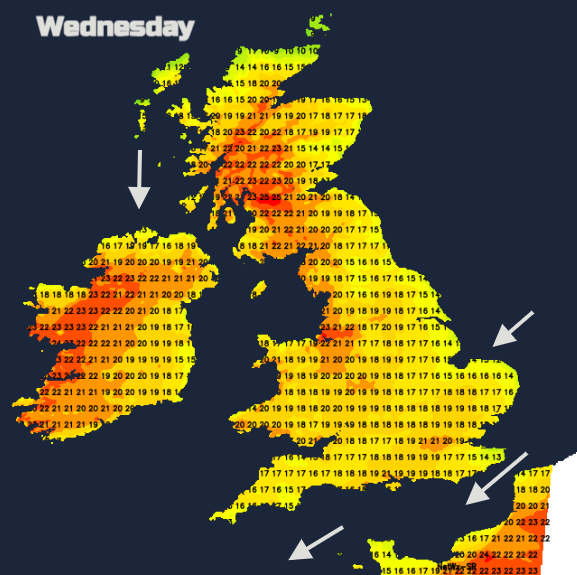 Inland Scotland could see the highest temperature of the year so far with calm conditions and more sunshine appearing. Plymouth reached 24.4C on Sunday and it is unusual for the UK not to have seen 25C by the end of May. Yet not unheard of. As mentioned on the Countryfile forecast this week in 1987 there was a cool spring and it took until June 27th for the UK to pass 25C. The message is just the same, the air is cool but the sun is strong.
The flow around this High is often from a northerly direction. This air has been up by Iceland and the Norwegian Sea. It's flowing over the cool North Sea, at times there is a lot of cloud but if you are in calm, sunny areas it does feel warm. The breeze, particularly for SE Britain, accentuates the cooler feel. And under the cloud cover or in the evening there is a nip in the air. Sometimes high pressures which affect the UK are a bit further east and pull up warm and humid air from north Africa. That's when temperatures leap up and it feels more sultry. No sign of that this week.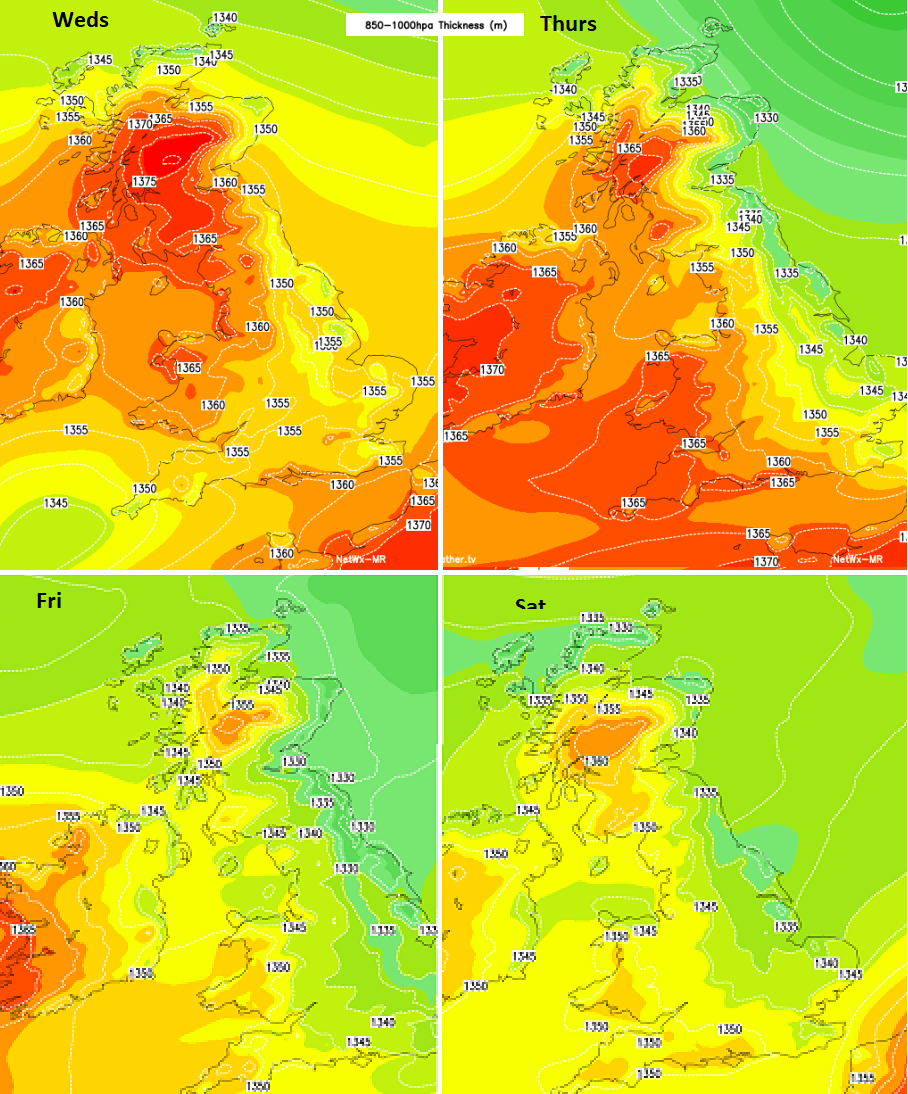 Mid 20sC for western Scotland midweek but a noticeable coolness off the North Sea
Wales, Northern Ireland, sheltered NW England and western Scotland will all see temperatures into the twenties Celsius. Western central Scotland should see the highest temperatures with 24/25C possibly 26C by Wednesday. London will be around 20C but maybe 23C at the weekend. By night many places will continue to fall down into single figures.