Sunday saw the warmest day of the year so far, reaching 24.4C in Plymouth. High pressure will stay in control of our weather throughout this week, centred over Scotland or close to the northwest. With lighter winds across Scotland but a strong easterly or northeasterly breeze towards southern and eastern England, the highest temperatures this week will be in the west. The 'hot spot' could be across the Central Belt, with a high of 25-26C for Glasgow possibly on the cards on Wednesday, making the warmest temperature of the year so far. The northeasterly wind will feed in cloud at times across central, southern eastern areas of Britain, feeding inland overnight and burning back to the east coast during the day. So, the best of the sunshine and highest temperatures will generally be towards the west. So an east vs west contrast in temperatures and amount of sunshine throughout much of the week.
High pressure remains firmly in control centred close to the north all week, so remaining dry and fine for all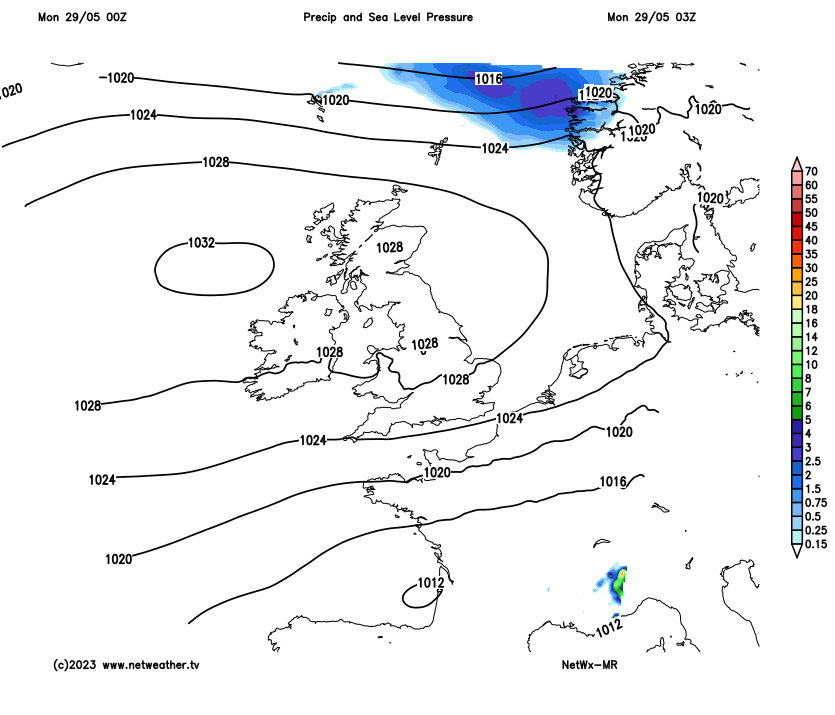 Today
A sunny start to Bank Holiday Monday for many, though some patchy low cloud has come in overnight across eastern England, the Midlands and far northwest of Scotland, but this should break up by the afternoon, staying dry sunny for most today. However, there will be a strong northeasterly wind across southern and eastern England making it feel cool when exposed to it out of the sun – so it won't be quite as warm as Sunday. Generally temperatures a few degrees lower today, highest temperatures across the west – where they will reach 20-21C, towards the east 18-20C, but just 15-17C along eastern coasts of England with onshore wind.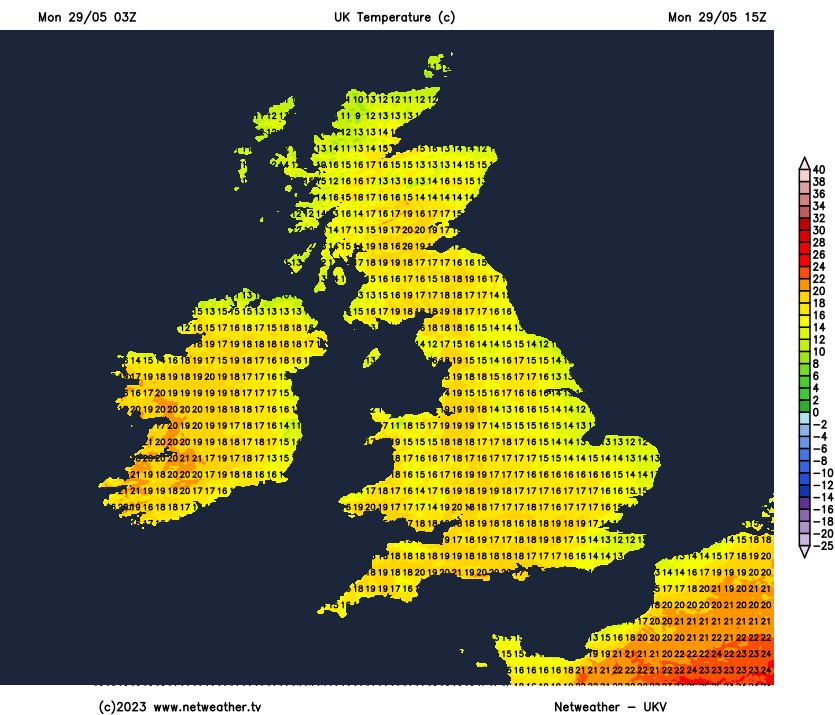 Much of northern and western Britain clear tonight, temperatures falling into low single figures in sheltered spots here, so turning cold by dawn. Low cloud looks to roll in across eastern, central and southern England – where there will be a brisk northeasterly breeze continuing, holding temperatures up in the low teens.
Tuesday
Low cloud likely to start across central, southern and eastern England along with far north of Scotland. Cloud slowly burning back to the coastal eastern England where it may linger all day, with the odd spot of drizzle near the coast. Elsewhere another dry and sunny day, best of sunshine towards the west coast where it will be warmest. Cool where cloud lingers in the east. Temperatures reaching 20C in London, 22C in Cardiff and Liverpool, perhaps 24C in Glasgow. Perhaps only 14C in Norwich if cloud lingers, strong northeasterly breeze taking the edge of temperatures across southern and eastern areas.
Extensive low cloud rolling in Tuesday night across central, southern and eastern areas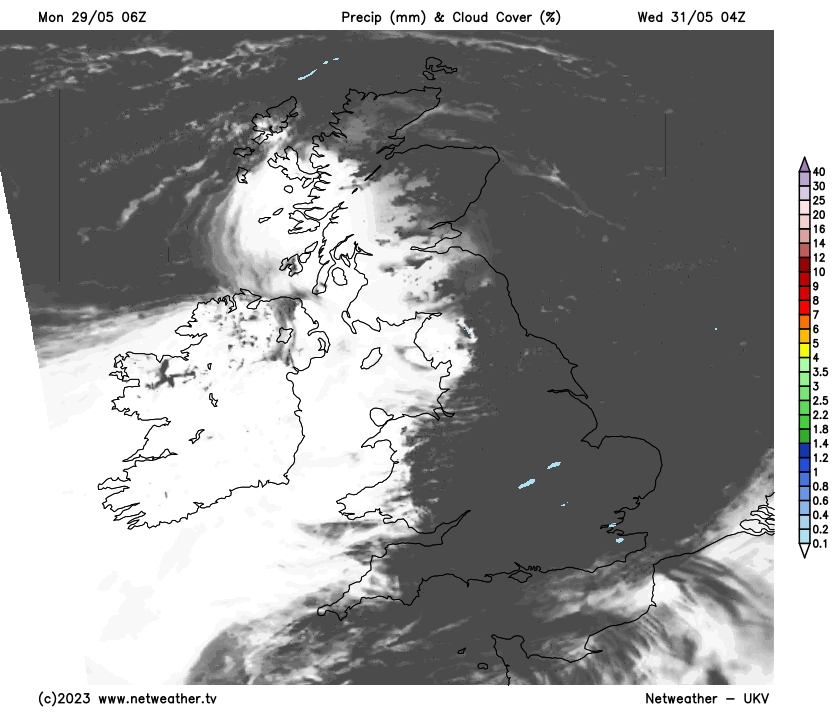 Wednesday
Low cloud rolling back in from the east Tuesday night could be quite extensive across England and east Wales to start on Wednesday, thick enough for the odd spot of drizzle. Cloud more stubborn to clear back to eastern England through the afternoon where it may linger. Otherwise sunniest for longest in the west and this is where we'll see highest temperatures – perhaps reaching 25-26C in Glasgow, 20-22C elsewhere in the west and south, 16-17C near the east coast.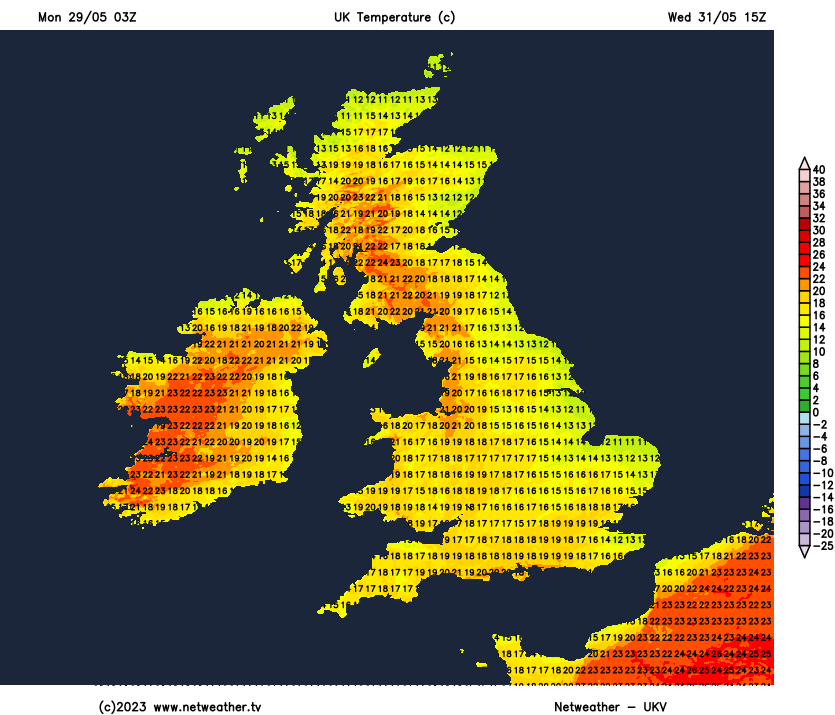 Thursday & Friday
Another cloudy start across much of England and eastern Scotland, clearer in the far west. Cloud burning back to eastern coast of Britain where it may linger all day – which coupled with a brisk breeze off the North Sea will peg temperatures back to 15-17C. Otherwise sunshine across southern, central and western areas will allow temperatures to reach 20-23C.
Settled conditions continue on Friday, repeat of Thursday with a cloudy start perhaps across many areas away from far west, but widespread sunshine developing by afternoon.
Saturday
With high pressure looking to be centred close to or over northern Scotland next weekend, yes, you guessed it, the dry, fine and settled weather continuing. Perhaps cloudy starts for southern, central and eastern areas both Saturday and Sunday, but cloud burning back to eastern coasts with most places sunny by afternoon.