High pressure is set to dominate the weather over the British Isles during the upcoming week, including the Bank Holiday weekend. Most areas will have plenty of sunshine, but there will be periods of cloudiness in the north and east of Britain, with this cloudier weather tending to become more concentrated in the east (rather than the north) as time progresses.
Today
Most regions of England and Wales are experiencing a clear and sunny start to the day, with clouds in the south-east quickly dissipating. A band of cloud, accompanied by some light rain in northern Scotland for a time, will spread southwards through Scotland and Northern Ireland, heading into northern England this afternoon and eventually reaching the Midlands and north Wales by evening. However, this will tend to break up as it moves southwards, and to the north, plenty of sunshine will break through in Scotland and Northern Ireland. Southern England and Wales will stay sunny throughout the day.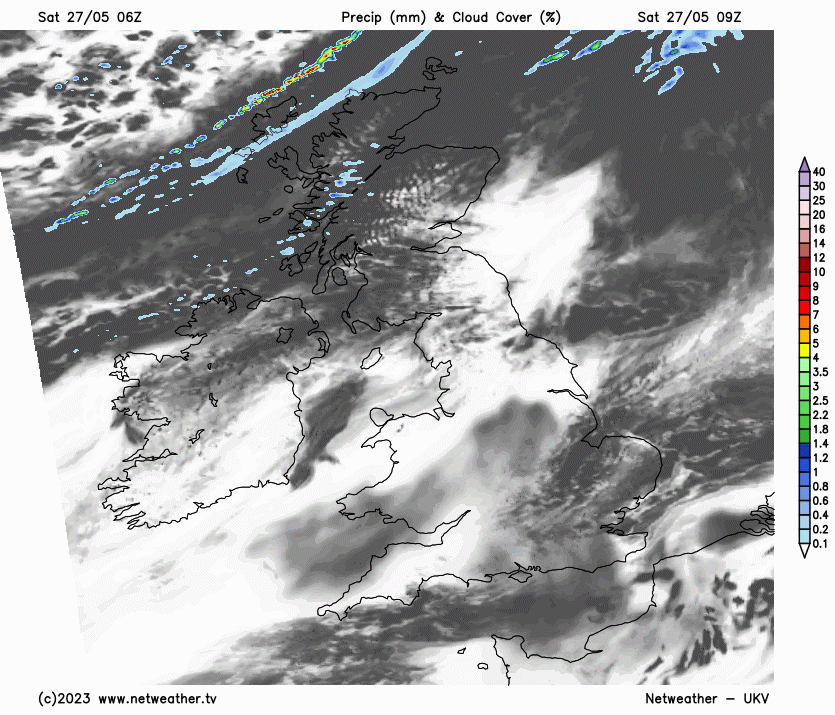 Daytime temperatures will be comfortably warm, though not hot, except in north-west Scotland, with highs between 18 and 21C in most places, but only around 12 or 13C in north-west Scotland.
Tonight, relatively cloudy weather will spread southwards through England and Wales, resulting in a mild night with temperatures not falling lower than 10 to 13C in most places. Scotland and Northern Ireland will see clearer skies with temperatures dipping well below 10C, and in some valleys of the Scottish Highlands, there may be a slight frost with temperatures near freezing.
The outlook for Sunday and the following week
Sunday promises another dry and sunny day for most, with the band of cloud over England and Wales likely to dissipate. However, more banks of cloud will traverse northern and eastern Scotland and the eastern side of England. It will be a warm day for southern England, including the West Country, as well as south and west Wales, with highs of 20 to 22C in many areas, but much cooler in northern and eastern Scotland and north-east England, where highs of 12 to 14C will be widespread.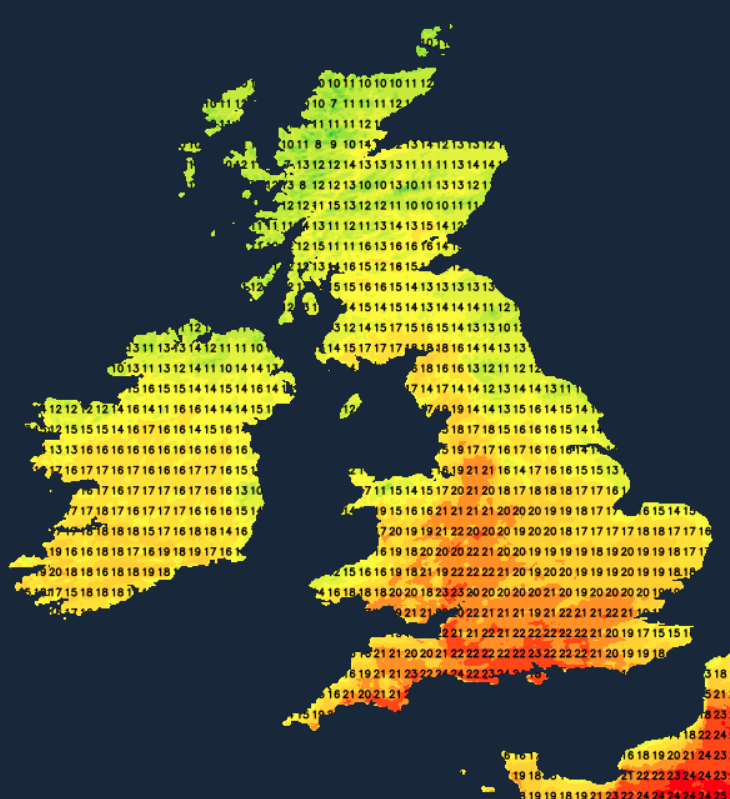 Monday will be a dry and generally sunny day with some high cloud, and rather warm in the west with highs of 17 to 20C, but cooler near North Sea coasts, where we anticipate highs of 13 to 15C and potential for some low cloud to move in off the North Sea.
For the remainder of the week, high pressure will become centred over north-western Britain. We'll likely see some low cloud moving into eastern areas off the North Sea at times, particularly near North Sea coasts, but otherwise, the focus will remain on dry sunny weather. Temperatures are expected to slowly rise throughout the week, with anticipated highs of 22 to 24C in southern and western areas mid to late in the week.
Longer-term outlook and hazards
For England and Wales, the high pollen counts are forecast during the upcoming week and a very high fire severity index for parts of central and southern England and east Wales from Monday onwards. This indicates that the ongoing dry spell introduces a substantial risk of wildfires. The risk is generally moderate or high for other parts of England and Wales. Parts of Scotland are also at risk of wildfires, with the Scottish Fire and Rescue Service issuing a warning for east, central and southern Scotland that runs until Monday.
A blocking high is likely to develop over Greenland into early June, increasing the chances of some colder northerly winds heading into Britain, particularly the eastern parts, starting next weekend or into the following week. It seems probable that high pressure will remain close to the north-west of Britain, maintaining a focus on dry weather for the foreseeable future, but potentially turning somewhat cooler after next week. The Greenland blocking also means that Greenland has the potential to experience its first major ice melt event of the season, following what has so far been a very modest start to the melt season.