This Bank Holiday weekend looks fair for much of the UK. There will be plenty of dry, fine weather often with light winds. Ideal for a leisurely bike ride or perhaps you have a longer route planned? Understanding the forecast details can help plan what to take or even which way to head on a circular route. The easiest way to find a quick forecast is to use the location 7 days forecast. It will give you a snapshot of the most significant weather for hourly or three-hourly slots.
It includes a weather symbol, wind strength and direction. The wind field shows the mean wind and forecast gusts. 18-25mph means a moderate breeze of around 18mph with the possibility of sudden temporary gusts of 25mph, which would be in the strong wind category. There are Air temperatures and the Feels Like temperatures. The humidity and precipitation amount (rainfall in mms), also air pressure and Storm risk, so the likelihood of a thunderstorm as a percentage.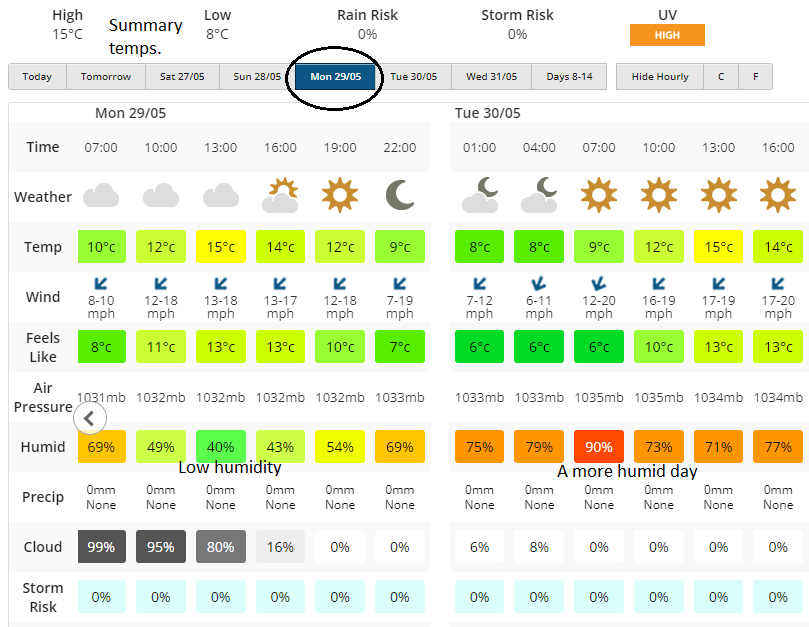 Scrolling down on the same page will show the Netweather Radar for the location and the risk of rain. You can add on lightning strikes and current wind arrows to the display, with more additional fields and options in Netweather Radar Extra.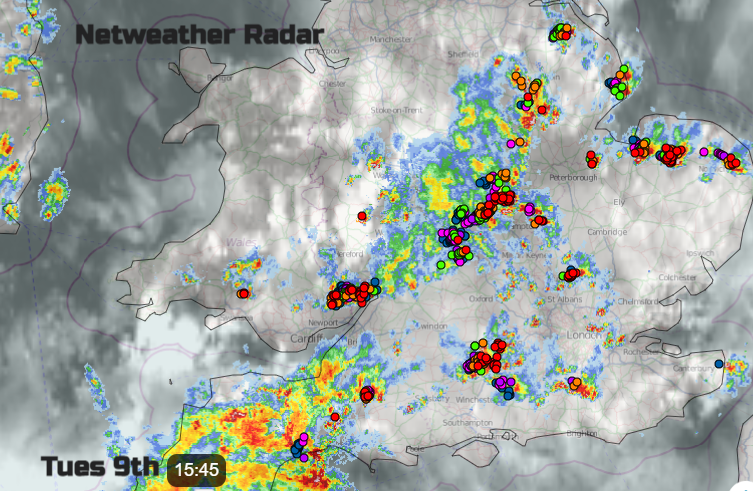 A much livelier setup earlier in May. Thunderstorms and heavy rain with lightning strikes highlighted.
Having some understanding of the Synoptic pressure charts can enhance the use of the symbol and data output. If there is a frontal band forecast to reach 50 miles to the north of you tomorrow, it won't show on the deterministic 7-day output at your location, except maybe as increasing cloud cover. However, if the front speeds up, you could get wet and experience stronger winds. Adding in any uncertainty and considering what might change in the forecast can help with preparations, even though none of us can change the weather.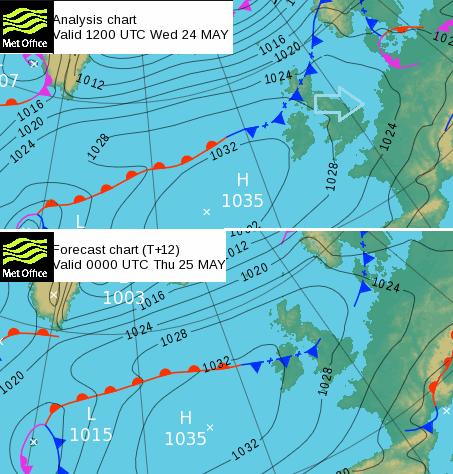 A weakening cold front, would only bring a bit more cloud on its way south but is still a weakness to keep in the back of your mind in more unstable setups.
The most frustrating area for the public and forecasters is showers. How to communicate the risk of downpours on a convective day? You could cycle along one route and not see any showers, just strong bright sunshine. Another cyclist could be 2 miles down a similar route and encounter dark clouds, gusty winds, heavy rain and even hail. Becoming familiar with a weather site's output and display can help. Looking at the radar and seeing how the showers develop and line up. It might give you some local knowledge but not be as apparent if you are heading further afield.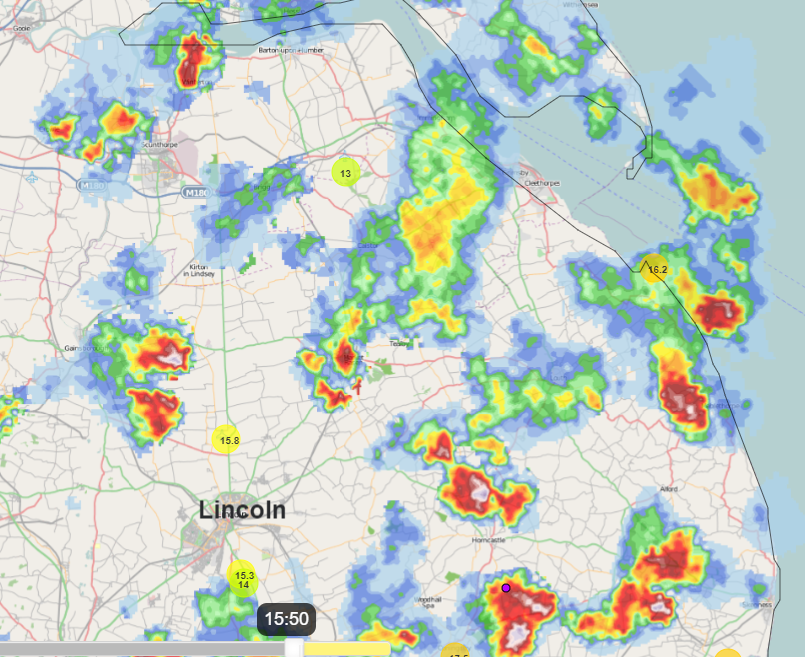 May 2022 heavy showers and dry gaps inbetween showing on the Netweather Radar
West Coast Scotland
The Five Ferries route is usually undertaken in one day but makes for a wonderful two-day break. The ferry journeys vary from a few minutes to an hour and it starts with the ferry from Ardrossan on the mainland to Brodick on the Isle of Arran. A 15-mile ride and you reach Lochranza for ferry number two to the Kintyre Peninsula. After a selection of rides with stunning west coast scenery, nipping to the Isle of Bute and other peninsulas of Argyll, you get the ferry to Wemyss Bay, Inverclyde, back on the mainland to then cycle south to the start point.
This route can be done both clockwise and anticlockwise. The prevailing wind is from the southwest, often with rain and low cloud but the west coast of Scotland can catch stunning fine, warm sunny weather in an easterly flow. If it's a fine, anticyclonic setup then the winds will be light and it won't make much difference which way round you go.
For the late May Bank Holiday weekend, we still have high pressure near to the UK. This brings a lot of fine, settled weather. There is a light westerly breeze on Saturday but that eases over the weekend. The cloud will increase on Saturday with a weak front away to the north but it won't amount to much. Overall, it is a dry picture with variable amounts of cloud but high UV Levels. The tree pollen season continues with mostly oak pollen. The grass pollen season is only just beginning in Scotland. Do be aware it will be chilly by night, so into the evening or with an early morning start there will be a nip in the air.
"If you love cycling, we have lots of options, whether you like the road, hill or challenging tracks. Don't worry if you haven't brought your bike with you as there are many places locally you can hire a bike"
The area includes the line of the old Birmingham Corporation Railway for the linear Elan Valley Trail. It can be ridden in either direction but most people set off west from the town towards the valley. There is also a circular option which is from a couple of Bank Holiday routes highlighted by Trevor Ward.
"Elan Valley is a lovely ride on quiet roads from the lovely Welsh village of Rhayader that criss-crosses reservoirs and Victorian dams. Keep your eyes peeled for Red Kites. And save some energy for the final hill - it's not too steep, just drags on for a few miles, but then it's an endless descent back to Rhayader where you can take a dip in the river Wye. " TW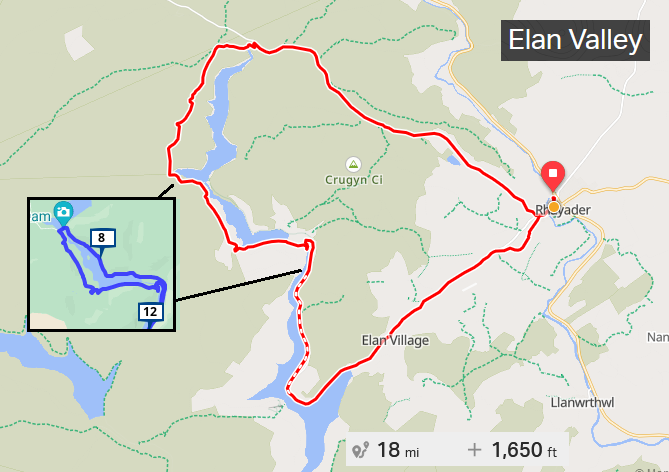 If you are out on Saturday the winds will be very light with fine weather. There will be sunny spells, high UV and the grass pollen season is now getting going with moderate levels. It will be a dry day and in good sunshine temperatures will reach 19 or 20C. By Sunday a light northeast breeze will pick up but the fair weather continues, just with more cloud. Bank Holiday Monday will have a cool start and won't feel as warm in the day. There will be a light to moderate easterly breeze, so a slight change from early in the weekend.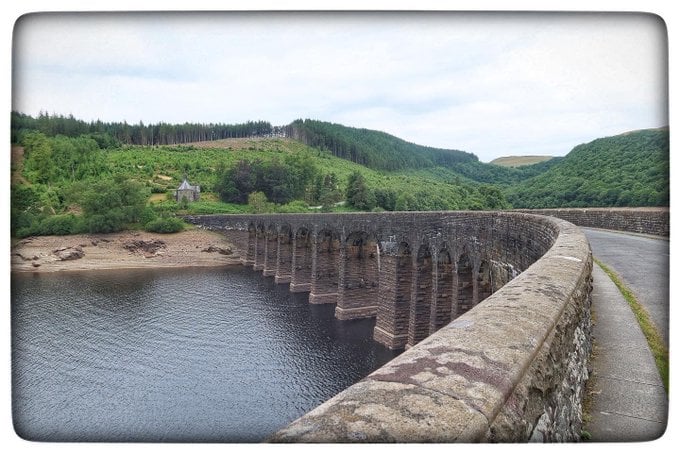 Elan Valley - TW
Pendle Hill, Lancashire
"The second one is slightly more strenuous as it's a loop from the little village of Sawley (on the banks of the Ribble) a few miles from Clitheroe that goes over Pendle Hill. This is quite a steep climb and comes near the end so save some energy. Immediately before it is the little town of Sabden where you can stop for an energy boost. And before any of that is some glorious, undulating countryside famous for the Pendle Witch Trials and picturesque little villages. " TW
There will be a light westerly wind on Saturday with bright conditions and it should stay dry. Temperatures should reach 20C in any sunny spells so feeling warm but not hot or humid. Tree pollen is still on the go as the grass pollen season is just starting. Sunday also looks fine but with a light east to northeast breeze and similar on Bank Holiday Monday although with a nippy start.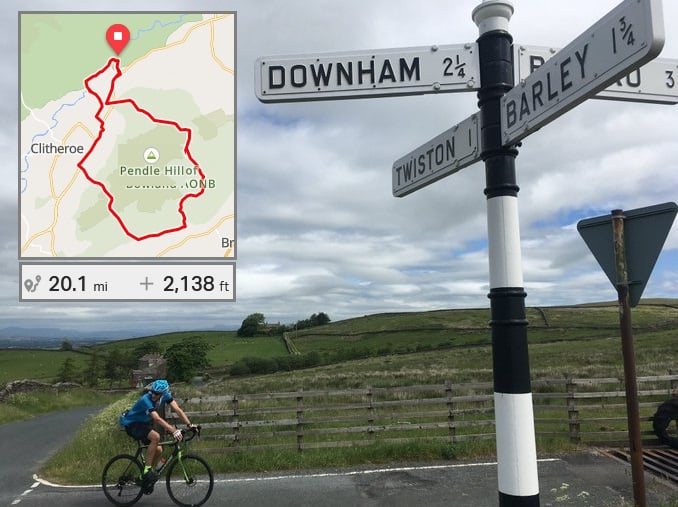 Sustrans have plenty of routes, including the National Cycle Network. One example is the route between Guildford and Shoreham-by-Sea along an old railway line. It's mostly flat and can be done in a long day or just as shorter sections, with the North Downs in Surrey and the South Downs in West Sussex.
There will be a lot of fine, dry weather this weekend. Often sunny although perhaps more cloud for Sunday morning. UV levels are high and you can still get burnt if there is cloud cover in the sky. There will be moderate levels of grass pollen. High pressure is bringing the settled conditions but the air isn't hot and humid, so it will feel cool in the evenings and if you are setting out early on Monday morning. Also, the wind will be picking up through the weekend for East Anglia and SE England. Not a strong wind but just more noticeable, a light to moderate northeast breeze.
"Wind strength and direction rule my life! Temperature and the chance of rain are also important as they determine what I wear/pack. But it's the wind that will crush the soul." TW
Variable cloud cover on 25th May 2023 under a high pressure. 'Burning back' in strong sunshine but also some areas shifting in the breeze.
High pressures are generally slow-moving large affairs with very light winds in the middle but brisk winds around the edges. They give greater confidence to the forecast, several days ahead. Low pressures tend to move by the UK more quickly. Ranging from a day of wet and windy weather to a morning frontal band where the old proverb "Rain before 7, fine by 11" comes into play. So, you can assume there will be more uncertainty in the forecast if you are looking midweek for an upcoming weekend ride.
Learn about Synoptic pressure charts- Isobars to Fronts
Thanks to K.Robertson for Five Ferries photos and to Trevor Ward