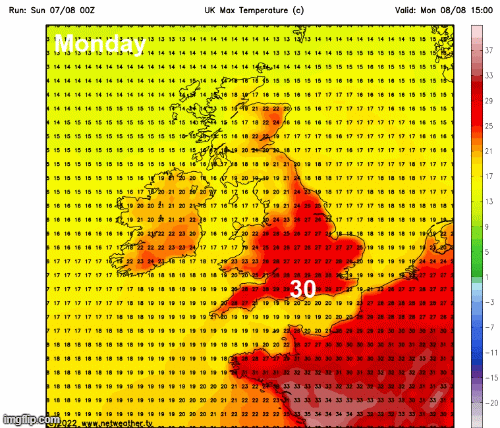 The GFS model indicates seven days in a row, from Monday through to Sunday with a high of 30C or more across southern England. But it's from mid-week onwards through to Sunday we could see temperatures widely into the low 30s inland across England and Wales, low to mid-30s across southern England and south Wales. This means the Met Office heatwave criteria is met across quite a wide area of England and Wales - so expect heat warnings to be issued over the next few days.
What is the definition for a UK heatwave?
The Met Office definition for when a UK heatwave threshold it met is when a location records a period of at least three consecutive days with daily maximum temperatures meeting or exceeding the heatwave temperature threshold.
The threshold varies by county in the UK between 25C to 28C, with London previously the only area to have a limit of 28C but recently joined by Surrey, Berkshire, Buckinghamshire, Bedfordshire, Hertfordshire, and Cambridgeshire.
Most other counties in the southeast of England, south and east Midlands along with Lincolnshire have a threshold of 27C, while other central areas of England, including East Yorkshire Riding and south-east Wales have a threshold of 26C.
The rest of England and Wales, all of Scotland and Northern Ireland still fall under a 25C threshold.
A brief snapshot of the week ahead:
Sunday: England & Wales mostly dry and fine, with sunny spells – highs of 25-28C. Cloudier for Scotland and N. Ireland – with some rain for northern and western Scotland, highs of 17-21C.
Monday: Dry and sunny for most, dull and cloudy across northern Scotland – with some rain. Highs of 20-23C for southern and eastern Scotland, northern England and N. Ireland. Further south, highs of 27-30C possible inland.
Tuesday: Fine with plenty of sunshine for most, temperatures ranging from 24C in NE Scotland to 30C in London. Far northwest cloudier with some patchy rain.
Wednesday: Heatwave conditions developing quite widely across England and Wales as much of the UK sees prolonged sunshine under clear skies. Temperatures reaching 30-32C widely inland away from the northwest. NW Scotland perhaps cloudier with some rain.
Thursday – Sunday: Prolonged sunshine across much of the UK away from the north of Scotland – which will be cloudier. Very hot across much of England and Wales, with temperatures widely reaching the low to mid-30s degrees C. Scotland away from the north seeing temperatures reaching the low to mid 20s degrees Celsius.
This heatwave, all though not bringing extreme temperatures like we saw last month, looks more prolonged than the one we experienced in July, so could have just as much impact on health and infrastructure as the two days of extreme heat with high 30s to 40C did back on 18th/19th July. Added to this the very dry ground conditions following little rain for weeks, the high temperatures will put increased stress on crops, increase water demand and the low humidity may increase wildfire threat too. The fire threat could be exacerbated by a strengthening easterly wind across the south later in the week into next weekend too.
How long will the heat last and when will we see rain soon in the south?
The models suggest heat looks to ease early next week, Tuesday onwards could see cooler Atlantic air spread down from the northwest. But other than some brief showers or thunderstorms possible during the breakdown early next week, there still looks to be little rain firmly on the horizon for southern, central and eastern areas that desperately need it.
GEFS 500 hPa mean for days 8-12 and 12-16 shows a mean trough over UK, which indicates a move away from more settled and hot conditions after mid-month:
ECMWF ensembles total precipiation - no rain for London until at least mid-month, when there could be a change to more unsettled conditions
But if one believes longer-range ensemble guidance, there are tentative signs of a shift away from more settled and dry conditions that have been prevalent for weeks across the south. Ensemble means from GFS and ECMWF show a mean trough axis extending south across NW Europe from early next week, rather than ridging. This suggests an increased chance of some rain in the north and west along with showers or thunderstorms for southern and eastern areas. The position of the trough axis could make a difference to temperatures though. Axis just west and it may stay very warm, occasionally hot and perhaps humid in the south. Over or just east of the UK, then more average temperatures, cool in the north and west.
But across much of England and parts of Wales, where some prolonged rainfall is much needed, rain from showers and thunderstorms can be hit and miss, so not everywhere sees beneficial rains, if such a pattern would transpire. What there isn't any sign of though, is a widespread unsettled and cooler westerly pattern with Atlantic rains moving east across all parts, like we saw in early August last year. So, it could be that the first half and perhaps even the first two-thirds of August sees very little rain for large parts of England and perhaps east Wales.