'Phoenix Park, Dublin has reached 33.0°C which is Ireland's highest of 2022 so far, is a new all-time national record for the month of July and 12.8°C above normal. This is only 0.3°C below the all-time 135 year old record set at Kilkenny Castle in 1887. It is the highest air temperature recorded in Ireland in the 20th and 21st centuries and may rise further' Met Eireann 15:00GMT
There has been widespread rail disruption throughout Britain with many services being cancelled. RAF Brize Norton has problems with melting runway tarmac.
Temperatures have passed 37C in England today with a few spots over 38C. We see the temperature value on the hour but often it is higher within the hour between observations and we have to wait an hour or so for that to be announced. Sometimes it is not until the evening when the NCMs (National Meteorological Message) data is received which runs from 9am til 9pm (GMT) and then 9pm til 9am next day. This data comes from the Met Office's official observation sites. Places that have been inspected and created to record the air temperature in the shade, at a certain height above the ground with a free air flow around the site. Direct sunlight will raise the reading as will being too close to the hotter ground.
Other local records will have fallen or will do on Tuesday. Sometimes a higher value is announced weeks later. This is infuriating for media headlines, waiting til 10am the next day seems bad enough, but announcing the hottest day ever, a month later is a bit lame. It just depends on how the data is gathered and verified.
Some of the sites have been taking observations for centuries. Many places have seen over 30C even passing 35C. Tuesday was always forecast to be the hotter day for central and eastern England, into SE Scotland.
Why? There is even hotter air still pumping up from the southwest and because the heat of Monday. This will be followed by an exceptional night as the heat remains. Then already high temperatures to start Tuesday will act as a springboard to reach the high 30s Celsius.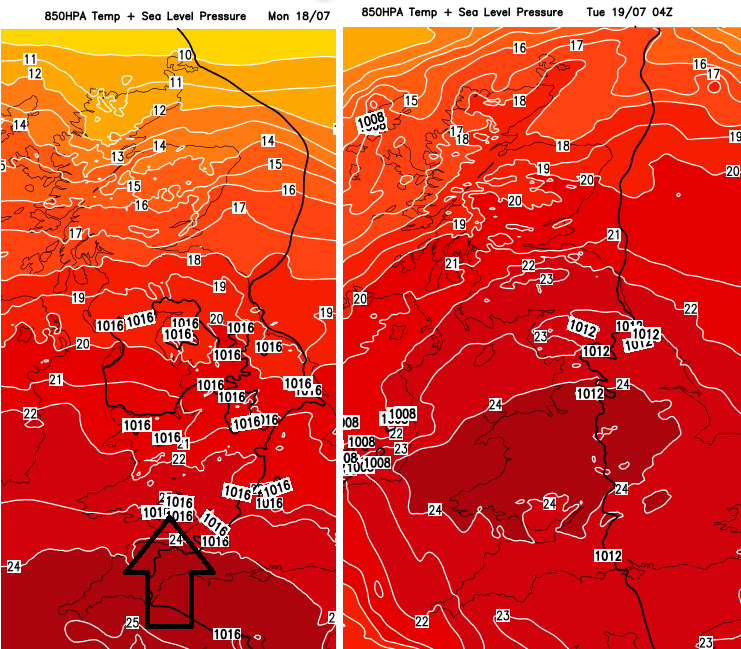 Even hotter air moving up from France tonight, towards NW England, north Wales
Part 2 Monday night
This very warm night will be uncomfortable for many, the heat oppressive for some in urban areas. All this adds to the heat stress on people and pets. It will be a "Tropical Night" for many where the temperature does not dip below 20C. So other records could fall for the 'Highest daily minimum'
England 23.9C August 1990 Brighton, Wales 22.2C July 1948 Swansea, Scotland 20.9C July 2019 Achnagart, Highland and Northern Ireland 20.6C July 1869 Armagh. These were the lowest that temperatures fell in a 24 hour period, of 09Z-09Z. It stayed at 20+C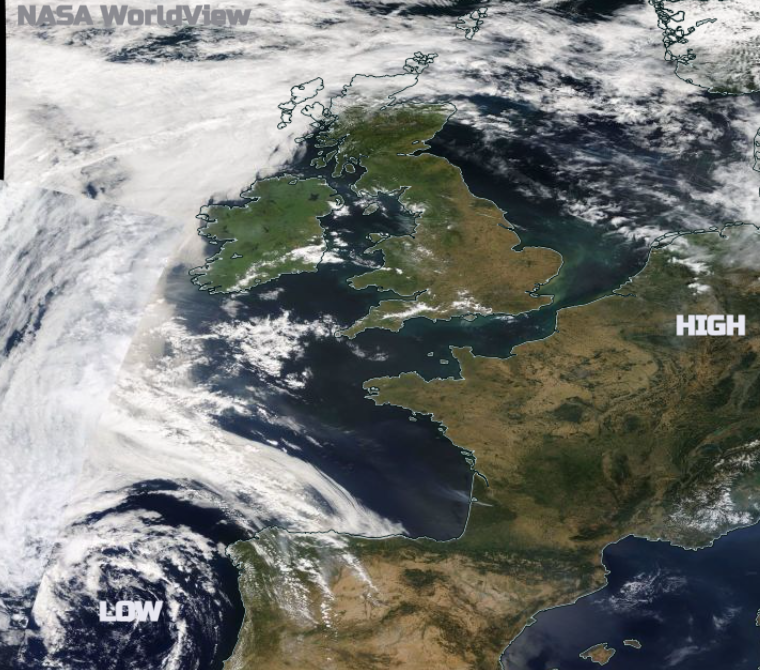 This looks very likely for Monday night. The winds will fall light, the hot air continues to be pumped up through western Europe by that low pressure of the west coast of Iberia. And the Extreme Heat warnings through Britain continue into a third day. (Second for some parts). Manchester and Birmingham to have an astonishing night with temperatures in the mid to high twenties, overnight!
The Severe weather warnings in the UK are impact based. A combination of high temperatures, the likelihood or confidence in the forecast and the impacts of the heat. So, the map does not reflect just temperature values but disruption that might be caused, or what these weather conditions will do to people's health or daily activities.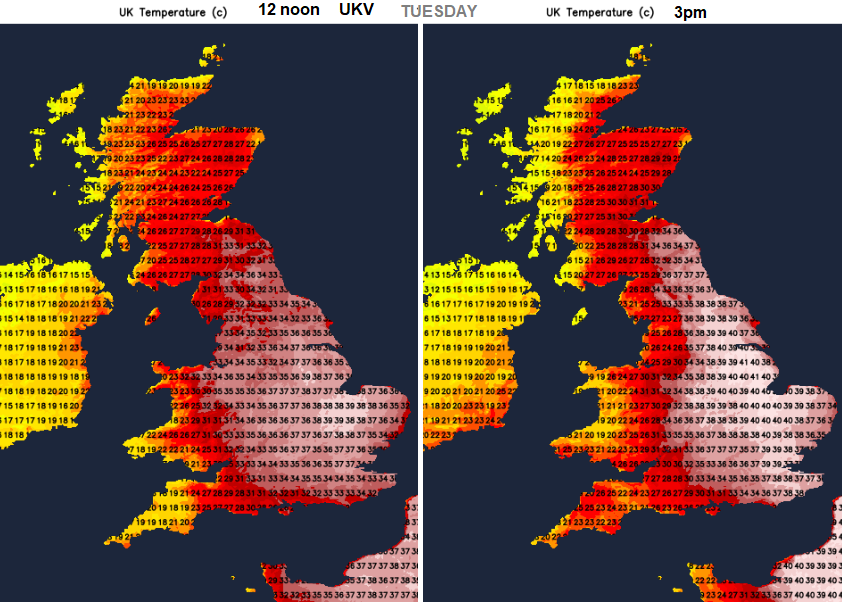 Part 3 – Tuesday 19th July 2022
This day was always forecast to be even hotter. Ferocious heat with the temperatures charts consistently showing 40+C for central and eastern England. SE Scotland also had forecast values above 30C and nearing their record max. For Northern Ireland, not as hot for most although very warm in Co. Down at lunchtime. There will be more sunshine and blue skies but two bands of cloud and showery rain approaching from the Atlantic. One affecting Northern Ireland with more cloud and then the Outer Hebrides with showers for Tuesday afternoon. Another in the SW bringing showery rain and more cloud to Cornwall and Devon Tuesday morning and then South Wales by lunchtime.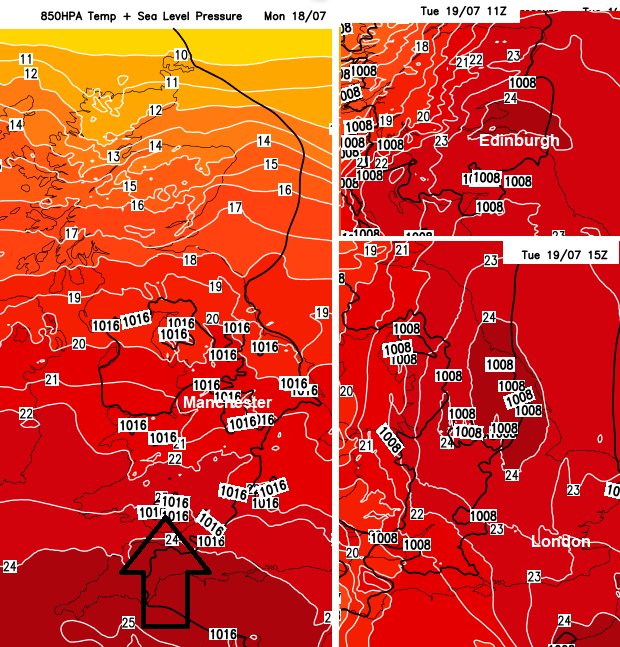 Look at the difference of the forecast air above eastern Scotland late morning and eastern England by late afternoon, compared to Monday
Today the temperatures have continued to rise right through the afternoon, even after 4pm. On Tuesday, there will be the raised starting point but the layer of thin high cloud complicates things from the west through the day, as a cold front reaches Northern Ireland. It's going to be another intriguing day before the heat clears for midweek.