Monday
Northern and western areas will be rather cloudy with scattered showers, heavy and frequent across northwest Scotland, lighter elsewhere. Windy across northern Scotland. Central, southern and eastern areas will be largely dry with sunny spells, the odd isolated shower passing through in the afternoon. Temperatures 15-18C in the north and west, 19-23C across central, southern and eastern areas.
Tuesday
Rather cloudy for many on Tuesday, thick enough to produce some light showers in the west, though some heavier ones possible for western Scotland, but it will be drier than Monday. Best chance of sunshine towards the southeast. Temperatures reaching 15-19C in the north and west, 19-22C in the south and east.
Wednesday to Friday
A weakening front moving southeast will push cloudy skies and some increasingly patchy and light rain southeast across many parts on Wednesday, though not much rain reaching southern England. Rather cloudy again for northern and western areas on Thursday, with a few light showers, drier and sunnier towards the southeast – with temperatures reaching the low to mid-twenties here.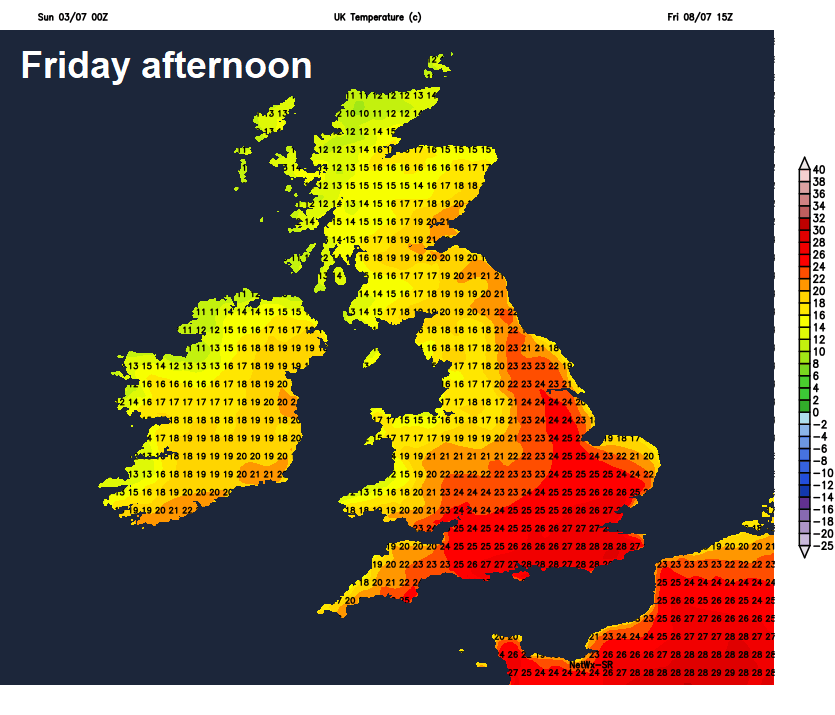 A more widely improving picture on Friday, as high pressure from the Azores builds in more strongly, more particularly across the south, so it will generally be drier with more in the way of sunshine, particularly in the south. Temperatures on the up too, reaching the low twenties in the north and west, perhaps 26-28C across southern and eastern England.
Next weekend
High pressure building in across the UK next weekend, so many places becoming dry, settled, sunny and very warm, perhaps locally hot with temperatures in the high twenties in the south. The exception maybe northern Scotland – which may see cloudier skies and some rain.