The showers hang around into the weekend but Sunday looks drier for many, away from northern Scotland.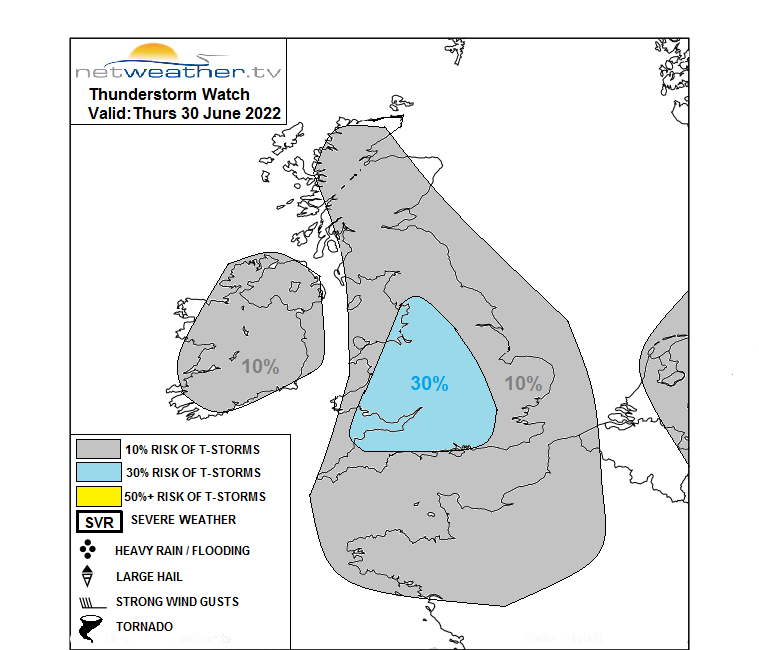 "Greatest instability will be across Wales, Midlands, NW, SW and central S England this afternoon, where also there will be breeze convergence zones creating enhanced lift locally – so here will likely see the greatest probability of seeing thunderstorms – though here vertical shear will be rather weak. So storms will be generally short-lived but may pose a risk of localised flooding – as they will be slow-moving." Convective forecast today
Today
Heavier showers break out this morning. By lunchtime over Wales, Cumbria and SW England and then a spread inland through the day with something drier for NW England through the afternoon. With the heavy downpours, there will be thunderstorms today. These will bring the risk of localised flooding and sudden gusty winds with poor visibility and spray on the roads. A frontal band is bringing rain to NE Scotland this morning. That pulls away northwards and fragments.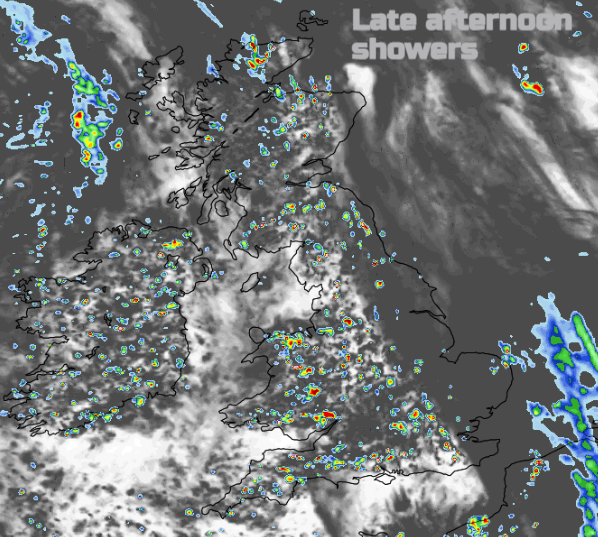 Tonight, most of the showers fade away as it turns cooler with clear spells. The East Midlands to The Wash, the Humber and then later up to North Yorkshire could see showers continuing into the morning.
On Friday the showers get going away, a real peppering across Britain. By Friday afternoon, the focus for the downpours over eastern Britain and northern Scotland before a new frontal system arrives over Northern Ireland and Gwynedd for Friday evening.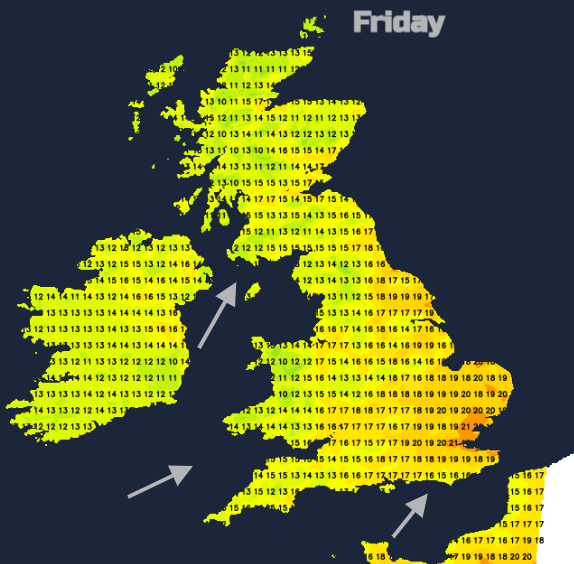 Temperatures for the next few days will be 16 to 22C by day and around 10C by night.
The frontal bands look more like a collection of hefty showers which move up through Scotland by Saturday morning with the cold front line over NW England, Wales and SW England to start the weekend. Ahead of the cold front will be sunshine but a brisk SW wind for England. Showers follow behind as the wind begins to veer to the northwest. Southeast England could see 21 to 24C at the weekend in the sunshine but elsewhere it will feel cool by night with Sunday being the drier day.
Tags:
UK Weather
&nbsp
Thunderstorms