It will be quite a windy day thanks to a fairly deep low close to Ireland, especially in the west and around coasts elsewhere, southerly gales possible through the Irish Sea. Feeling cool in the west as a result, with temperatures here reaching 16-18C at best. Further east a warmer 18-22C, highest temperatures for eastern England.
Tonight
Showers or longer spells of rain, locally heavy, will continue to spiral around low pressure centred over Ireland across Ireland and the far west of mainland Britain overnight – where it will remain windy too. But elsewhere any showers should fade to leave a mostly dry night with clear spells, feeling more comfortable with lower temperatures than recent nights.
Sunday
Windy with outbreaks of rain, locally heavy, pushing in across western areas through Sunday morning, the rain turning more showery through the afternoon, showers turning heavy with a risk of thunderstorms too – more especially across N. Ireland and SW Scotland. NE Scotland, eastern and southeastern England staying mostly dry and breezy with sunny spells again, though the odd light shower can't be ruled out. Cool in the north and west, temperatures reaching 15-18C, warmer towards eastern England – where temperatures will reach 19-23C.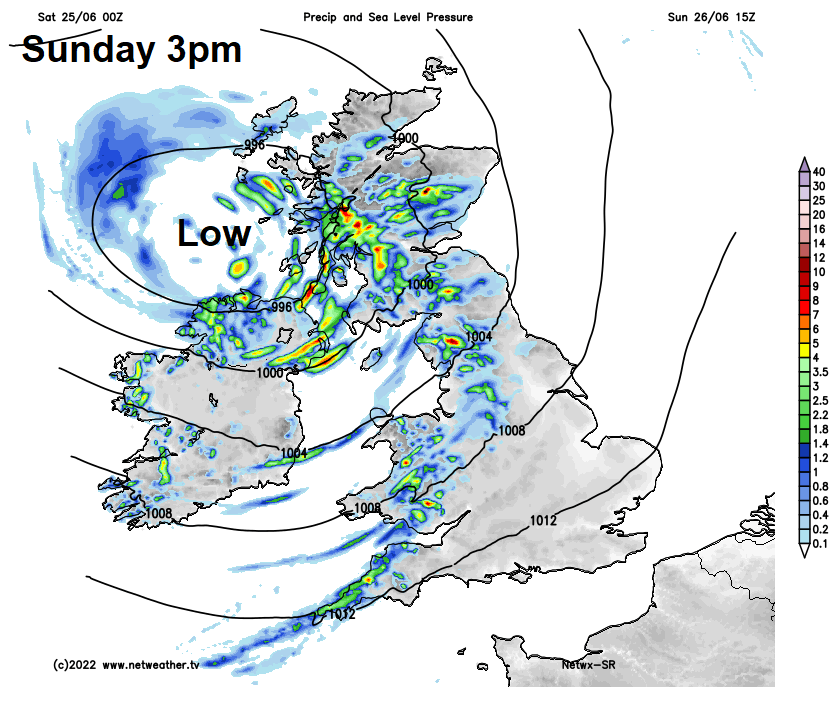 Next week
Continuing unsettled and windy across the west early next week. The weekend's low moves away north but to be replaced by another low pressure system moving in from the west to the west of Ireland on Tuesday. Monday seeing a mixture of sunny spells and showers spreading east across many parts, locally heavy with thunder. Tuesday seeing cloud and spells of more organised rain, locally heavy, pushing in from the west across northern and western areas ahead of low pressure to the west of Ireland. Eastern England mostly dry with sunny spells.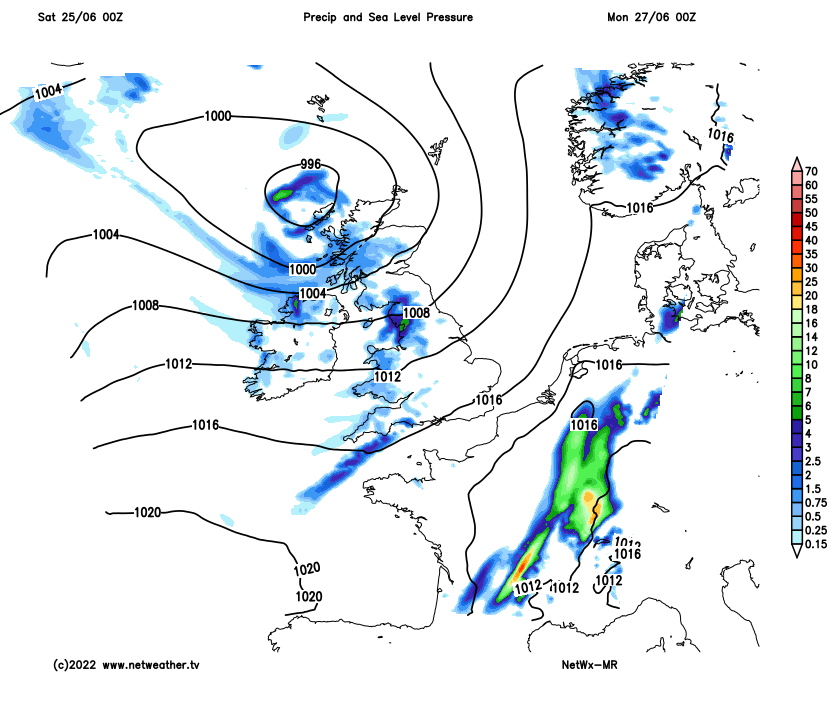 Sunshine and showers on Wednesday, as low pressure moves in over Ireland, most of the showers, perhaps thundery, across northern and western parts. Showery again on Thursday and Friday, locally heavy with thunder, perhaps a more organised area of thundery rain pushing up from the south later on Thursday – which may still affect eastern areas on Friday. Showers easing across the northwest on Friday.