The weather at the moment is following the same pattern, day after day. Low pressure moves in off the Atlantic, bimbles around for a few days, then is replaced by another one. That's keeping the weather unsettled. With showers or longer spells of rain on most days, the showers being given extra energy by increasingly strong May sunshine, meaning some big downpours and thunderstorms can develop.
Little is going to change through the upcoming week. We have low pressure over southern England today (Sunday). That's going to drift east into the North Sea tomorrow, but another small low will join the party to the west of Scotland. Wednesday is set to buck the trend a little, with fewer showers and more sunshine as a transient ridge of high pressure moves in. Unfortunately, that ridge will set up ahead of an ever-deepening low which'll arrive on Thursday, bringing potentially strong winds and a spell of persistent rain, before hanging around into the weekend to deliver us that familiar story of sunshine and showers.
If you're looking for the route out of this seemingly never-ending pattern, it's not especially clear at the moment. The ECMWF model this morning does build high pressure in over the UK and Ireland after next weekend, but most other models aren't quite so keen, delaying the arrival of something a bit less unsettled and a bit more summery until much nearer to the end of the month - although southern parts could see it sooner. We'll definitely be all over it and let you know as soon as there's some more certainty as to when a change is likely to arrive.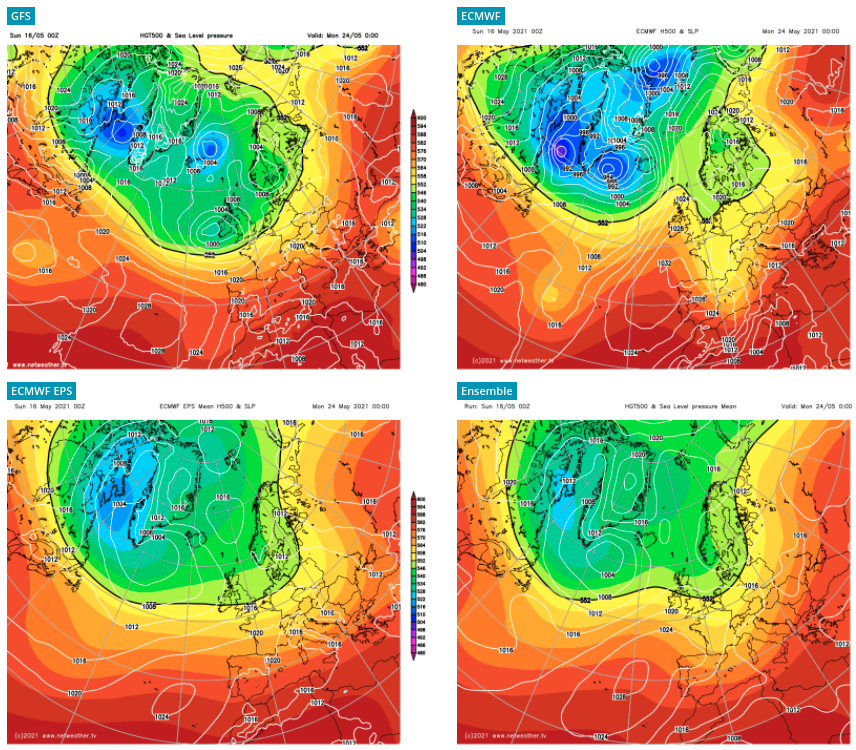 Back to the here and now, with low pressure over southern and central England, it's England and Wales that'll see the bulk of the shower activity. Scotland and Northern Ireland will still see some, but they should be fewer and further between, particularly away from southern Scotland. As we've had during many recent days, there is a threat of some beefy downpours and thunderstorms, so a detailed storm forecast has been issued.