After the messy end to the week, with virtually all parts of the UK and Ireland seeing rain, sleet or snow, the weekend will be quieter but still on the cold side. There will be some outbreaks of rain, sleet and snow around though, with the wintriness mostly over the hills but most parts will see more in the way of dry and at times bright weather.
To start with on Saturday, the most active spots have been the east and north of Scotland, a good part of inland Wales and down through into central southern England where there has been sleet and snow at higher levels, with rain lower down. Both sets of regions will become drier as the day wears on though, with a scattering of showers continuing to run into Scotland from the west, and further showers will also affect southern England at times, with low pressure nearby. Elsewhere, other eastern regions may see some showers coming in off of the North Sea, which will still fall as sleet and snow as they reach high ground. But other parts will see plenty of dry weather, with sunny spells.
It'll be a cold feeling day, especially in the wind which'll be strongest in the south both quite noticeable everywhere. Maxes on the thermometer this afternoon will typically reach 4-7c, but it'll feel several degrees colder than that if you take the windchill into account.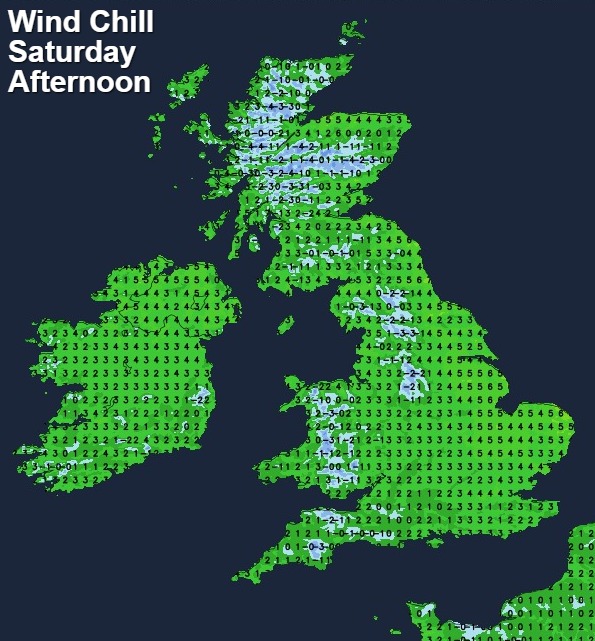 This evening and overnight, a more organised batch of showers will move into Eastern England and Scotland, with some showers also continuing in the south. Further west, it'll be a drier, clearer picture with a widespread frost forming, Some foggy, murky patches are also likely to develop, some of which may stick around well into Sunday.