The weather is on the change today with cold air working its way south behind a weak cold front. Colder, unsettled weather will then be sticking around right through into the weekend. With low pressure moving over the top of the UK from tomorrow, there'll be showers of rain, sleet, snow and hail, with some longer spells in the mix as well. Lying snow will mostly be limited to the hills, but some temporary coverings lower down aren't out of the question.
For much of England and Wales, Wednesday has started grey and relatively mild. The front, with some patchy rain on it, will continue southeastward through the day, getting into the southeast during the early part of the evening. Behind it, there'll be a rash of showers following in from the northwest, which will become increasingly wintry as the day wears on, especially up over the high ground.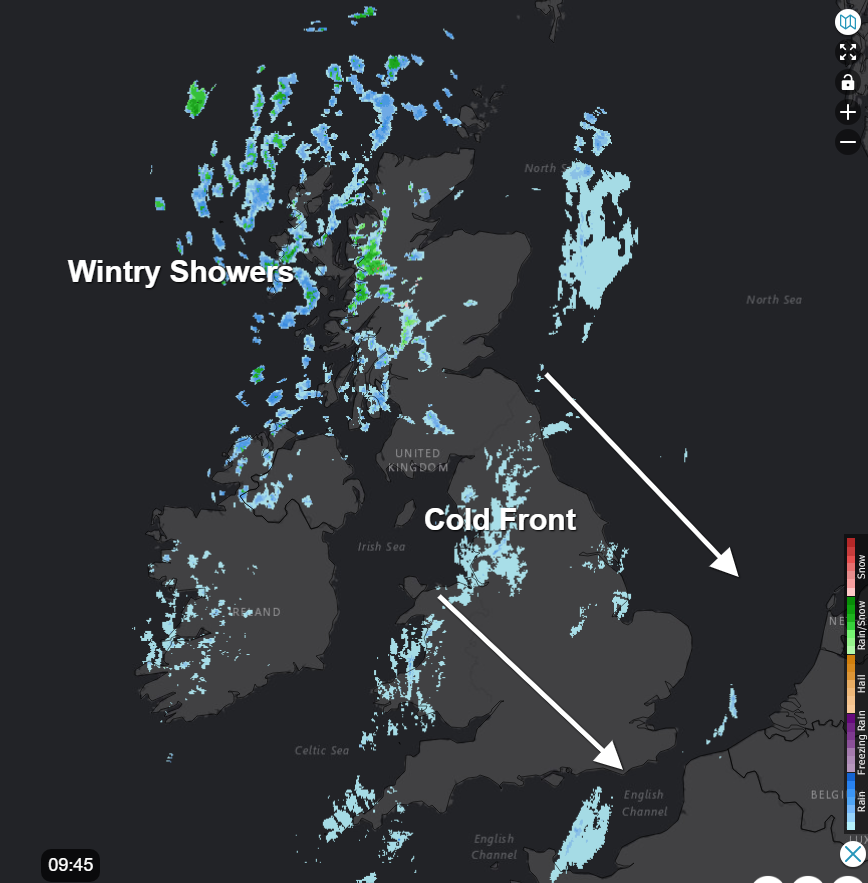 Stay up to date with the live radar here.
Most of them will stay in western and northern parts, but a few are likely to filter further east. The wind will also be more noticeable behind the front, really knocking the edge off of the temperatures, which will be feeling close to zero across much of the northern half of the country at lunchtime today.
This evening, the showers will continue in the west with snow starting to accumulate up over the hills of Scotland, Northern England and Wales. Where skies clear across Scotland and Northern England, it'll be a cold night with a hard frost forming in places. Further south, with more cloud, it'll stay milder.