Low pressure will be back next week, bringing some rain and blustery winds at times. There'll also be some temperature swings, including a colder second half to the week with some wintriness likely.
For now though, we're still stuck under mostly gloomy skies to end the weekend. It'll be a generally dry picture on Sunday at least, with just a few bits and pieces of rain near to coasts, particularly in the north and west of Scotland. If you're hoping for some sunshine, it'll be at a premium with the best places for some extended sunnier spells likely to be southwest England and south Wales, along with Northeast Scotland. It'll be in those brighter southwestern regions where temperatures will be mildest today, with highs of 10-12c likely, elsewhere 6-9c will be about your lot.
The first change of the week will start to arrive during this evening and overnight, as rain makes a move down from the northwest into Scotland and Northern Ireland. Away from that though, it'll be another misty, murky night with just a few patches of frost possible in the east of Scotland with perhaps also south Wales and southwest England also getting in on the act if skies stay clear.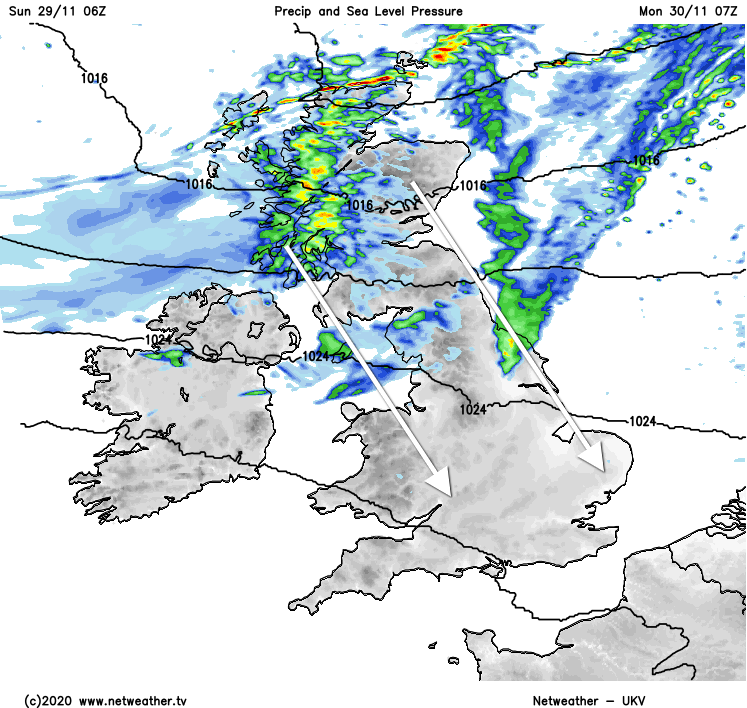 The rain in the north will continue to move south during Monday with colder air, sunny spells and a few showers following on behind. As it moves through England and Wales, it'll become more patchy, especially in the east, with any more persistent heavier bursts likely to be in the west. A cold evening and overnight will follow with skies clearer behind the front bringing the rain. That'll mean a quite widespread frost is likely, with some icy patches - especially from the Midlands northwards, with the far south more likely to cling on to enough cloud for longer to keep it a touch milder.