The frontal band wavers about over western Scotland with more heavy rain, also for Northern Ireland, into Cumbria with outbreaks of rain over NW Wales, mainly for Snowdonia. Kent and Sussex, Surrey even south London could see temperatures fall away with some early fog under clear skies and with hardly any breeze.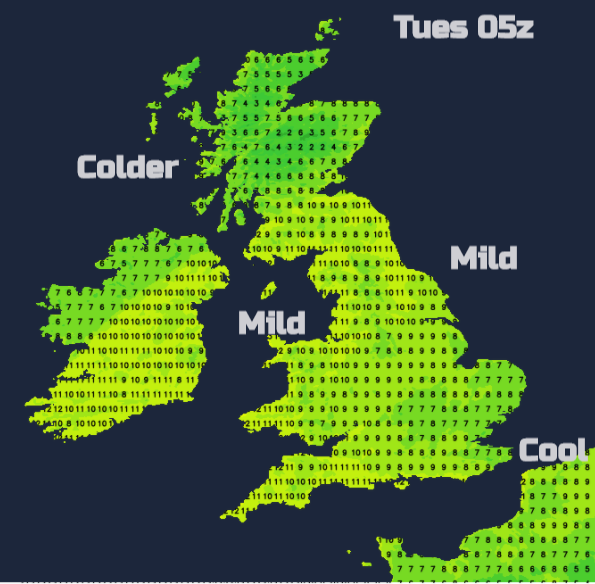 By Tuesday morning there will be a distinct frontal boundary with light winds, cold air to the north even bright spells for northern Scotland. More rain and cloud along the front and mild air to the south. Still windy through the Irish Sea and over northern England, southern Scotland to start Tuesday. Northern Ireland and Scotland face another wet day with rain again reaching over Cumbria. Brighter skies further south and east and mild. Temperatures will be 11 to 13C
The frontal band begins to edge SE on Tuesday evening and it turns distinctly colder behind as the winds veer briefly to the northwest.
The frontal band will bring showery outbreaks over England on Wednesday, edging slowly southwards. Behind this will be increasingly sunnier skies, a nip in the air and a colder NW wind but drier. Only the far north of Scotland will have showers, and these could bring hail and thunder with a cold north wind setting in.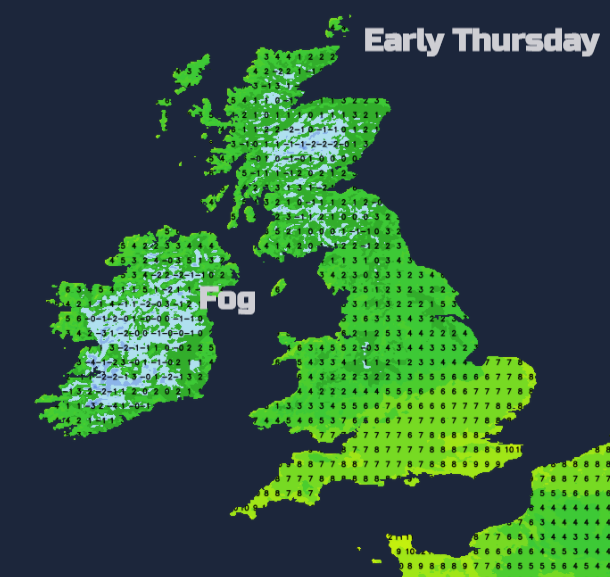 For Thursday morning and more so by Friday morning there will be fog. With temperatures around freezing and very light winds, there will be frost, the risk of freezing fog and dense fog in places. There is some uncertainty about the clearance of the mild air from the far south of England but overall, later this week looks chillier as you would expect for late November.