The best places for sunshine and staying dry today will be across eastern Scotland and eastern England, southern and western areas of Britain will be cloudier and will see showers drift in from the southwest through much of the day, showers locally heavy with thunder. Low pressure will continue to be firmly in control as we start next week and will be over Scotland on Monday, so many areas seeing showers. It remains unsettled for the rest of the week though, as a deep area of low pressure, the extratropical remnants of Hurricane Epsilon, moves in south of Iceland on Tuesday, driving a frontal system with rain east across Britain, followed by windier conditions with sunshine and showers Wednesday. Another area of low pressure moving in off the Atlantic looks to bring further rain across most parts Thursday and Friday, though it does look to turn milder across the south by the end of the week.
Today
For now, hopefully you've remembered that the clocks went back overnight to enjoy an extra hour in bed, but if you are up early, you may have noticed it's lighter an hour earlier. But this evening it will be darker earlier. There's been showers from the word go this morning across southern and western areas, showers locally heavy with the odd rumble of thunder too across the south, waking some up. Showers across Scotland over towards the east too, but much of eastern England so far dry and bright to start Sunday.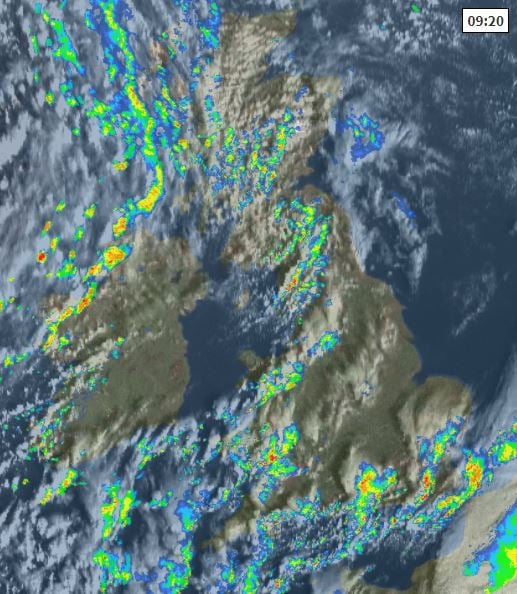 Showers will continue pile in from the southwest across southern and western areas through the day, locally heavy, with the odd rumble of thunder and perhaps some hail mixed in – particularly towards southern and western coasts. Showers perhaps merging into a spell of more persistent rain across western Scotland later. Showers occasionally getting through to eastern Scotland and far NE of England but much of central and eastern England generally escaping the showers. It will be a breezy day for most, particularly windy in the northwest, with gales possible across the far west of Scotland. On the cool side, temperatures reaching highs of 10-12C in the north, 12-14C in the south.