Mid-October can sometimes produce noteworthy storms, and while the remnants of storm Barbara won't come into that category, it's giving a wet start to many places South East of a line from Hull to Cardiff. But we have to keep an eye on this storm as it tracks north, as it could give gusty winds to gale force for a short time across Kent and along the south coast, east of the Isle of Wight.
Much of the rain is light at the moment, but there'll be heavier bursts before the rain fragments into showers later. Parts of East Anglia and the South East could even see a few sunny intervals this afternoon, while some central parts remain dull and wet. We also have an area of wet weather across the North and West of Scotland at the moment, but this too should fragment into showers. Elsewhere there are narrow bands of rain between areas of broken skies and scattered showers giving a few sunny intervals that'll persist throughout the day.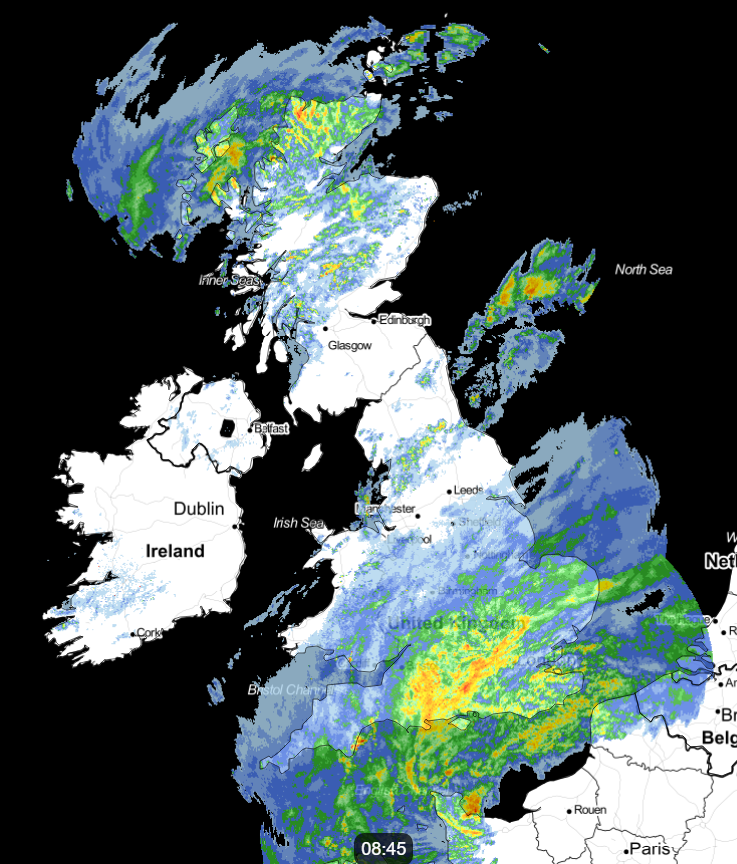 Check the latest rain radar here.
Winds generally will be fairly light, but a North West or northerly wind will feel chilly across Northern Ireland and the far North West keeping temperatures here to between 10 and 13C. Across the bulk of the country though, 14 or 15C is more likely with 16 or 17C possible again across parts of East Anglia and the South East where you see a few sunny intervals later.
There'll be further rain into the evening East of the Pennines, with showers continuing over the North and East of Scotland and across Northern Ireland for a while. Overnight however the weather should slowly improve, but there'll continue to be scattered showers. Towards morning Northern Ireland and mostly western parts of England and Wales should see skies breaking to perhaps give a few clear intervals. It'll feel chillier however in a West or North Westerly breeze, although temperatures, on the whole, shouldn't fall below 7 to 11C.