If Delta does make landfall over CONUS (Continental United States), and that does look very likely, it will be the 5th hurricane this year. The last time that happened was, yes, in 2005.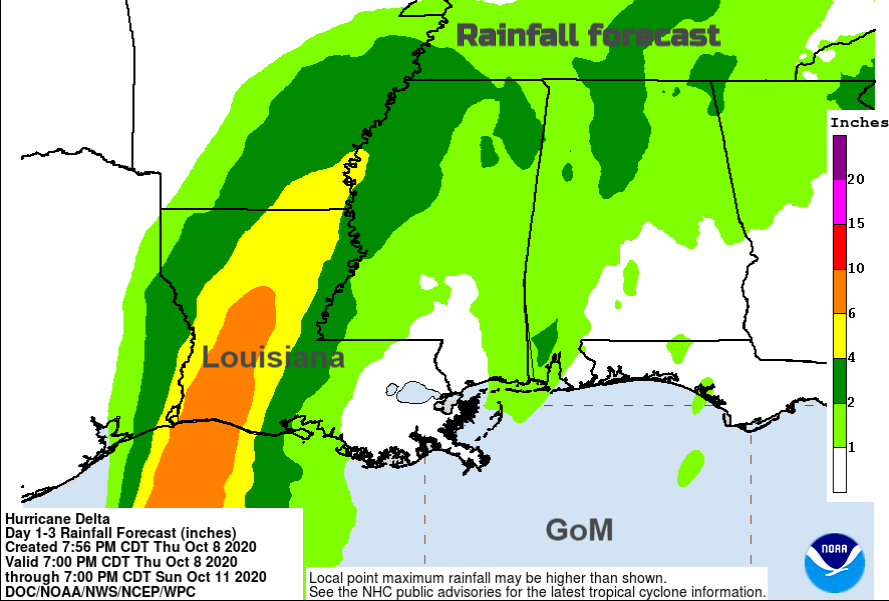 The forecast sees Delta strengthening to a major hurricane while it remains over warm deep waters, with low wind shear and plenty of moisture. Closer to the shore it should then ease back slightly before landfall later on Friday 9th October (local time) but still as a large system.
The Key messages from NHC (National Hurricane Centre) Delta continues to grow in size as it approaches the northern Gulf Coast, where life-threatening storm surge and dangerous hurricane-force winds are likely beginning Friday, particularly for portions of the Louisiana coast. Significant flooding is likely Friday and Saturday - central Gulf Coast into Lower Mississippi Valley then further inland, heavy rainfall is expected in the Ohio Valley and Mid-Atlantic this weekend. 6-10" of rain, even 12" in places spreading well inland for Louisiana.
Louisiana has been on alert for several storms this season with Hurricane Laura making landfall there in August as a category 4 storm. Governor John Bel Edwards said
"All who live in South Louisiana should be preparing for Hurricane Delta and plan to be in place by Thursday evening as we prepare to weather yet another strong hurricane."
By Friday 9th morning, tropical storm force winds will be impacting the northern Gulf towns and resorts, the storm surge beginning to raise water levels at the coast with dangerous sea conditions, large waves and rip currents before landfall on Friday evening with the hurricane force winds and heavy rain.
More discussion about Delta in the Netweather forum