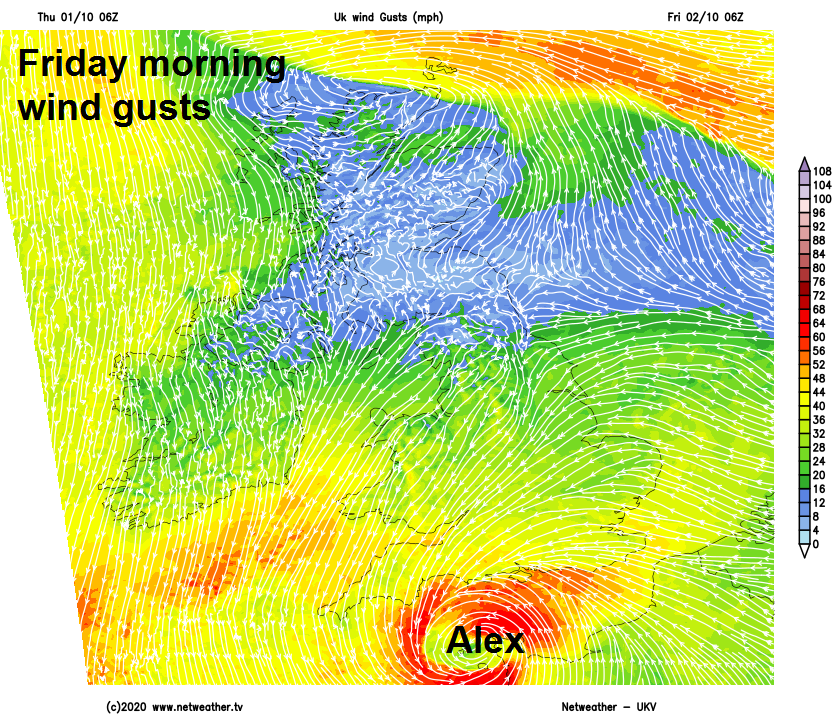 A Met Office yellow warning for rain and wind is in force between 3am and 8pm tomorrow for southern counties of England south of the M4. The warning states:
Some places could receive 40-50 mm over the course of 12-18 hours, most likely in the south of this region, combined with gusts of 45-55mph inland during Friday morning rush hour. Some coastal regions exposed to the south-east could experience gusts of 60-65mph.
In contrast, most of Scotland and N. Ireland will enjoy a dry and sunny day, once early cloud and showery rain clears NW Scotland. Northern England cloudier with some scattered showers, though some brightness possible in the far north. Another cool day across all the UK, temperatures reaching 12-15C at best.
Weekend
Generally cloud with outbreaks of often heavy and persistent rain extending north across much of Britain on Saturday, some high rainfall totals in places, particularly across Wales and northern England, leading to an increased risk of flooding in prone areas. Drier and perhaps brighter conditions extending north across southern and eastern England through the afternoon. Feeling cold with the cloud, rain and a brisk easterly or northeasterly wind.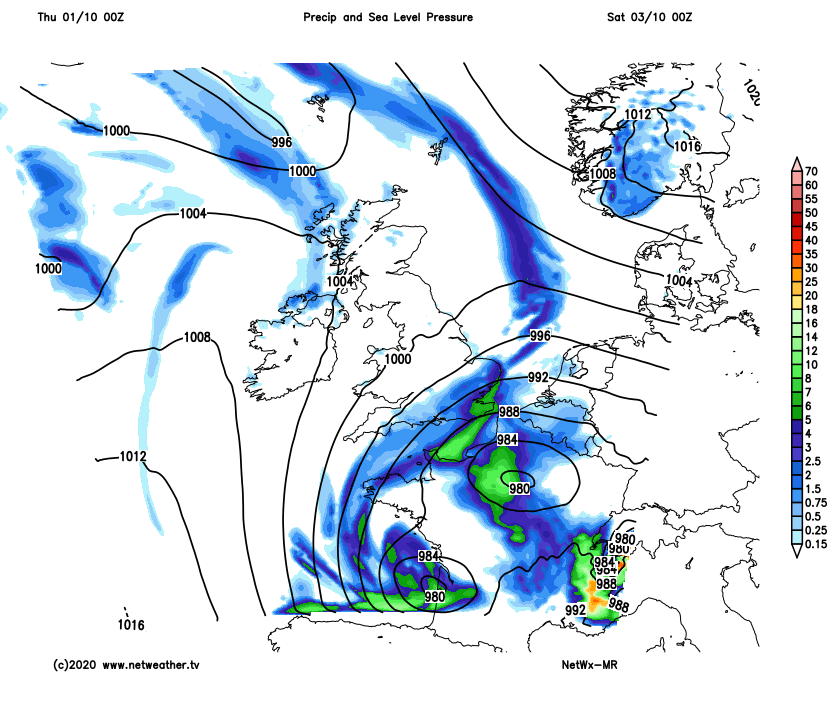 Low pressure likely centred over southern England on Sunday, with bands of showers or longer spells of rain wrapping around the low affecting southern counties of England, Ireland, N. Ireland and northern Scotland, while elsewhere sunny spells for many but also scattered showers are likely too. Windy across northern Scotland, southern and western coasts of England and Wales, winds lighter inland.
Next week
Remaining cool, unsettled and windy at times next week. Low pressure will be close to the east through much of the week, feeding in brisk northwesterly winds which will in turn feed in sunny spells and showers across most areas, perhaps more prolonged spells of rain at times.