As temperatures return to the heights of 37C (seen on the last day of July) on Tuesday or Wednesday that is thanks to drier, hot air lingering over SE and eastern England. A plume of very warm and humid air moves up over southern UK giving a close, muggy feel to the air but enabling the thunderstorm process.
Convective forecast- "Isolated to scattered elevated thunderstorms, generated by subtle uplift and cooling on the western edge of mid-level warm moist plume, will continue to track N across SW England, Wales, Irish Sea coasts this morning, before reaching NW England and SW Scotland through the afternoon and evening."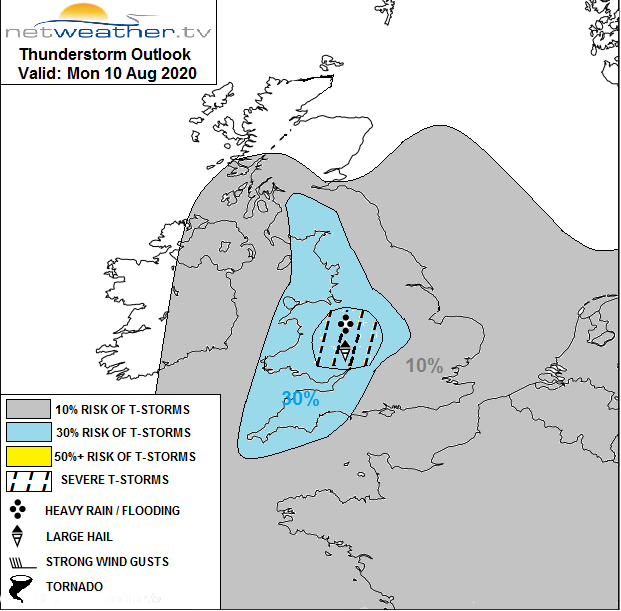 The plume continues north/NW through more of Britain, reaching southern Scotland. The forecast graphic shows a particular area over Wales and the Midlands which could see a significant release of instability. Surface-based convection could kick off with severe thunderstorms being possible. This would mean large hail, frequent lightning, gusty winds and torrential rain with the risk of flash flooding. This heightened risk extends to NW England by this evening.
Other areas could see the odd heavy shower or elevated thunderstorm (where less rain reaches the ground, there can be lightning seen) but this is not expected to be the focus of today's action. You may have seen the distinctive castle turrets of Altocumulus Castellanus showing the mid-level instability already.
The cluster of storms forecast for NW England this evening, creep northwards during Monday night into southern Scotland and could still be over eastern and northern mainland Scotland on Tuesday. The heat will be fierce for SE England on Tuesday and Wednesday as the risk of thunderstorms continues.
The continuation of the very hot conditions in the south is becoming notable. We don't often see a run of temperatures reaching 33C+ yet here we are looking at a week. This heatwave including the overnight high temperatures is quite something.