After the heat and humidity of yesterday when a remarkable 37.8C was reached at Heathrow, you'll notice it much fresher and somewhat cooler today as we welcome in the new month. It'll still be warm even very warm though towards the South East, but with August beginning quite unsettled after a disappointing July that was duller and somewhat wetter than average across much of the country.
So with yesterdays heat now out of the way, you'll undoubtedly notice the change. Many central and eastern areas are waking to a fine, sunny start, but generally, there'll be more cloud today. There'll also be some showers mostly in the North and over Northern Ireland, with a few heavy ones developing later over Scotland and North East England, but not on the scale of the storms that broke out over some central and eastern parts yesterday. Such is the nature of showers that not everywhere will catch one and there'll continue to be sunny intervals, in a mostly light or moderate West or South-West wind. Top temperatures of 15 to 19C in the North and 21 to 25C in the South will be well down on yesterdays values and closer to normal.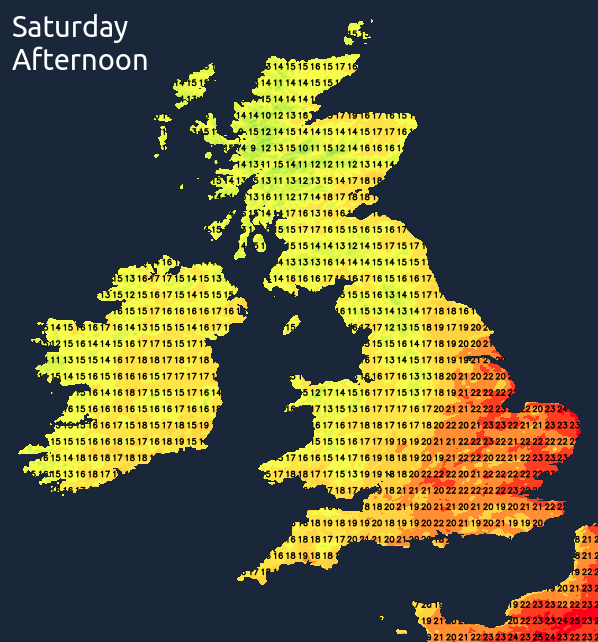 There'll be further sunny intervals to end the day, but the North and West, in particular, continue to see a scattering of showers, where you'll keep a fair amount of cloud after dark. Elsewhere there'll be fewer showers in a West or South Westerly breeze, with skies breaking sufficiently to give clear intervals especially in the South and South East. Here a few rural areas may mist patches forming briefly around dawn in a cooler, fresher night, with minimum temperatures mostly in the range 8 to 14C.
Sunday should see more in the way of showers, and as a result, temperatures will probably be somewhat lower still. There'll be sunny spells though, with the best of these in the South and East where the showers will be fewer, leaving some places with a dry quite pleasant day. Elsewhere you're more likely to see showers some heavy in the North and West in a South Westerly breeze that'll be quite fresh in the far North West and across the Northern Isles. Top temperatures 14 to 18C across Scotland and Northern Ireland and 19 to 23C over much of England and Wales.