This frontal band is forecast to fragment as it edges eastwards today, over the Hebrides this afternoon, brightening up for Northern Ireland but the risk of some heavy showers for Devon and Cornwall and western Wales by this evening. Belfast could see 22C ahead of the rain but overall, it will be a mixed day but still with some warmth.
Wales will start the day with heat and sunshine but you can see on the temperature charts below that once the frontal cold moves in, the temperatures come down particularly in the west as the winds veer to a south-westerly in the afternoon. Still warm and bright but not the intense heat as the day progresses and a risk of a shower by Friday evening.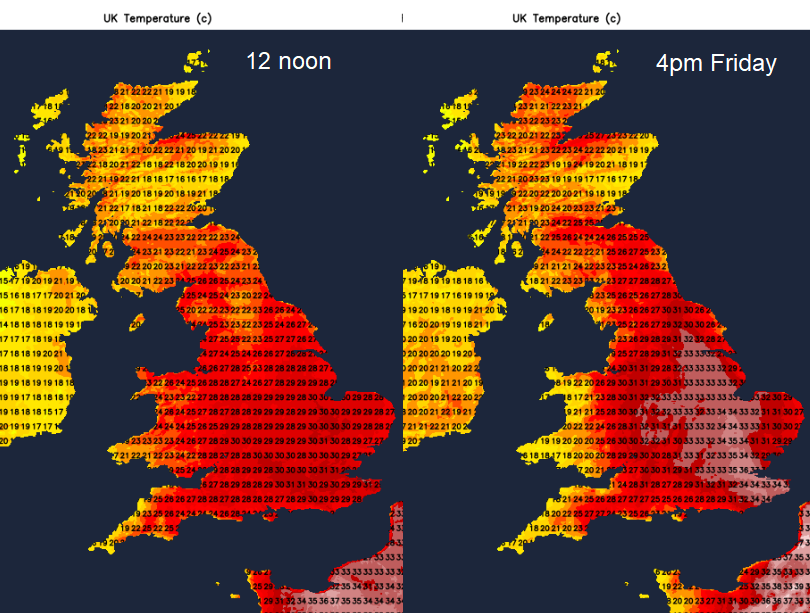 For the rest of Britain, much of Scotland and England and inland Wales Friday is all about the heat and sunshine. UV levels will be high, slap on your sunscreen. The pollen is moderate now but do take care if exercising in this heat -
"Air pollution levels are expected to be Moderate on Friday across eastern and some central areas of England and Scotland with hot and sunny weather. " DEFRA
One potential upset to a balmy Friday evening of relaxation and maybe outside drinks is the threat of thunderstorms.
As AltoCu Castellanus builds, elevated thunderstorms may break out in places. There is still some uncertainty about exactly where these pulses will affect and when, focusing on later today and central, SE and eastern England. Today's Convective Forecast shows
"A 30% thunderstorm risk covering SE/E England for the afternoon/evening storm risk before they clear east coast early hours. Frequent lightning and localised flash-flooding main threats from these storms."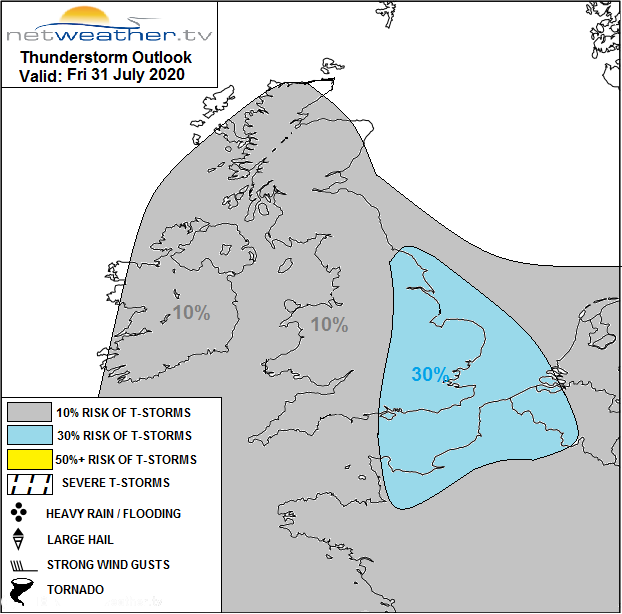 There is a smaller risk with the frontal band as it moves over western Britain. So, Friday is quite a weather event, with 35 or 36C forecast and widespread heat and sunshine. Frontal band with rain from the west, particularly for Northern Ireland and the threat of thunderstorms this evening.
Any thunderstorms drift away from East Anglia, Kent and Lincolnshire over the North Sea tonight, it will be very warm overnight ahead of the frontal band for London and eastern England.
The weekend
With the front through by Saturday, the intense heat will have gone from the UK. SE Britain will still see temperatures of 23 to 27C which is very warm, but not very hot. There will be a scattering of showers moving in on the light westerly breeze. Plenty of sunny spells but temperatures generally back to high teens and low 20sC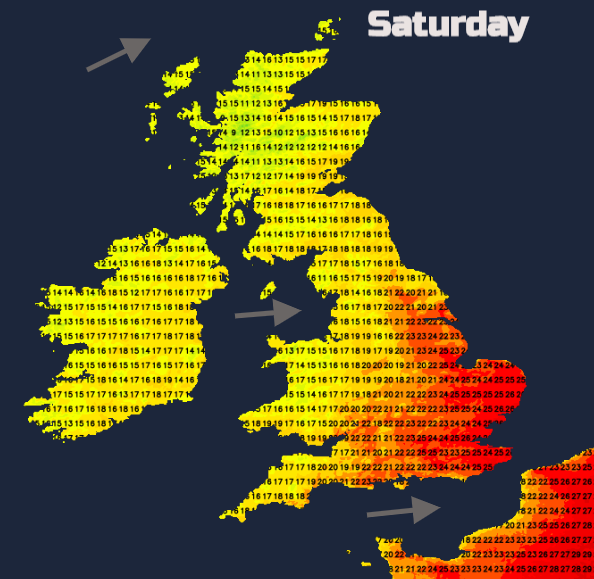 More showers for Northern Ireland during Saturday night with temperatures in Greater London reluctant to subside.
Sunday feeling fresher but still warm in the sunshine with showers from the west again. By Monday the second Atlantic low looks to bring heavy rain to SW England with more widespread rain by Tuesday.