It's been a cool week for early July, with sunshine in short-supply and rain at times across many areas, thanks to low pressure close by. However, as we head into the weekend, high pressure will build in from the west, bringing largely dry and settled conditions with sunny spells, while temperatures will creep up too. But as we head into next week, it looks like we're back to where we were this week, with cloudier skies and some patchy rain or drizzle spreading back from the west. Though later in the week, we may see high pressure return across the south, bringing drier and sunnier conditions.
Today
For now, Friday will a risk of showers, mostly across northern and eastern areas, while southern and western areas see drier conditions with sunny spells developing.
Cloudy skies with showers from the word go across northern and eastern Scotland along with parts of eastern England. A sunnier and drier picture for breakfast time across much of the west away from NW Scotland, north Wales and NW England – where there's more in the way of cloud and a few showers. A similar story for much of today, Scotland, northeast and eastern England seeing cloudy skies and scattered showers spreading south, some of the showers on the heavy side across eastern England. Much of southern England, Midlands, Wales, NW England and N. Ireland bright or sunny with just the odd isolated shower.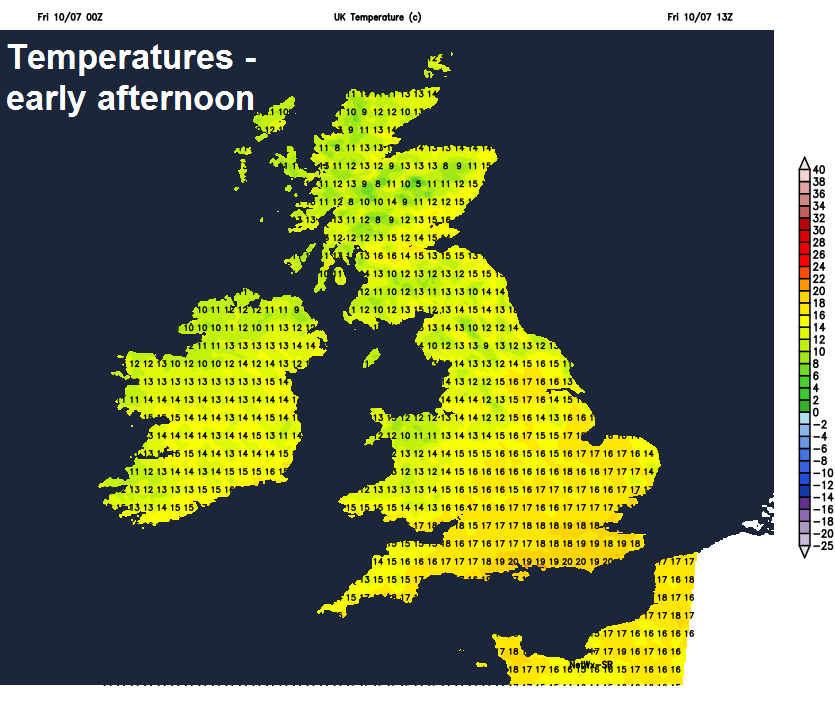 The cool northwesterly breeze today will mean temperatures will be a little below average for early July, temperatures reaching 14-17C across the north, 17-20C across the south.