Central parts, in particular, are in for a 'yucky' couple of days, as slow-moving fronts with waves running along them will be around at least until Friday, bringing grey and at times misty, wet weather. Either side of the fronts, much of Scotland and parts of the South will be drier and brighter depending on what track the fronts take, the exact position of which are somewhat difficult to pinpoint.
There's already been rain across Northern Ireland this morning, and this'll move eastward to affect much of Wales, northern England, the Midlands and parts of East Anglia later after a bright start in the East and South. The rain will be showery in nature giving heavier bursts, with the Home Counties and parts of southern England probably seeing a few showers later. South of the M4 much of the day should be dry with sunny intervals, the best of which will be towards the South coast and over the Channel Islands. Much of Scotland will also see some sun, but the South will be dull and showery at first, with a few showers developing elsewhere in an otherwise dry day.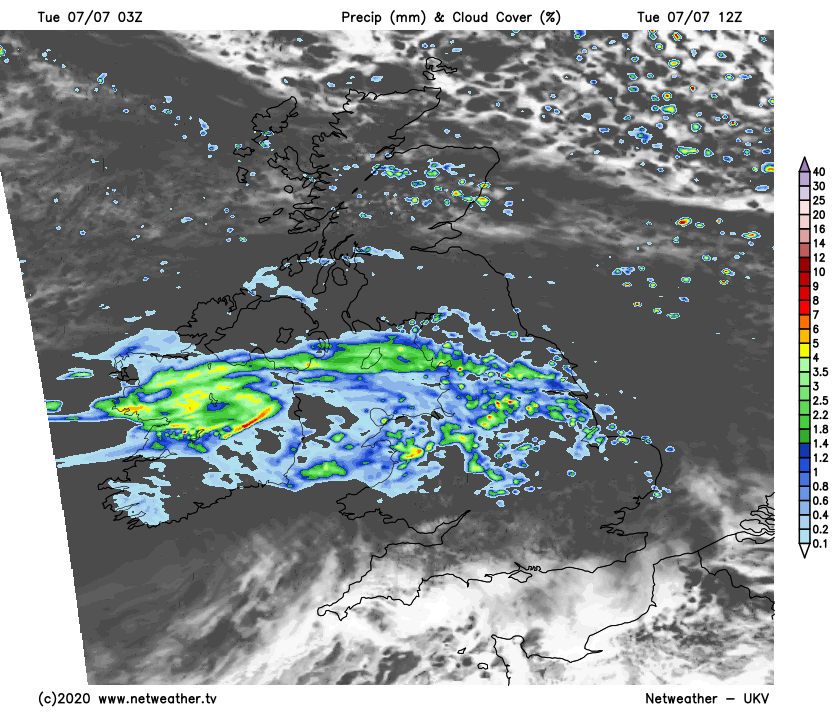 One thing you'll all notice is that winds mostly from the West or South West will be much lighter than recently. It'll mostly be a little on the cool side for early July, with top temperatures 11 to 16C across Scotland, 17 to 19C elsewhere and locally 20 or 21C towards the South East and in the far South.
South of say from Liverpool to Hull see further showers during the evening and overnight, with the far South and the Channel Islands drier with broken skies. Skies should also break over Northern Ireland and remaining parts of northern England, with Scotland seeing clear spells. Winds continue to be light allow it to turn quite chilly in some rural glens with lowest temperatures in the North between 6 and 9C. Elsewhere it'll be milder, with temperatures falling no lower than 12 to 14C across the South, where some coasts and hills exposed to a South Westerly breeze will turn misty.