Although beginning sunny and the recent heatwave a not too distant memory, June has been mostly wetter than normal, with parts of Cumbria seeing the month end with a record days rainfall. It's also been warmer than average, a trait that is becoming all too familiar these days. It's much cooler and unsettled now though, with this type of weather likely to persist into the first week of July.
So it remains unsettled today with cloudy skies keeping sunny intervals mostly at a premium. It's a mainly dry start over much of Wales, the Midlands and East Anglia, but together with northern England scattered showers will develop. The heaviest showers by the afternoon will mostly be over Scotland, Northern Ireland and where you see any sunshine, although not everywhere will catch one. Across the South West, it's a wet start with locally heavy rain, this spreading to South Wales and southern England through the morning. Here though much of the rain should be light and patchy.
A West or South-West wind will be lighter than of late, with a chilly Northerly breeze moving into the North of Scotland where temperatures will struggle to reach a cool 13 to 15C. Elsewhere 16 to 19C will still be disappointing for the end of June.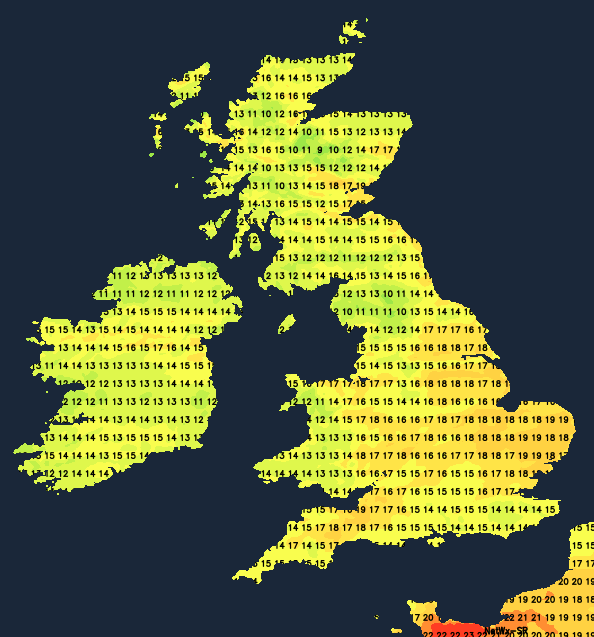 Outbreaks of rain across southern counties clear from the West during the evening, but may linger for a while after dark towards Kent and Sussex. Elsewhere it also remains unsettled, with generally large amounts of cloud. There'll be further showers 'dotted' about, with embedded troughs enhancing the shower activity in some areas. Others will see skies breaking, and a few places will stay dry, but any clear intervals are unlikely to last. Winds generally will be light in a mild night across the South where temperatures shouldn't fall below 13 to 15C. Across the northern half of Scotland however, it'll be cooler in a chilly North wind, with 8 to 11C more likely here.