By Thursday there will be more cloud in the west and the first band of rain over Northern Ireland to start the day. For much of Britain, it will look like Wednesday, warm, fine, dry with sunshine. However, outbreaks of rain will soon reach western Scotland, Wales and the Isle of Man. Ahead of the main band, scattered showery outbreaks are likely for central southern England early morning. A sign of things changing although ahead of the rain band temperatures could again rise well into the 20sC with more of a southerly breeze. This band isn't going to bring rain for everyone, and you may see thundery shower on your weather app but not get a thunderstorm. It is about probability; the ingredients will be there with central and eastern England looking most likely. The East Midlands and south-eastern Britain will be glad of any rain. There is a balance between this trough moving over the UK, the rain band and the heat of the day. This will affect how high the temperatures climb, but also how much energy the storm cooking gets. This leaves some uncertainty about where in England will see the most intense rainfall. It should all move through at a fair rate but there is the risk of torrential rain, hail, lightning and sudden gusty winds. That would be quite a shocker if you were still in warm sunshine mode. Keep an eye on the Netweather Radar on Thursday to see how the storms develop, remember to turn on the lightning sferics.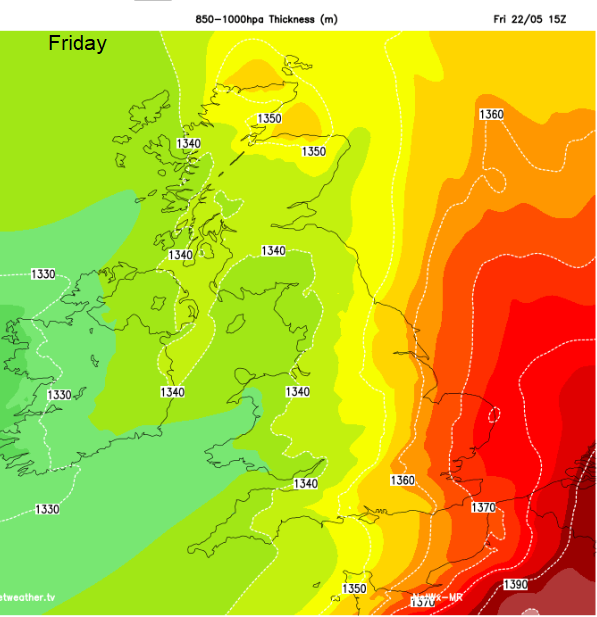 Next up is this Atlantic low. It links back to the tropical energy around Tropical Storm Arthur (the first storm of the Atlantic hurricane season) which has brought heavy rain and TS winds to North Carolina with high surf for the east coast of the US. Arthur itself is heading out to sea and nose dives south towards Bermuda by Thursday so will be nowhere near the UK.
Our low on Friday brings another stark contrast as we seem to move from summer to autumn in two days. There will be a little welcome rain, heaviest for NW Scotland. It is going to be very windy with the possibility of widespread gales. Ireland, the Irish Sea, North Channel and Scotland all look very windy. Next on the 'name our storm' list is Storm Ellen but with the "Stay at Home" message continuing in Northern Ireland and Scotland would it be necessary?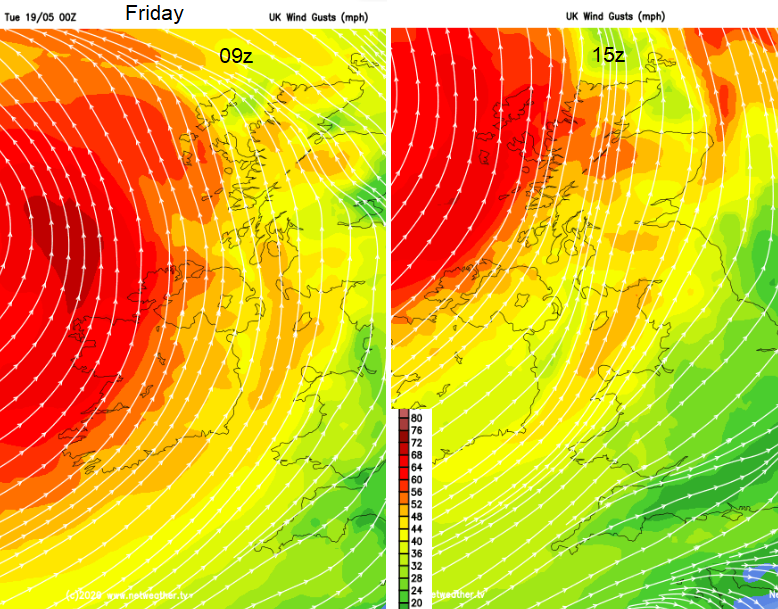 Weekend
The low pulls away to the north leaving a blustery Saturday for much of the UK although with lighter winds for southern England as the high recovers. Pressure continues to build and so the winds ease for England and Wales but the temperatures across the UK will have taken a hit. The heat of midweek will have disappeared, but the May sunshine still gives pleasant warmth with a bit of shelter.