There will be quite a dramatic flip in temperatures over the next few days as the wind switches direction from a northerly tomorrow to southerly by Sunday. Tomorrow's highs will range from 5-6C in northern Scotland to 10-11C in southern England, but Sunday could see highs reaching 15C in northern Scotland and up to 20-21C across southern England in the sunshine. So potentially a 10C rise in maximum temperatures in the space of two days. But remember to stay try and stay at home and only venture out locally for exercise and not head to usually busier popular parks and beaches in the fine weather expected over the weekend.
Today
For now, quite a bit of cloud spilling south overnight across England and Wales means it's a generally dull and frost-free morning – though still a chilly start towards the east where there are areas of clearer skies and so across East Anglia temperatures have fallen close to freezing in a few spots allowing a slight frost. Across Scotland it's a windier picture as well as generally cloudy, with gales across the north, along with scattered showers across the north and west, merging into longer spells across the far north and turning increasingly wintry here as colder arctic air digs in here.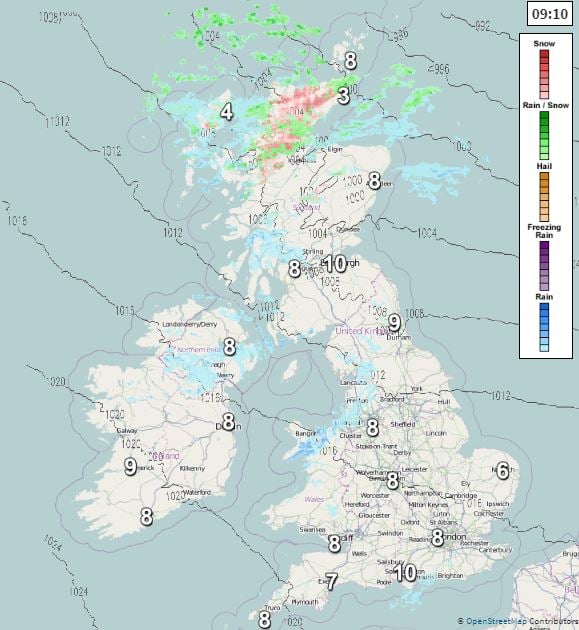 Colder air will spread south across Scotland through the morning behind a cold front clearing south, with showers continuing through the day across the north and west while turning increasingly wintry, falling as snow even to lower levels across the north, hail and thunder possible too. Remaining windy too with gales across the north, damaging gusts across Shetland – with a yellow wind warning for gusts of 65-75 mph. Highs this afternoon reaching only 5C at best across Stornoway, Inverness and Aberdeen – 8C in Edinburgh and Glasgow.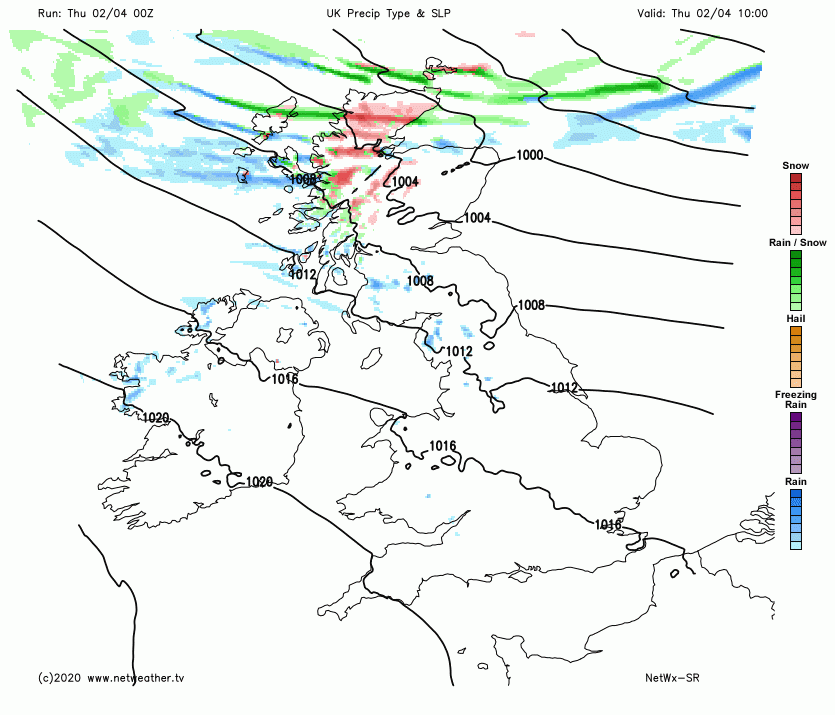 A generally cloudy and breezier day across England, Wales and N. Ireland, ahead of and along a weakening cold front sinking south across northern areas. The cloud will be thick enough for patchy light rain or drizzle across western areas, especially over hills, but for many it will stay dry. Mild, with temperatures ranging between 9-12C in the west, 12-14C in the east.
Tonight
Cold front moving south overnight reaching southern England in the early hours, with cold arctic air flooding south across the north and northeast. So a cold night with a widespread frost for Scotland, N. Ireland and NE England, further sleet and snow showers affecting northern Scotland, cloudier and less cold across the south and west as that front clears here.