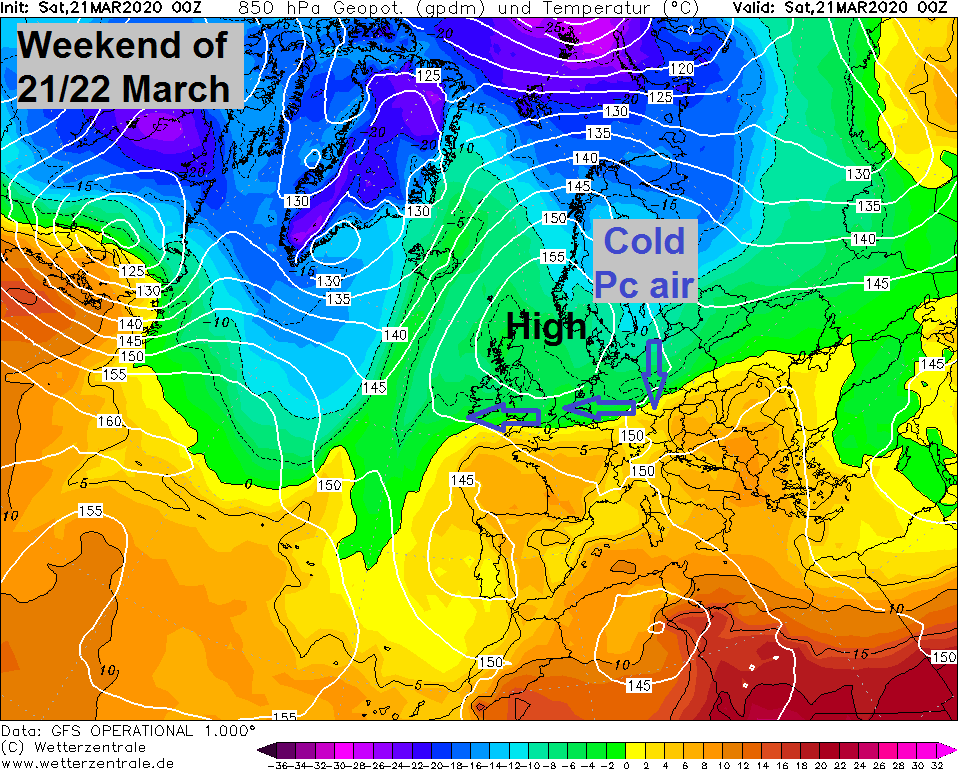 The easterly wind eased before a milder southerly wind developed early last week, this brought in a Tropical continental (Tc) airmass across England and Wales, a mild but dry flow originating from southern Europe so with some sunshine and some foehn effect to the lee of high ground temperatures reached 19.4C in north Wales. Though across Scotland and N. Ireland the airmass was more of Tropical maritime (Tm) flow off the Atlantic, bringing mild but cloudy conditions with some rain. A Tc airmass in summer that orginates from Spain or NW Africa can bring very hot weather with temperatures exceeding 30C.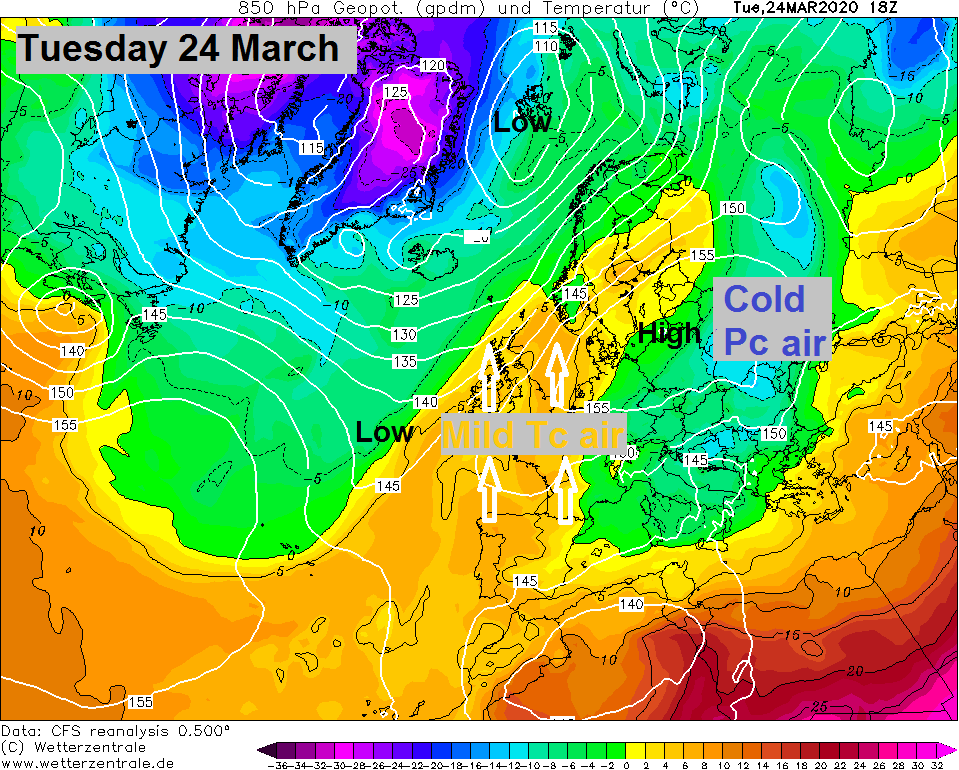 Then this past weekend a strong and cold northerly wind developed to the east of an intense area of high pressure over the Atlantic centred to the south of Iceland. This northerly brought in an Arctic maritime airmass (Am) – feeding in cold air direct from the arctic. This Am airmass usually brings showers accompanied by below average temperatures throughout the year, in winter showers often falling as snow, in early/mid spring showers of a wintry nature too, sometimes falling as snow even to low levels in the south given how dry the air is (dew points below 0C) at the surface.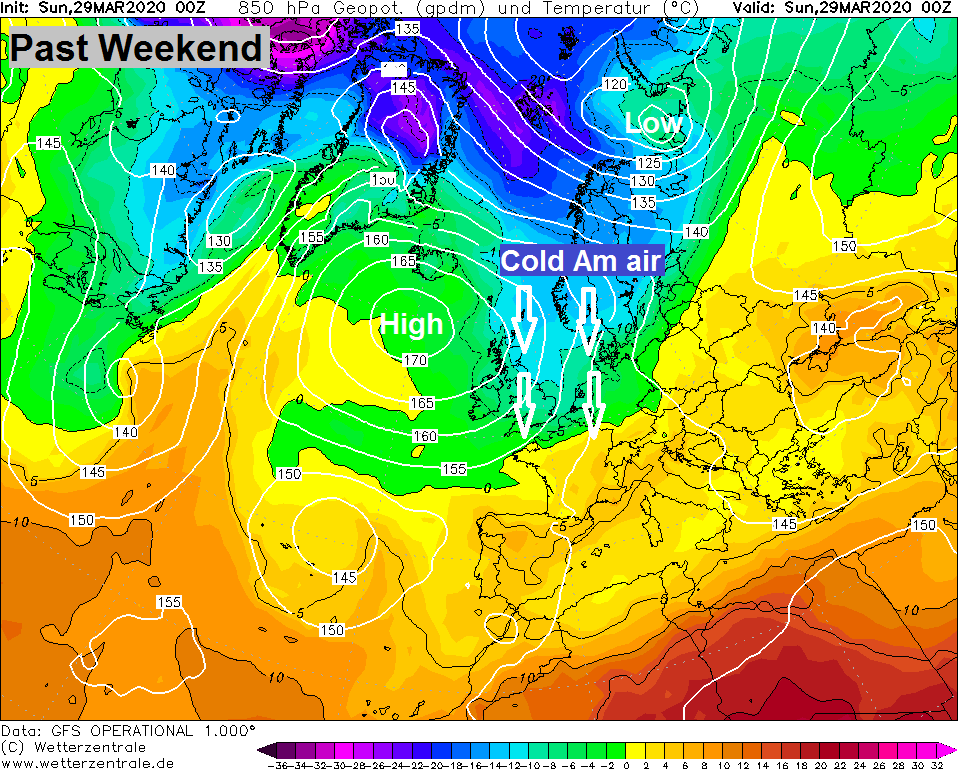 Over the next few days winds will back to a westerly direction as high pressure to the west relaxes, bringing in a returning Polar maritime (rPm) airmass which will be less cold but cloudier thanks to more in the way of moisture, the south staying dry but some showery rain possible in the north.
Arctic maritime (Am) airmass tries to push south again later on Thursday and on FrIday, there's been some uncertainty how far south it will get, but it appears it will succeed briefly by early Friday, albeit more noticeable across the north, with snow showers possible for Scotland.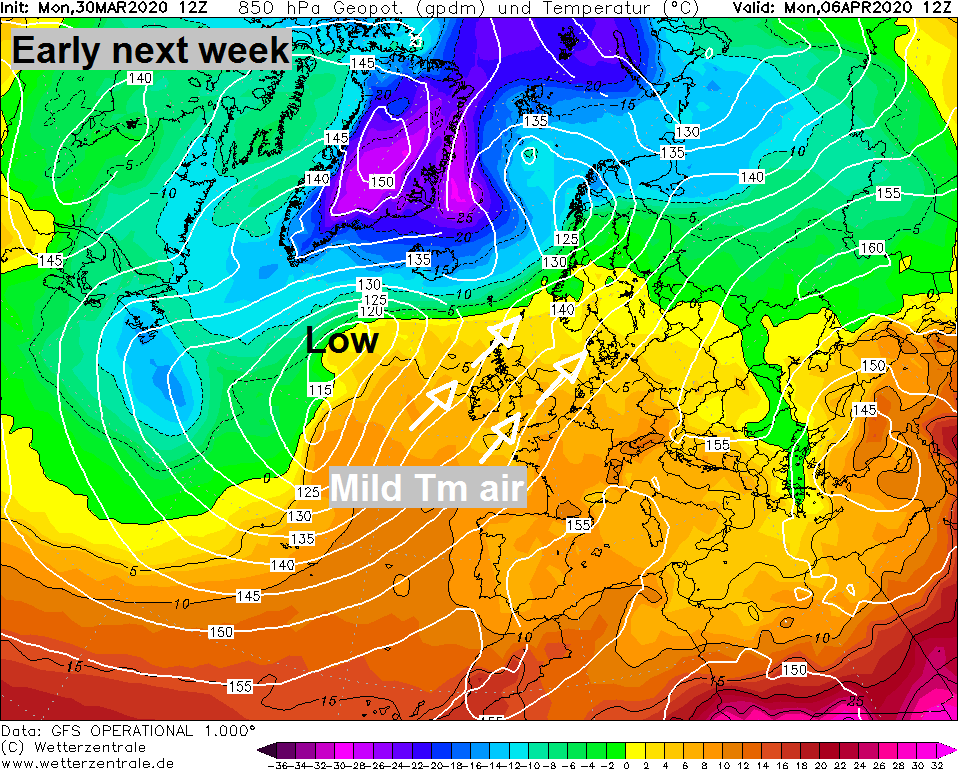 Then a change of airmass looks likely again as we head through the weekend, with winds switching to a southerly then eventually southwesterly direction through Sunday and into early next week. This will bring in a Tropical maritime (Tm) airmass that orginates from the sub-tropical area of the North Atlantic. This airmass can often be cloudy, particularly in the winter and around western coastal areas, but where the sun pops out, it could be pleasantly warm with temperatures reaching high teens.