It is perhaps usual to think of spring as the season when the weather gets progressively better, with temperatures rising week by week. In practice, not many springs in the UK conform to this idea. Warmer weather as seen early last week and again early this week often arrives in fits and starts, with sometimes sudden flips leading to uncomfortable reminders of winter. Even in late March and early April snow is not uncommon, even at lower levels, albeit settling only temporarily. Early April 2008 was a good example of this, when up to 10cm of snow fell across SE England on the morning of the 6th.
For much of the three winter months, more particularly since the New Year, a very strong Polar Vortex has fuelled a rampant and incessant jet stream across the Atlantic aimed at the UK, bringing an endless succession of low pressure systems bringing record amounts of rainfall in February and above average rainfall generally over winter.
The Arctic Oscillation (AO) is an index, which can be used to see just how strong the tropospheric polar vortex (low geopotential heights over the pole) is, reached record strength during February. The more positive the AO index, often the stronger the tropospheric polar vortex is. In February it reached +6, which is the highest it's reached since the index first started. However, over the coming days the AO shows signs of weakening towards neutral, perhaps even going into negative territory.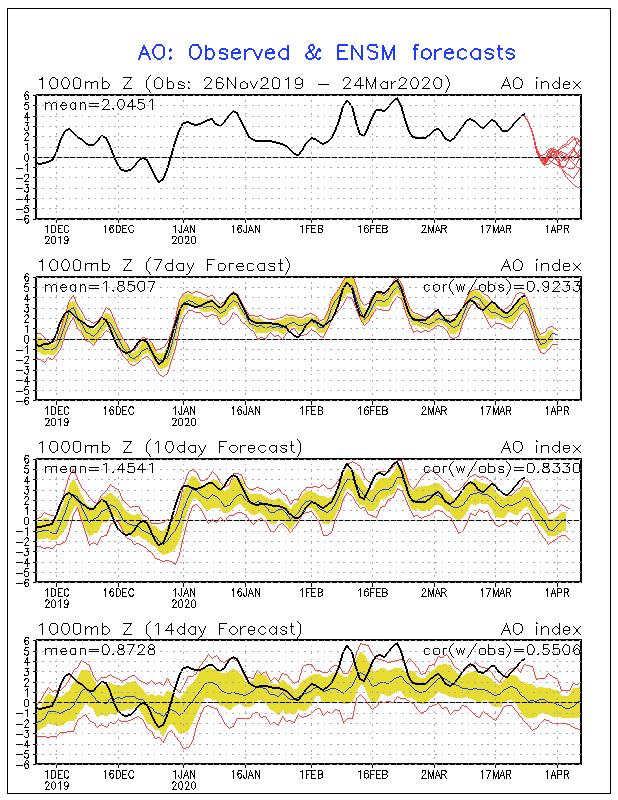 The North Atlantic Oscillation (NAO) is an index that indicates the position of areas of high pressure and low pressure and the track of the jet stream across the Atlantic – which ultimately determines the distribution of rainfall and temperatures across Europe. A positive NAO often happens in tandem with a positive AO, since the North Atlantic region extends into/around the polar circle, the AO and the NAO are quite strongly connected but have their own modes of calculation. The positive NAO features low pressure over Iceland and far north Atlantic and higher pressure further south in the Azores region. This pattern amplifies the jet stream and sends mild Atlantic air into the European continent, as has occurred throughout January, February and into early March. However, the NAO index is also forecast heading towards negative. This is because the models are showing high pressure over Iceland (over 1040mb here this weekend) while pressure is lower over the Azores.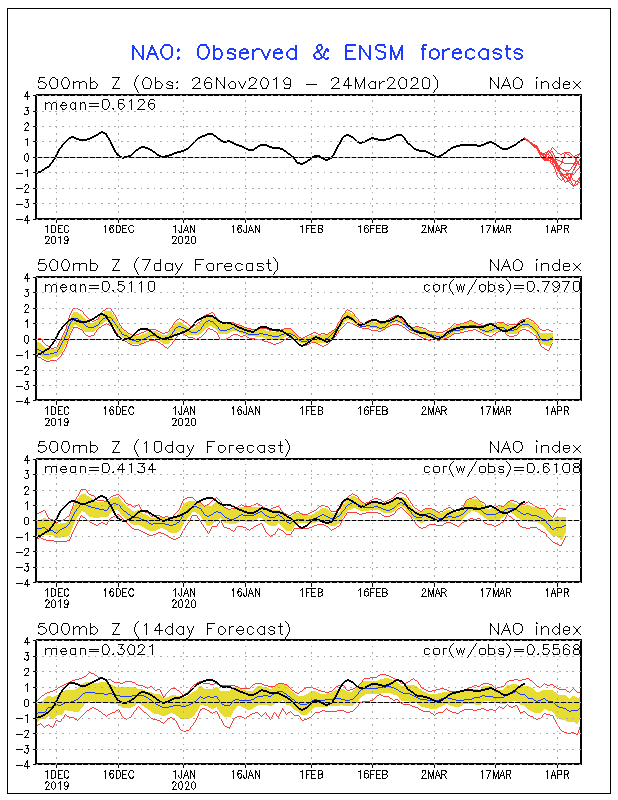 Although not always necessarily coupled with the tropospheric polar vortex, the stratospheric polar vortex also shows signs of weakening too, thanks to a minor sudden stratospheric warming (SSW). Westerly winds at 10 hPa high up in the stratosphere reached a record-breaking 75 m/s back in February, but have fallen towards 20 m/s since the beginning of March, but this is close to average, given climatically the SPV tends to weaken as we head through early Spring.