There are yellow and amber warnings galore of heavy rain, flooding and severe gales across the country at the moment, even a red one for the valleys of South Wales as storm Dennis continues to wreak havoc. And with river levels high and more rain falling on already saturated ground, further serious flooding problems are inevitable.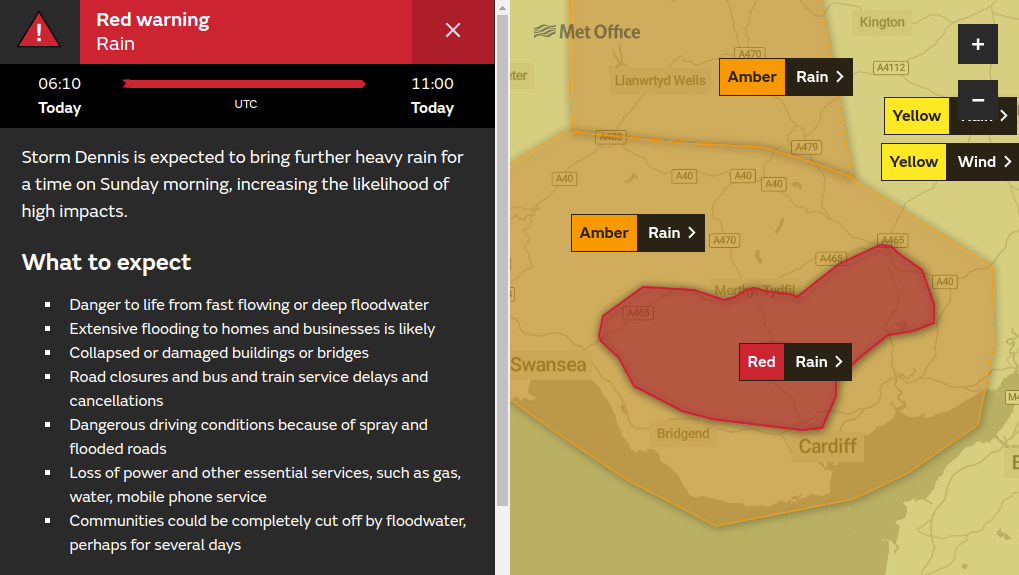 Check the latest Met Office warnings.
It's a particularly wet start over South Wales and central southern England this morning, with some heavy rain. With the front reluctant to move away and further pulses of torrential rain running along it, the South East could be wet for much of the day adding to the flooding problems. Once the rain does clear, however, there'll be a brief lull, before you join the rest of the country in a day of sunny intervals and blustery showers. Some, particularly in the North and West, will be heavy and squally giving local hail and thunder and they'll fall as snow on Scottish mountains.
---
Latest flooding information and warnings:
England -- Wales -- Scotland
---
We've had a gust of 80mph along the North Norfolk coast recently, with further damaging gusts of 60 to 70mph expected over Scotland, in the West and across exposed areas. This'll make travelling difficult, with fallen trees, structural damage and over 300 flood warnings now in force across the country an additional hazard. Despite the wind, it'll be very mild towards the South East, where temperatures stay close to 10 or 11C for much of the day. Further North though it'll be colder, with top temperatures 5 to 7C over Scotland and 6 to 9 elsewhere.