Gales will continue overnight Saturday night into Sunday and although will ease through Sunday across England and Wales with the rain clearing southeast, they will strengthen again across Scotland and N. Ireland through evening with gusts of 60-70mph around western coasts and over hills, as Dennis brushes the north of Scotland as it finally moves east.
These potential gusts are lower than we saw with Storm Ciara, when we saw gusts inland of 60-70mph locally inland, 70-80mph around coasts, with a peak gust during the storm of 97mph at the exposed Needles on the Isle of Wight.
Storm Dennis will, though, perhaps be more notable for not just the low central pressure but also the prolonged rainfall it brings rather than the strong winds, because the storm and its associated fronts hang around for longer than Storm Ciara, through the weekend and into Monday before eventually moving on east.
Met Office Warnings for rain and wind in force for this weekend
Dennis started as a low forming over central / eastern USA late on Wednesday, the low carried east by a strong jet stream off the New England coast last night and now moving under the 'developmental' left exit of a 220 mph+ jet streak over the NW Atlantic, where it will deepen rapidly as it is pushed by the jet stream across the Atlantic, then takes a left turn towards Iceland by Saturday as it is pulled around a deep upper trough / vortex centred close to southern Greenland.
Storm Dennis races across Atlantic deepening rapidly next 24 hours under left exit of jet stream, as it arrives SW of Iceland it does a Fujiwhara 'dance' with low already there.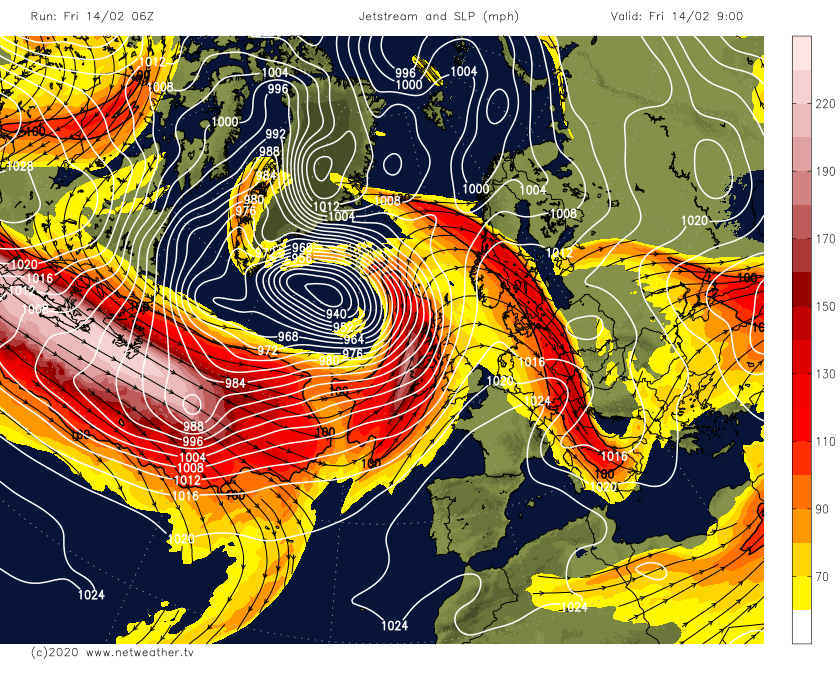 Dennis over the weekend will 'dumbell' or do a 'Fujiwhara' dance around another low to the SW of Iceland, that arrived ahead of Dennis, part of a train of lows crossing the Atlantic over the last few days. The Fujiwhara dance, or, known more technically as the Fujiwhara effect, was named for Dr. Sakuhei Fujiwhara, the meteorologist who first described the phenomenon in 1921, where the effect is the rotation of two weather systems around each other in close distance. After it's dance with another low over the weekend, Dennis will eventually move on east to the north of Scotland towards Norway on Monday.
Because the upper trough / vortex over the North Atlantic transitions from being a diffluent trough to becoming an increasingly confluent trough by Sunday, with the jet stream moving from the rear side to the forward side of the trough as the forward side edges in across Britain, there is an increasing risk of waves developing along the trailing frontal boundary over southern Britain, as frontal boundary slows in progression as the upper trough slows forward progress too. The frontal waves will create areas of large-scale ascent of a conveyor of mild and rather moist Tropical maritime air rushing northeast to southern UK all the way from as far southwest as Florida and the Bahamas.
This will lead to prolonged rainfall across parts of England, Wales & southern Scotland over the weekend, hence the Met Office have issued amber warnings for high ground of SW England, Wales, northern England, southern Scotland and the South Downs of southern England – all where orographic lift will further enhance ascent of the Tropical maritime conveyor, leading to some large rainfall totals. Met Office says 20-40mm will fall widely, with 50-80mm across parts of northern and southern England. Over higher ground of Wales and SW England,120-140mm of rain possible in a few locations.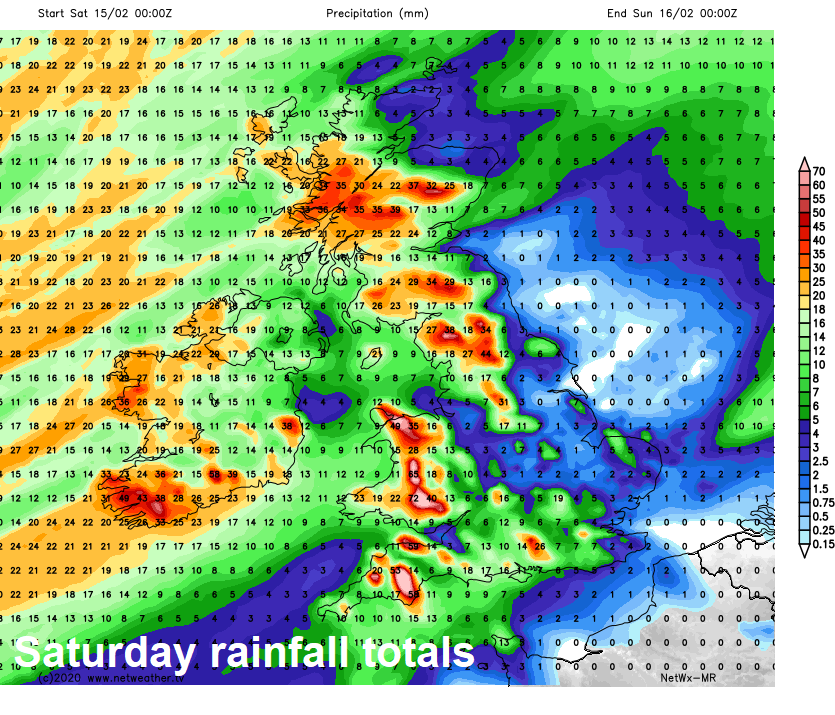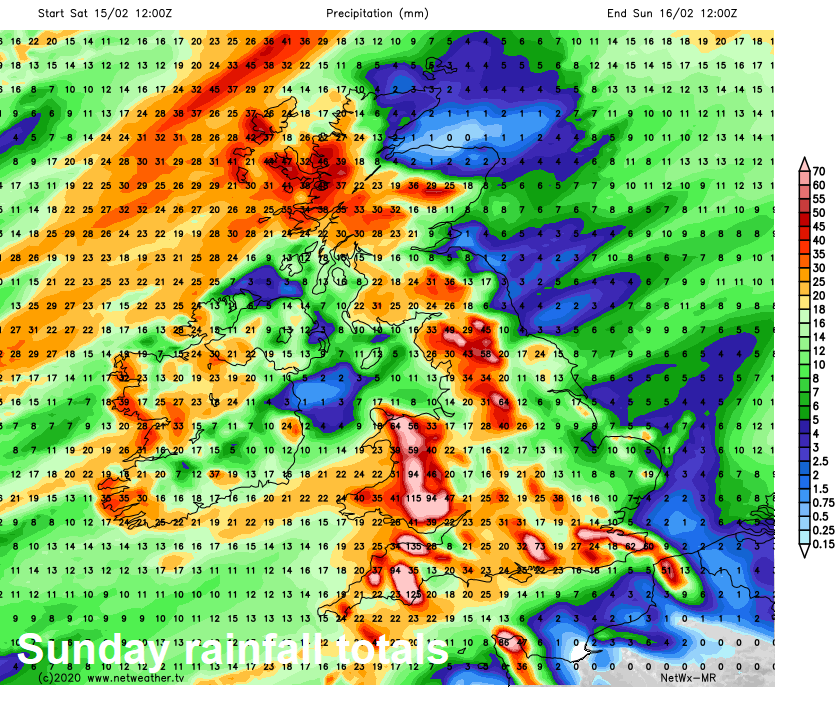 There is currently a dozen or so Flood Warnings and numerous Flood Alerts across England and Wales, 5 Flood alerts for Scotland. The warnings have dropped over the last 24 hours across England and Wales, but will rise over the weekend, as prolonged rainfall falling on already saturated ground runs quickly off into already high water courses. Coastal flooding will also be an issue, s Storm Dennis generates huge swells, particularly around western and southwestern coasts during high tides.
Flood alerts and warnings for England
Flood alerts and warnings for Wales