Monday then brings another day of sunny spells once any fog and low cloud lifts. The cloud across the northern half of the UK should thin and break as well, becoming more limited to the west of Scotland and the far northwest of England. There'll be some patchy, light rain possible at times in the far northwest as well. Temperatures will be on a par with today.
There'll be another widespread frost across the southern half of the UK again overnight. Once again, with more cloud further north, temperatures will be milder, and we'll also see a front trying to push down from the northwest, bringing some patchy rain on it.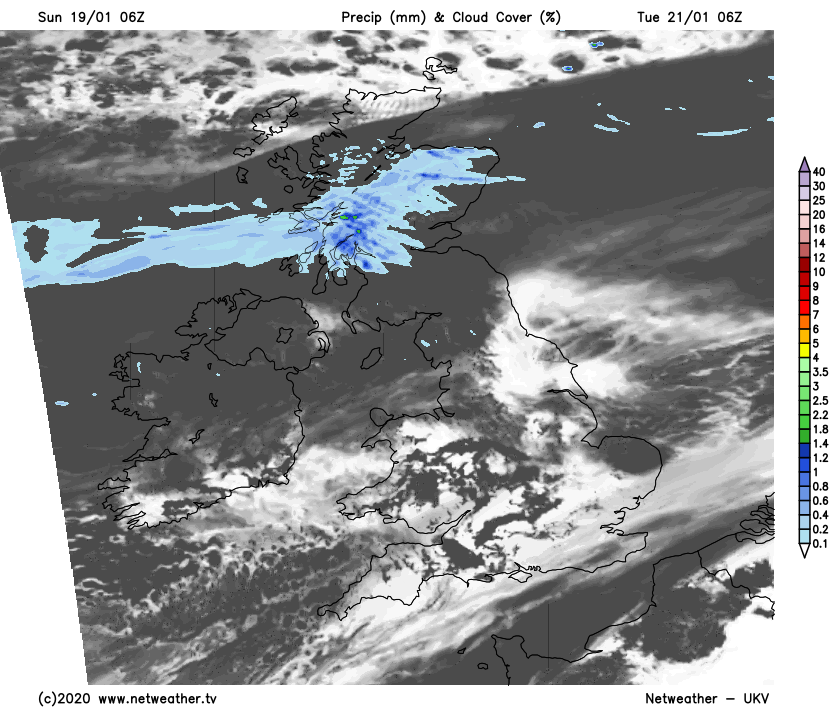 That front will try to head further south during Tuesday, but as it runs up against the high pressure, it'll be a struggle. It may well bring some patchy rain across the northern half of and perhaps also central Scotland and will spread a fair bit of cloud south too. That's likely to limit the coldest overnight temperatures to the far south of the country, where frost and fog will again be widespread.
Into midweek there'll be a good deal of cloud and with it some milder temperatures with double figures expected in places. Overnight, there'll still be some patches of frost, fog and murk, especially in the south, but perhaps not as widespread as during the first half of the week.
If you're wondering when the high pressure may start to release its grip and return us to wetter, windier weather again, it's never an easy call. But, it does look reasonably likely that the process may begin next weekend and continue into the following week, with the northwest first to see unsettled conditions and the southeast keeping the settled weather for longest.