Monday will be a blustery here in the UK with showers from the west and a good deal of fine, bright weather with temperatures of 5 to 7C.. With cooler air in the north there will be wintry bits over the highest hills and Scottish mountains, not amounting too much. By Monday night the next frontal system will be heading in from the SW bringing more rain. This could bring some wet snow overnight to hills on the leading edge but there is low confidence about how far north it will reach, so don't rely on Weather app timings for Monday night/early Tuesday at this stage. The frontal band may just flatten out and bring a spell of rain to Southern England, which needs watching due to the sensitive water levels and so flood risk. Or the low develops more, and the rain reaches up to Northern Ireland, even southern Scotland with a higher risk of hill snow. There will be a frost in the north and much milder air for southern Britain ready for Christmas Eve.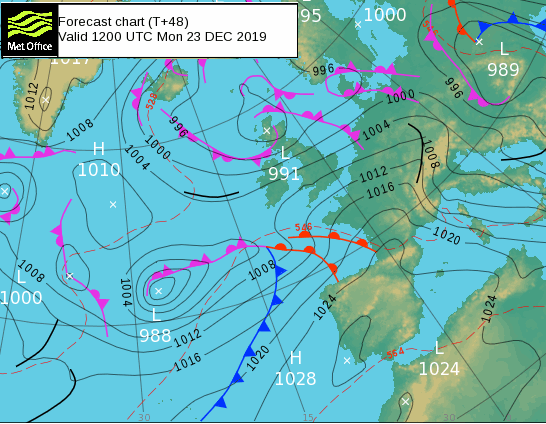 So, some uncertainty for the start of Christmas Eve. There will be much milder air to the south of the frontal band and colder conditions to the north. We'll have to firm up on details of the rain band, so do keep an eye on the forecast if you are traveling on Tuesday and the flood information.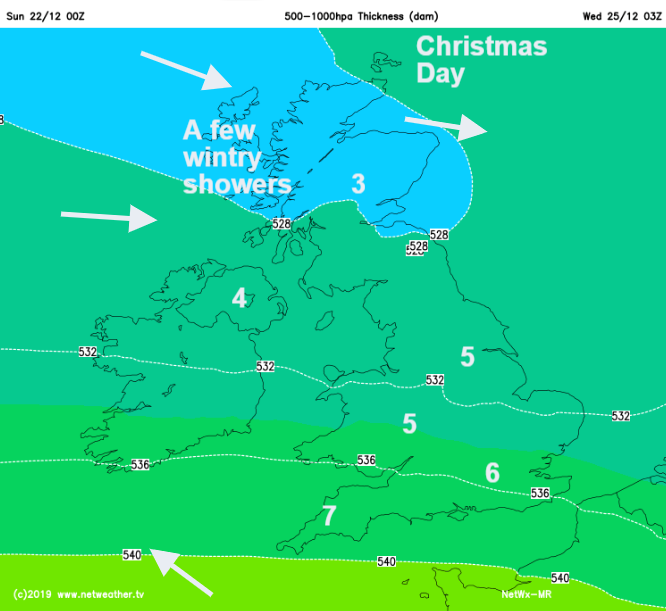 For Christmas Day there should be a lot of fair, dry weather with more rain from the SW by Boxing Day. The only chance of a White Christmas "one snowflake falling" looks to be for western Scotland, over the Highlands. A wintry shower might make its way to Glasgow on the brisk breeze in the morning but as high pressure builds the weather continues to settle.