"Local coastal flooding is possible from today (Friday) to Sunday for parts of the south and west coasts of England and Wales. Local flooding from rivers and surface water is also possible from today to Sunday in parts of the north-west of England. Land, roads and some properties may flood and there may be travel disruption. " Environment Agency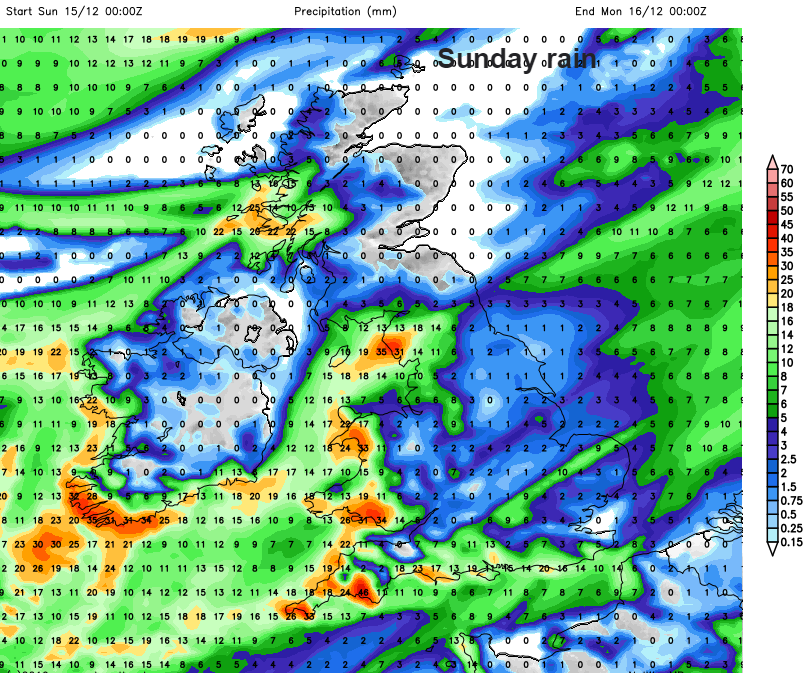 Looking at the forecast rainfall total charts over the weekend, western Scotland, Cumbria across the Dales into the Pennines, the Welsh mountains, Moors of SW England and northern counties of Northern Ireland all look wet on Saturday. Then Cumbria, Wales and SW England into Sunday.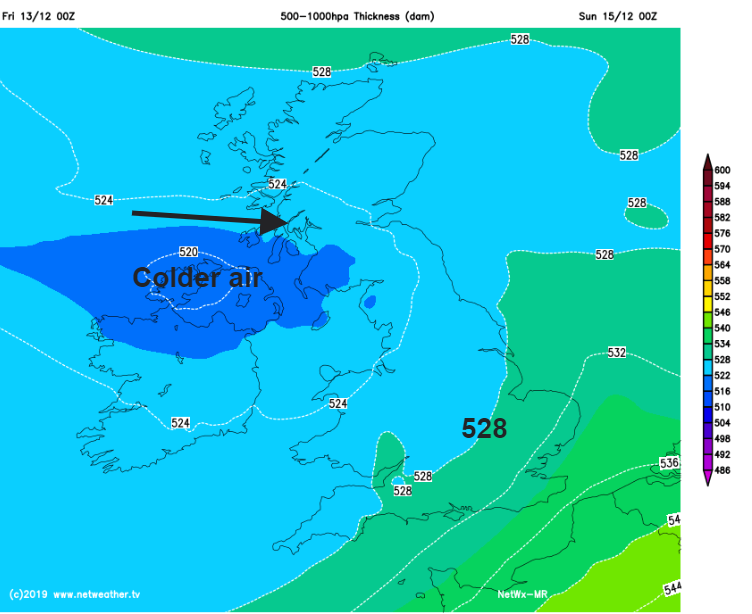 Snow? It is going to be colder this weekend. Temperatures will fall down to freezing on Saturday with a brisk wind, so if you are planning to be out late, do know it will feel bitterly cold. The thickness charts show how much vertical space the air above will take up, so a layer between certain pressure levels, it's thickness. The 528 line is taken as a rough rule of thumb for snow forecasting over the UK, that lower than that value (colder) we could see snow. The brisk westerly winds do back to a more southerly direction by the end of the weekend and it won't be as cold by Sunday afternoon but overall there will be a damp chilly feel to things.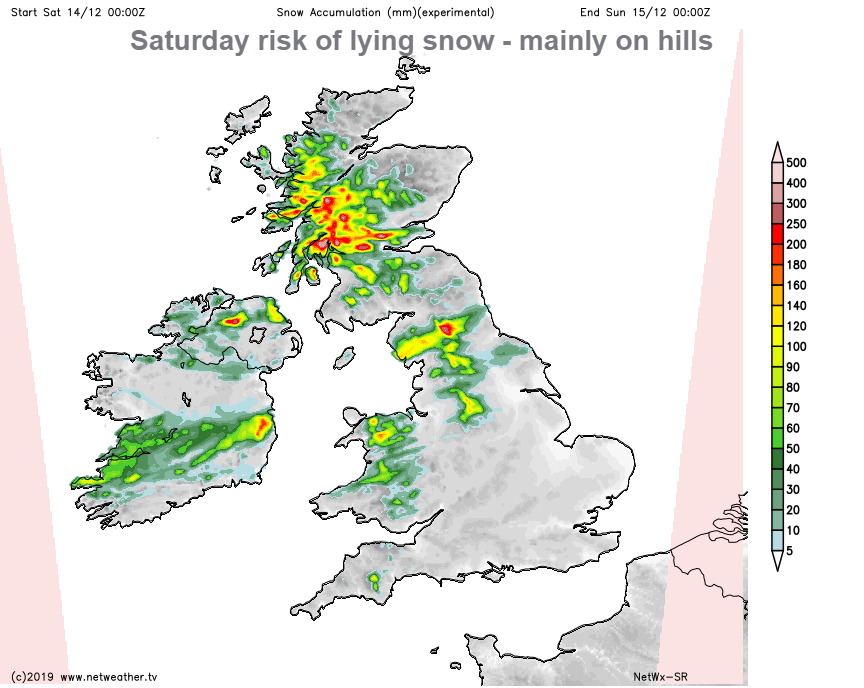 In the heavier rain, there will be wintriness, wet snow at times on Saturday. In the cold air overnight Saturday into Sunday there are signs of a fontal band of rain turning to snow, even to lower levels for north Wales, northern England, Isle of Man and SW Scotland which could bring a surprise for some on Sunday morning. It's that kind of winter weather were overall its blustery, cold and damp but any rain could just tip over into wet snow briefly.
The Scottish Ski resorts are getting ready to open, some this weekend. There has been a little snow, plenty of artificial snow being made but a cold weekend with a bit more snow will be okay. And with a low pressure centre lurking away to the north the winds won't be too strong either for Cairngorm in particular.
Belfast Christmas market will be open until 10pm on Saturday and 6pm on Sunday. In the City Hall grounds. Food and drink stalls, Santa is on hand for children to share their present ideas. The market runs until the 22nd December.
A lot of fair weather this weekend although it will feel cold +3C, feels like -2C. Saturday will be blustery with the risk of a few rain or sleet showers whistling. Lighter winds on Sunday.
Newcastle Christmas Market from Grey street into Northumberland Street this year. It is running until New Year's Eve with rides, bars and traditional market stalls "with sophisticated live entertainment every day"
Plenty of dry weather this weekend although Saturday will be more breeze. Air temperatures will be +4C but it will feel more like zero or -1C
Bristol has two Christmas markets, one at Broadmead and one along the Harbourside and ice skating, carolling and grotto at Cribbs. If you are manoeuvring between all these this weekend.
There could be early rain on Saturday morning and rain by the end of Sunday but in-between there will be a lot of fair weather always with a bit of breeze. Temperatures around 7C but feeling more like 3 or 4C.
In summary, this weekend does look windy and chilly. A bit of rain at times, with hill snow and if you do have a Christmas party or works do Saturday afternoon and evening be prepared for a cold end to the day.