There is fog this morning for southern Britain with grey cloud and murk around of the frontal band. The band of rain is fading as it eases away southwards. After the huge amounts of rain yesterday, today is quieter, a lull before the next band of rain heads in from the west for Saturday. That won't be anywhere near as bad.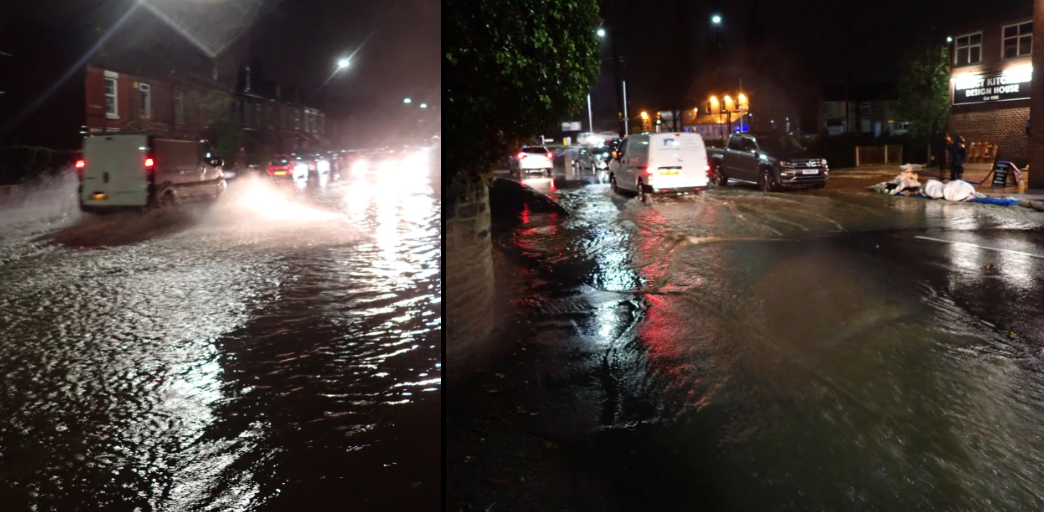 Ecclesfield - photo Onding from Netweather Yorkshire and E England Regional forum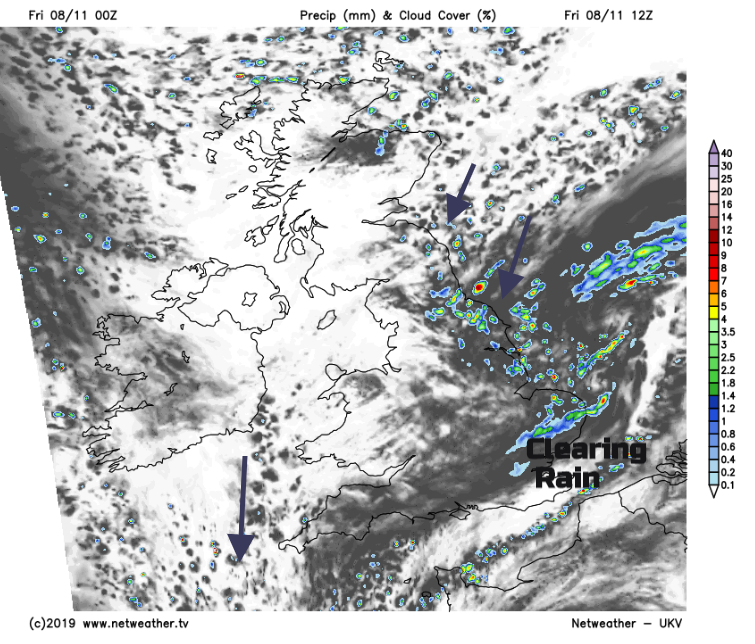 The eastern showers and the last of the rain band will bring an unsettled day to East Anglia, with a scattering of showers shifting down over eastern England too. For most, it will be a fair bright day with sunshine but feeling chilly in the wind. Temperatures of 6 to 10C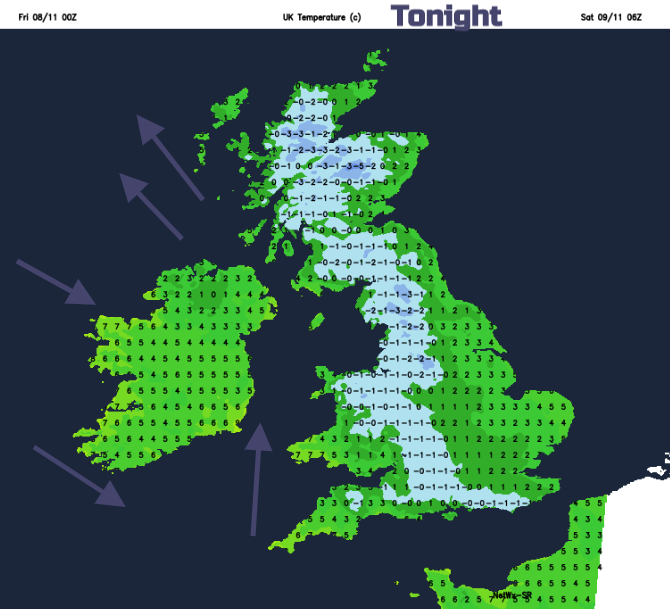 There will be a fresh north wind blowing for East Anglia as southerly winds being to freshen for western Scotland and Ireland overnight. These will accompany the incoming weather front but in between it will be clear and cold with a risk of frost for Britain. So, a fine start for many early on Saturday but the band of rain will already be over western Britain, clearing Northern Ireland but followed by hefty sharp showers around the low centre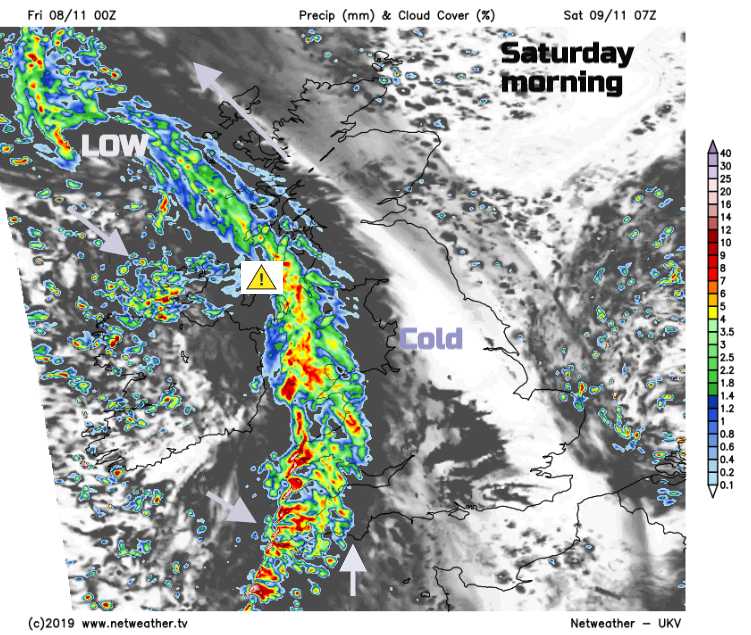 A yellow warning for rain has been issued for parts of Northern Ireland on Saturday. "A band of heavy rain will spread east across Northern Ireland overnight into Saturday morning, becoming slow-moving across eastern areas. 20-30 mm of rain is expected widely across the east, with 40-50 mm possible, most likely in County Down." There could also be lying snow over the Welsh mountains and a little for the tops of the Pennines and Scottish mountains on Saturday, it will be clear and cold for northern Britain and a fine day for eastern England.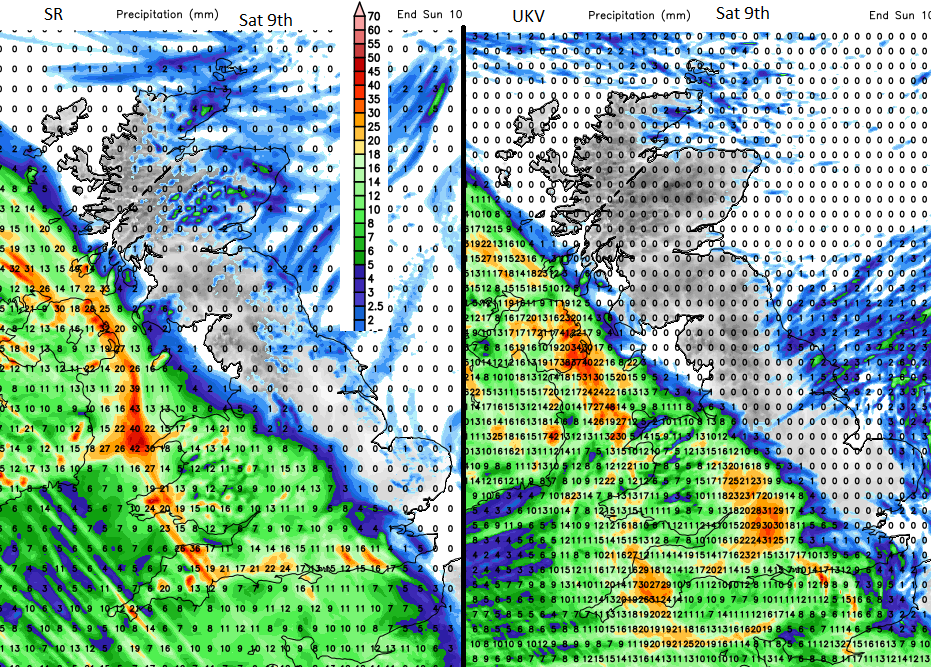 Another cold night with frost and for Sunday there will be a lot of dry and bright weather around, but it will still feel cold. Fine for Remembrance services. Any early showers over the far SE of England should clear but there will be one or two still feeding off the North Sea clipping eastern Britain, so worth a look at the radar.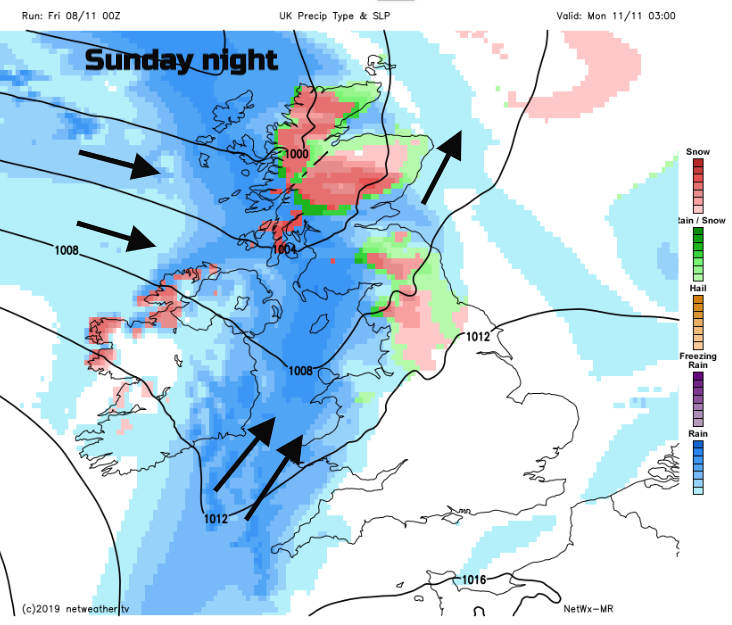 Monday now looks much more unsettled for services on the 11th. A band of rain with hill snow moving across the UK with blustery winds. Staying cold.