Today for some could be the first completely dry day since the beginning of the month, so wet it has been in places over the last few weeks. But make the most of the dry weather on offer today, because low pressure will be in charge for the rest of the week, with a spell of rain moving east across all parts on Wednesday morning, followed by showers in the west. Thursday could stay dry in the east, but showers will affect the west and it will turn windy everywhere. Showers will spread to all parts Friday and Saturday, with strong winds across the southwest, as low pressure moves in across the UK. Sunday could see further showers and turning colder, as low pressure move east of the UK, pulling a northerly wind down across all parts.
Today
For now, it's a dull and grey morning commute for many across Britain, with some patchy drizzle or light rain in places along with some mist and fog patches, fog locally quite dense in places. Where it is brighter across southern coastal counties, there are a few showers too. Across SW Scotland there is some brightness too.
The early fog, mist and low cloud will tend to disperse and lift through the morning, with drizzle or light rain dying out, with some decent cloud breaks developing to allow sunny spells to develop across many areas, showers continuing across the southwest and southern coastal counties. It will remain dry for many through the afternoon, with sunny spells and variable amounts of cloud, perhaps cloudier with some patchy drizzle or light rain in the northeast and showers continuing in Wales, SW England and southern coastal areas, perhaps a few of these getting inland across the Midlands, but most will miss these here. A little warmer than yesterday, temperatures reaching 12-15C in the north, 15-16C in the south.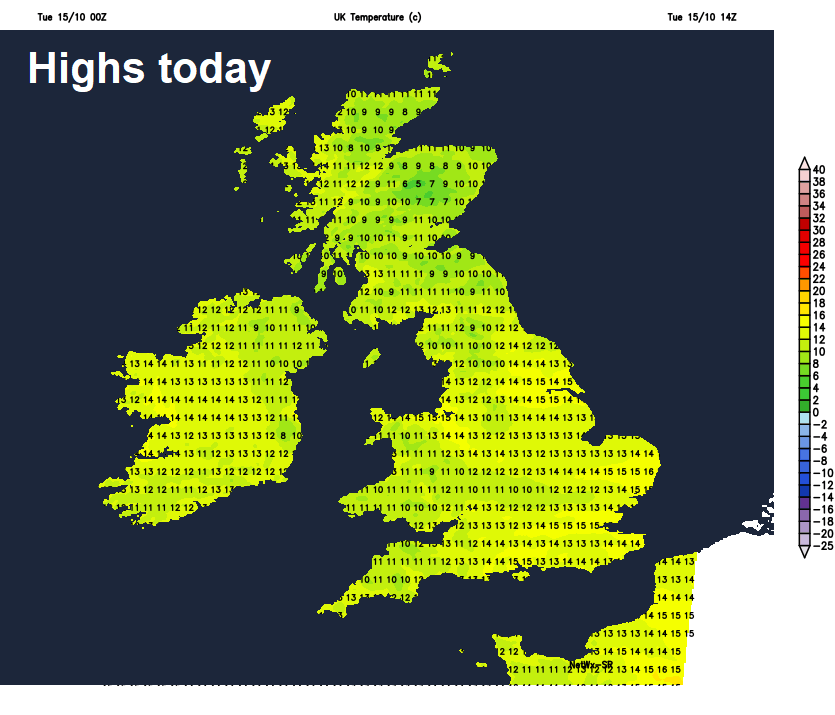 Tonight
A band of rain and strong winds along a frontal system, rain heavy in places, will push east in across the island of Ireland this evening, reaching SW England and Wales before midnight. The rain band accompanied by gusty winds continues east across most parts by the end of the night, apart from the far northeast of Scotland. Dry with clear spells before the rain arrives, following the rain clearing skies across the southwest and far west.