It's the autumn equinox tomorrow, the start of astronomical autumn, and the weather seemingly wants to play its part in marking the arrival of autumn too. After a week of high pressure in charge, with many places dry, sunny and warm by day, a breakdown to unsettled conditions is already underway. High pressure that's been over us retreats east to eastern Europe over the next few days. This allows Atlantic low pressure systems to take over the reins over our weather. So, from today and through the coming week and perhaps beyond it is looking changeable across all parts, as a series of Atlantic weather systems rattle in off the Atlantic, bringing spells of wind and rain or showers at times, cooler too than the last few days, though there will be some drier and sunnier spells too. Fuelling the return of unsettled weather off the Atlantic will be the remnants of ex-Hurricane Humberto arriving to the west by Tuesday, though no more than spell of wind and rain for many.
Today
For now, the breakdown of the recent settled weather is coming in with a bang this morning across parts of central and NW England – where there has been thunder and lightning waking some up from quite early on, just when some want a lie in.
A band of heavy and thundery rain is quite extensive across NW England and SW Scotland, which may cause some localised flooding. Thundery showers trail southeastward from this large area of rain across the Midlands and SE England. This band of thundery rain or showers will continue to spread north across northern and eastern England and up into southern Scotland through the morning, in what is plume of quite warm and humid but unstable air. Further west, a band of heavy and perhaps thundery rain in association with a cold front moving into the west will spread north and northeast across the island of Ireland, Wales and southern England through the morning too. In between these areas of rain will be some drier and brighter conditions. Northern Scotland mostly dry and bright this morning, apart from a few showers in the west.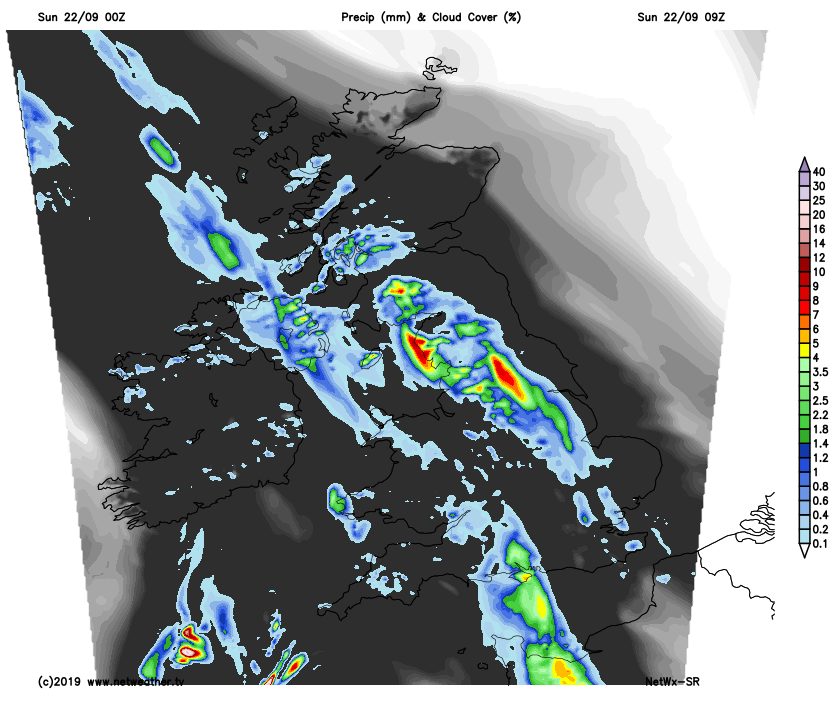 Through the afternoon, many areas at risk of catching a spell of rain, locally heavy and thundery, or perhaps a heavy thundery shower passing through. But there will be some drier and bright or sunny spells too. Temperatures reaching 17-18C across Scotland, N. Ireland and NE England, elsewhere, across England and Wales, a warmer 19-24C, highest temperatures towards eastern England – where it will still feel muggy.