Monday 23rd September marks the Autumn Equinox when both the southern and northern hemisphere have an equal amount of daylight. For the northern hemisphere, this means the start of astronomical autumn, with a shortening of daylight hours until the winter solstice on the 21st of December. In the southern hemisphere, it's the start of astronomical spring. The Equinox occurs at the start of astronomical Spring or Autumn when the sun is directly in line with the equator. The autumn and spring equinoxes occur because the Earth Spins on a tilted axis. The tilt means that for half the year (Spring Equinox to Autumn Equinox) the north pole is pointed towards the sun and receives more light than the south pole in the same period, hence is never gets truly dark in summer in far northern latitudes. For the other half of the year (between Autumn and Spring Equinox) the south pole is pointed towards the sun – so southern hemisphere has its summer during our winter.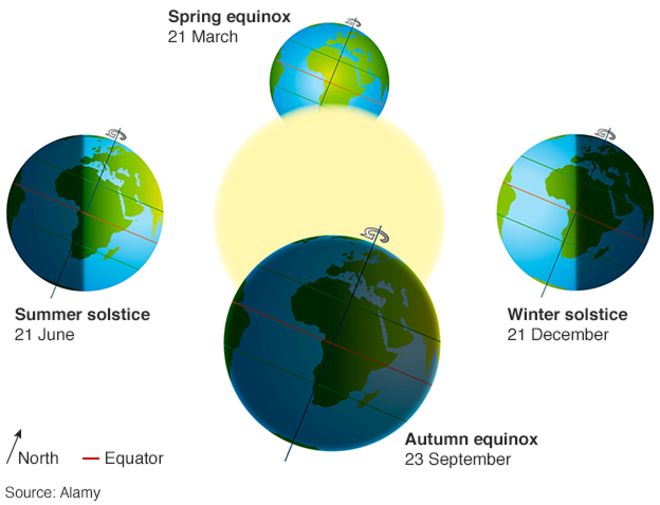 The weather seemingly wants to play its part in marking the arrival of autumn too. After a week of high pressure in charge, with many places dry, sunny and warm by day, a breakdown to unsettled conditions is expected to start in the west later today, before working its way across all parts on Sunday. High pressure that's been over us retreats east to eastern Europe over the next few days. This allows Atlantic low pressure systems to take over the reins over our weather. So, from Sunday and through next week and perhaps beyond it is looking changeable across all parts, as a series of Atlantic weather systems rattle in off the Atlantic, bringing spells of wind and rain or showers at times, cooler too than the last few days, though there will be some drier and sunnier spells too.
Tracking Humberto since early Thursday through its transition into an ex-tropical low and its track towards the UK for early next week
Wrapped up in these unsettled conditions will be the remnants of ex-Hurricane Humberto, which made a close encounter with Bermuda during the week, and is currently a fairly deep extratropical low off Canada's Atlantic coast. The low hitches a ride on a fairly strong and increasingly zonal (west to east) jet stream and tracks east across the Atlantic towards the UK for early next week. The jet stream has been meandering this past week, keeping low pressure systems at bay. The low will deepen a little as crosses the mid-North Atlantic, before filling as it approaches the west of the British Isles by Tuesday.