Hurricane Dorian has made the headlines this past week, following its slow rampage across the Bahamas earlier in the week as a category 5 storm during its strongest phase, leaving 30 dead and flattening entire communities on the islands. The last few days has seen Dorian take aim at the southeast U.S. coastline as it finally picked up forward speed and headed north, bringing flooding to downtown Charleston in South Carolina. Dorian made landfall over Cape Hatteras in the Outer Banks of North Carolina's Atlantic coast today, where hurricane force winds have been felt and also a storm surge bringing flooding to low lying areas.
Dorian will exit stage right, before continuing northeast off the eastern seaboard, bringing Tropical Storm impacts to coastal northeast U.S., before paying a visit along Canada's Atlantic coastal areas, bringing strong winds, heavy rain and rough seas to Nova Scotia and Prince Edward Island on Saturday, then affecting New Foundland Saturday night into Sunday.
Dorian will then lose its tropical characteristics as it then moves out over the far North Atlantic ocean, the low pressure remnants of ex-Dorian tracking northeast between Iceland and Scotland later on Tuesday, but forecast as a normal and not particularly deep low pressure system, bringing some wet and windy conditions across northern Britain on Tuesday night, perhaps some large rainfall totals on western slopes given the appreciable tropical moisture wrapping up into this low off the Atlantic. The rain reaching southern areas on Wednesday morning.
Track of Dorian over the weekend and into early next week as it crosses the far North Atlantic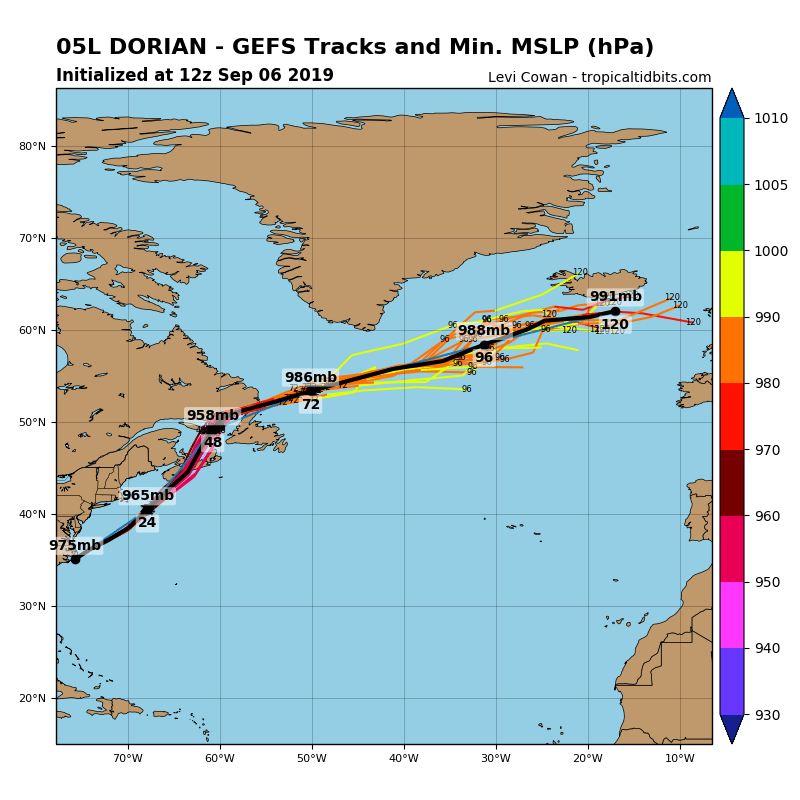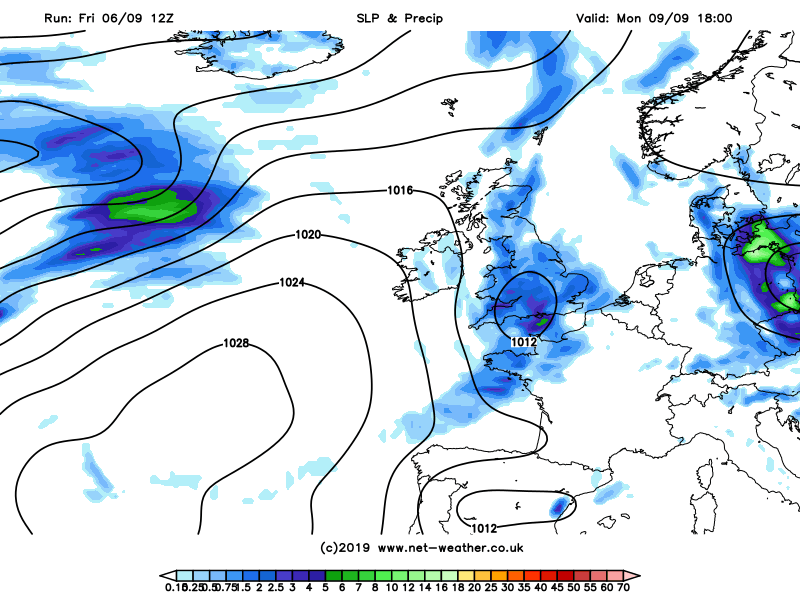 The Daily Express yesterday had a story that Dorian is headed for the UK, well it looks to pass to the north, but will bring some wet and windy conditions, but not likely "…heading to Britain to unleash storm hell..." as the story mentions.