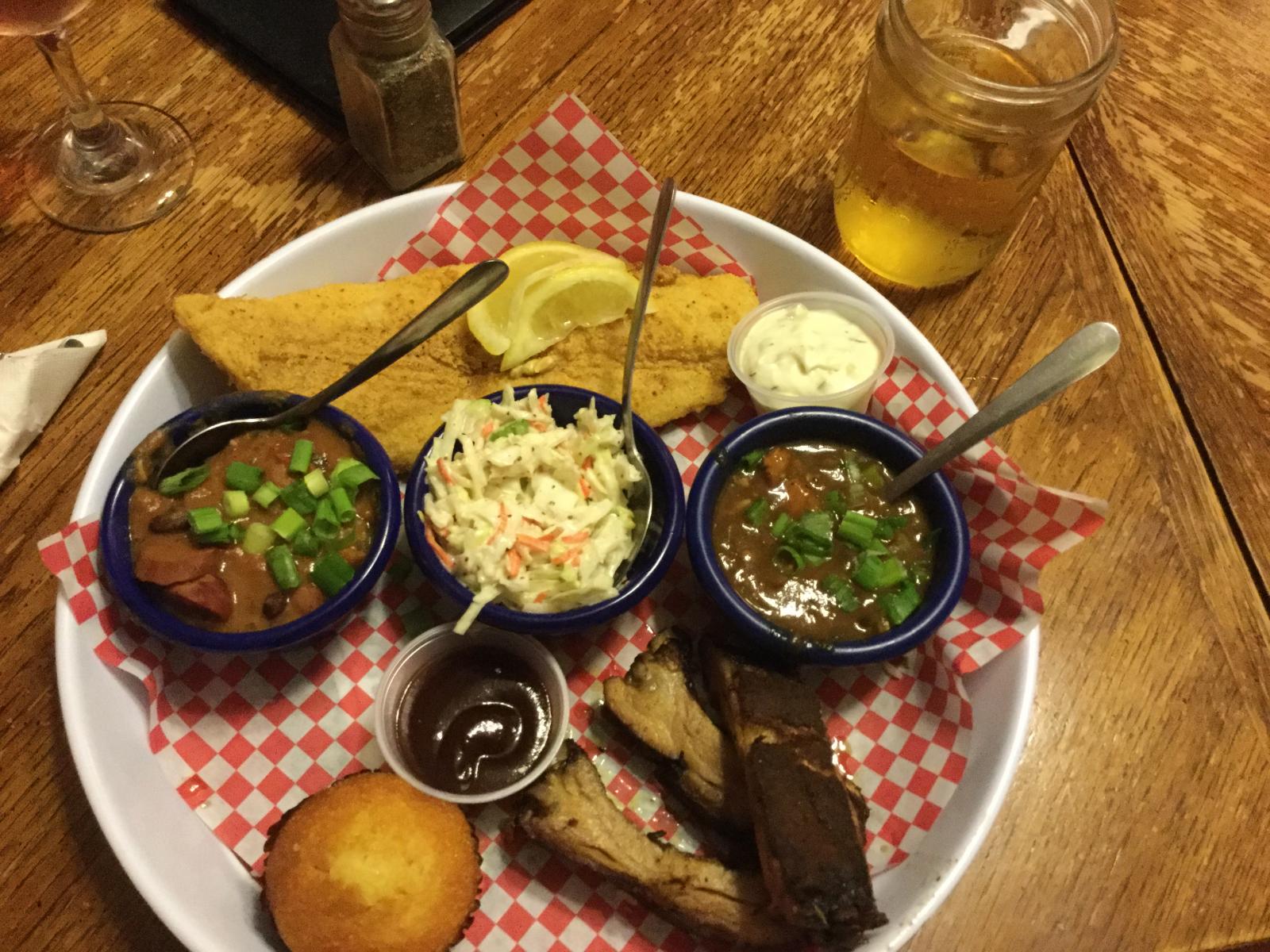 Money and mobile data. The main financial outgoing is food and drink on the trip. Meals are taken all together or grabbed from a takeaway such as Subway for lunch. You pay for your own food and for sit down group meals, everyone gets their own check. USA doesn't use chip and pin much, they still do a signature and there was at least one cloned card on our trip, maybe from a gas station. If you withdraw money from the ATMs it's cheaper to use a Debit card than a Credit one but the fees varied greatly by location. $2.70 to $7 that I saw out on the road. Hotels may insist on seeing a credit card if you add your own extra days to a tour, even if pre-paid. Some people had cash travel cards and really liked them. I had one from the Post Office but I'm not convinced by its usefulness. The customer service was only available by (international) telephone, in this day and age.
UK mobile providers varied greatly in their provision for North America. EE and Three's Feel at Home seemed to offer fair deals, Vodafone really don't. Nearly every restaurant and each hotel had free wi-fi, so if you do want to turn the phone signal and mobile data off, you can still function. Some people bought extra cards or had good enough deals from their UK provider. Verizon seems to have one of the best signal coverages in the US, you can purchase your own data package. The lead car will have wi-fi but there can be connectivity and multi-usage issues. The most important thing is that the Weather Holidays team can have the fastest and best data updates when they need it most, so ensuring that you have your own data plan won't slow up the internet speed at crucial moments.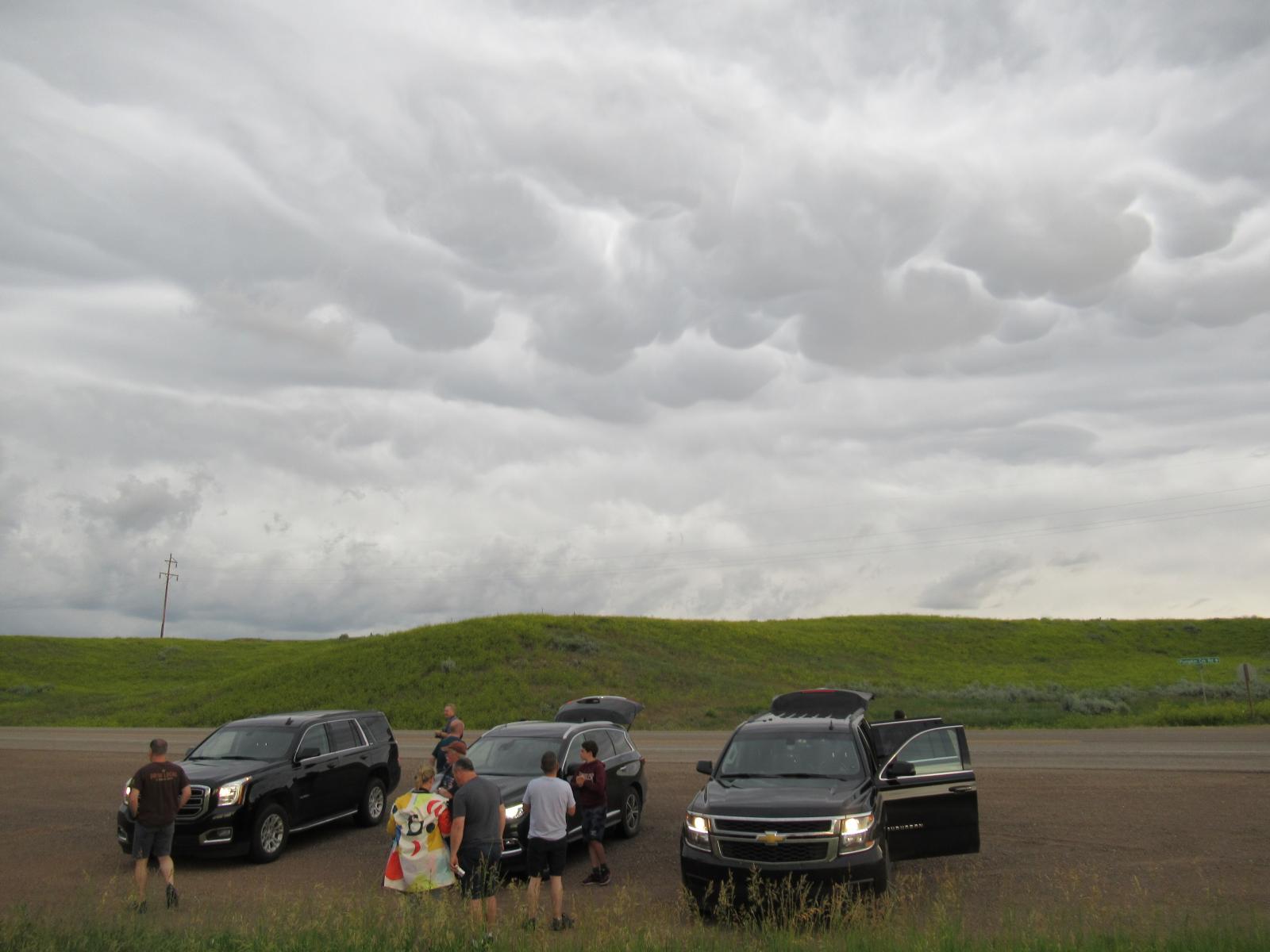 Packing your bags
This list is based on packing a standard size suitcase. All of the luggage comes in and out of the cars each day and you have to move it to your room, sometimes upstairs. Ideally, have one easily manoeuvrable suitcase to be stored in the boot and a day bag to keep handy in the car
Suitcase – the size and style depend on what you're bringing along. Mine was 65cm high, others depended on size of tripods, which were packed along the inside.
Graham "We are all different and some people might be happy bringing absolute minimal stuff and washing their clothes every night! Whatever suits you, we are happy but please do not bring 2 suitcases as we do not have the room in the cars! "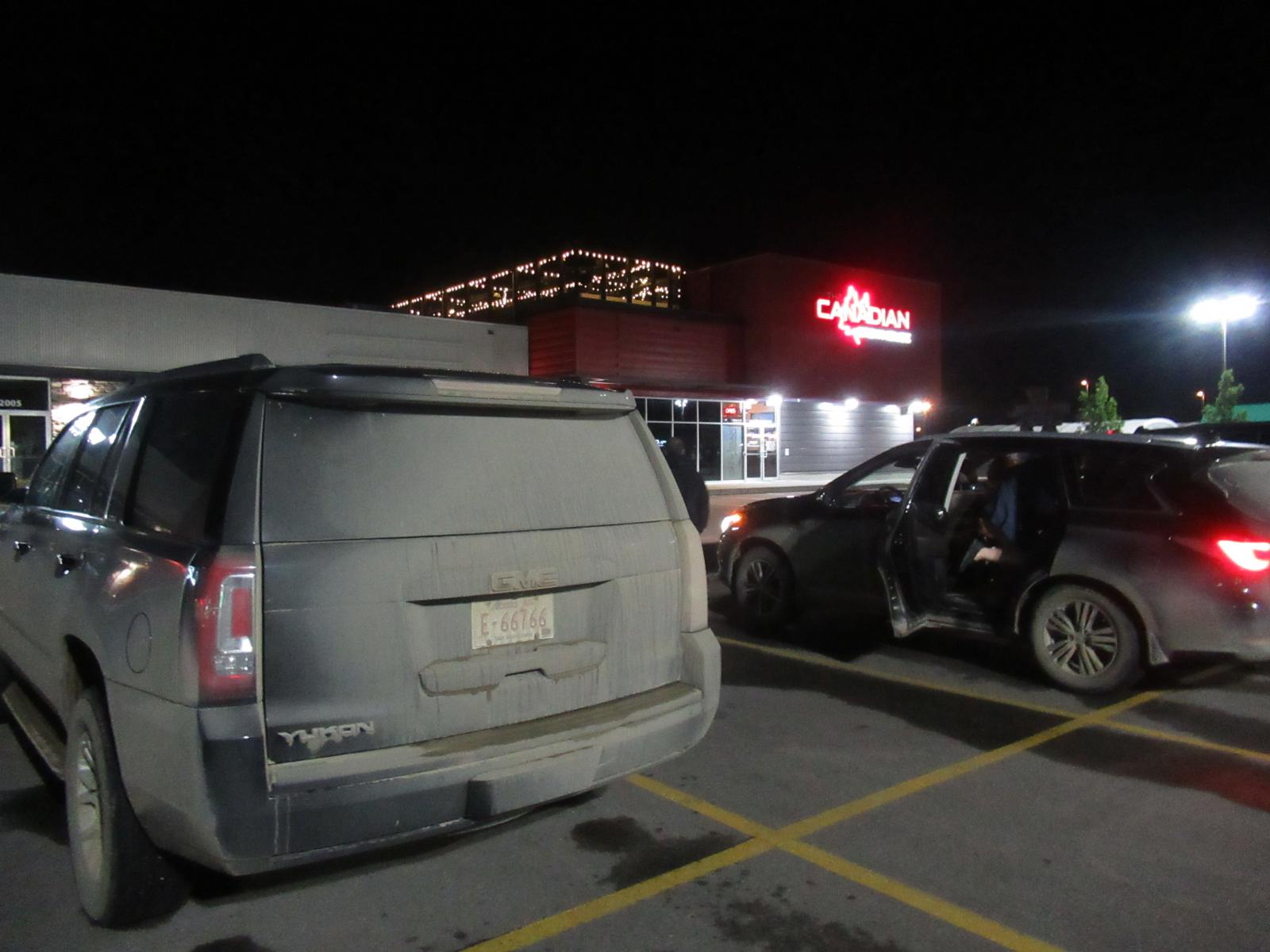 After chasing along dirt tracks
Clothing - Bring comfortable clothes, you will be sitting for a long time, travelling. It will be very warm, yet can be cold in the air-con, so a light cardigan may help heading into restaurants or depending on who is in charge of the car temperature. Those zip-off cargo trousers are ideal, as long shorts for most of the day, then re-attach the bottom sections if mozzies appear later. Or if you head into long grass to take photos, to avoid ticks. Wrecking farmers crops is not on, whatever you have seen in the movie Twister. Having plenty of pockets is also ideal, for a phone/camera, sunhat.
Graham " Remember, you're on a 10-day storm chasing trip which usually means you are away from the UK (or whatever your origin is!) for around 12 days so make sure you have enough to go around! 10 T-shirts can be excessive, but I always use the n + 1 formula, n being the number of days you're going + 1! This way you have a spare. A pair of jeans may be a good choice in case we go somewhere nice for a beer. "
A fleece/jumper. It can turn cooler, as the skies darken, after precipitation, or at nighttime if watching lightning. It's also handy for the plane, or if you are delayed, so don't pack it away too well. (a scarf and sleep mask too whilst flying).
Pack a lightweight rain/wind jacket. No-one spends too much time out in the rain, but the wind can get up, say with a cool outflow.
Polarised sunglasses cut out most of the UV rays allowing a better view of the storm structure. A sunhat, for UV protection and against bugs.
Many motels do have a laundry room with large industrial sized washer and driers. However, we often didn't get in til late and had some early mornings. We did manage to do two washes on the 11-day tour but do pack with some leeway. The machines take quarters so keep hold of any you get in change. The wash is generally $2 (8 quarters) and a dry tumble is about the same. In Canada, it was $1 25 and I had packed some washing powder and a laundry net.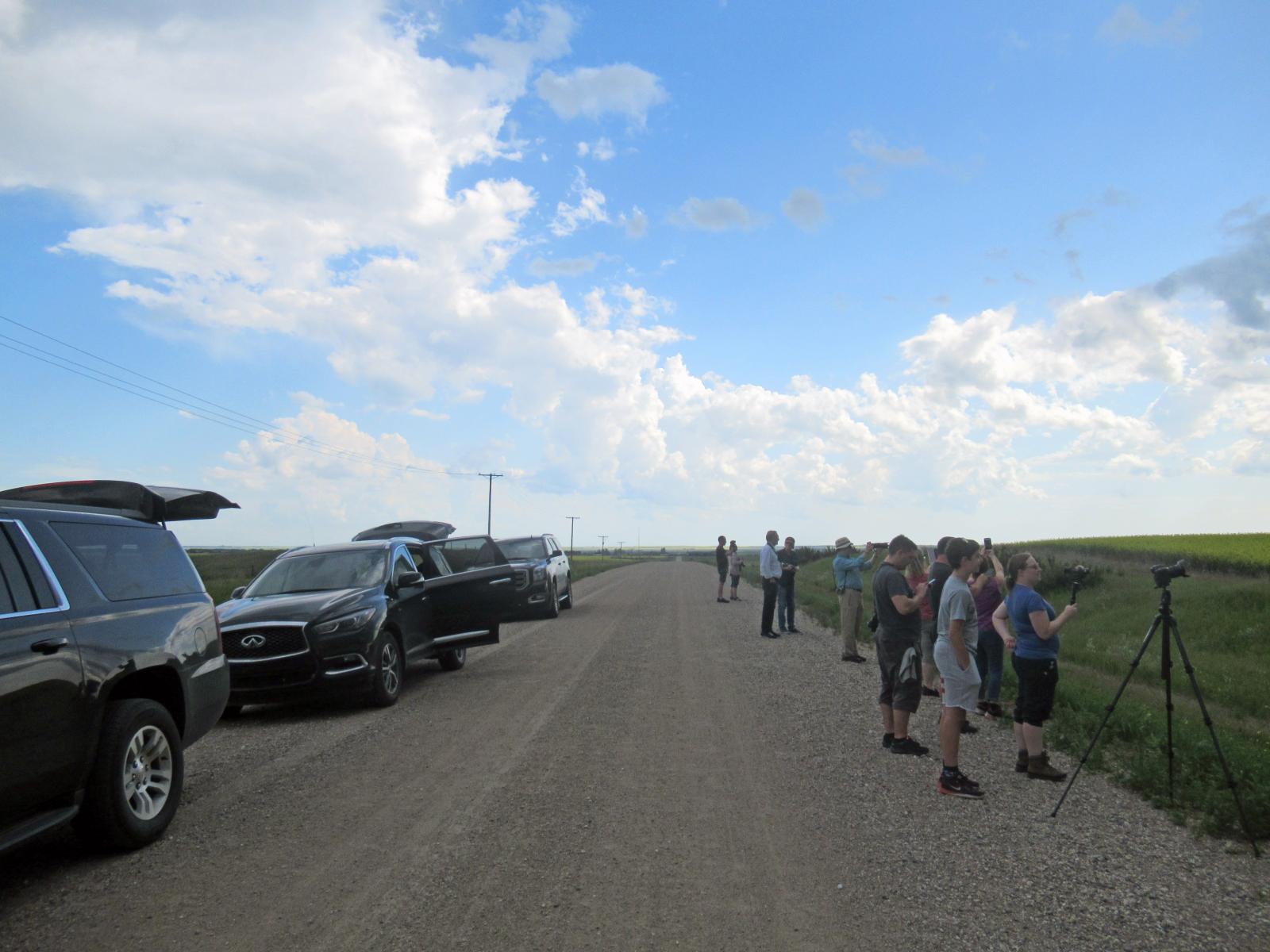 Equipment – You may have a phone, kindle, tablet and camera/s along with all their charging cables, even a laptop for downloading your photos or videos as you go. It is worth tidying up your photos a bit each day or you will have a mammoth task once home. Data transfer cables maybe included already but do pack a 4-way strip plug with one USA adaptor. You could bring a spare adaptor and a power pack for your day bag.
There are people with tripods and those without. Mobile phones can take cracking shots as can a point and shoot compact. The panorama shot function on iPads or smart phones is very useful to get images on entire storms and storm structures. However, good lightning shots and time-lapse videos are impossible without a tripod. Some people use a lightning detector, on top of their camera, with varying success. Camera wide-angle lens to capture the whole sky, some take two cameras with a medium zoom and a super wide one. John Finney who runs photography courses on certain tours takes 14-24mm and 24mm-120mm lenses. A telephoto lens could be a third option but that's then a lot of kit. Cable/remote release, lens hood and cloths. At least an f/4 lens to get lots of light as the skies can get quite dark under stormy skies.
Graham's Camera gear – Tripod x 2, DLSR x 2, GoPro x 1 with a suction cup mount – Batteries, memory cards etc.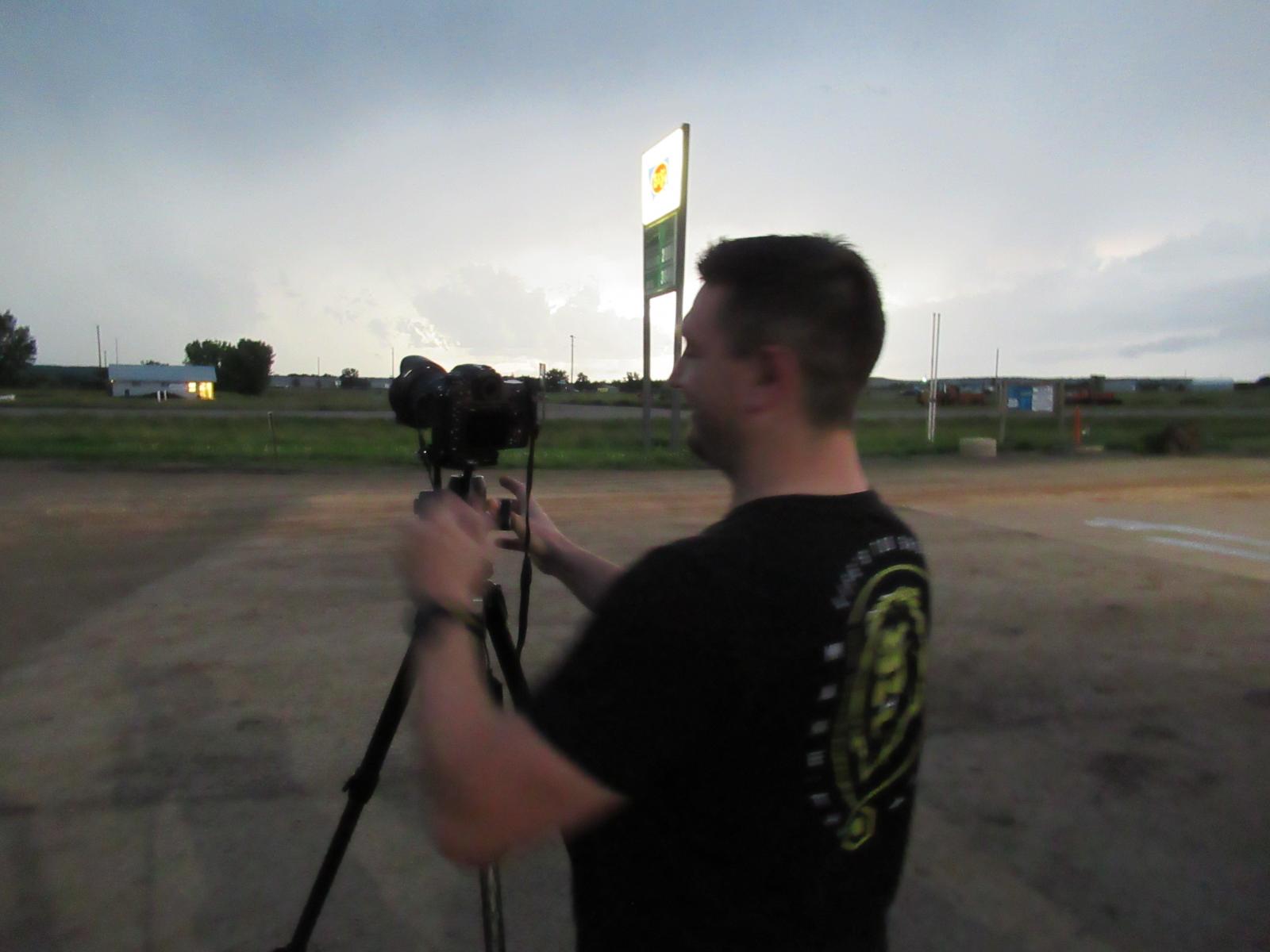 I took two cards and swapped the storm chasing one out at the end of tour and had a new one for my touristy days afterwards. I also used my iPad. You are on the move a lot and it was amazing that nothing was left behind. Losing your photos if you aren't downloading them each night, would be devastating.
Check what your airline says about camera batteries, where they should be stored.
Travel - Downloads from Netflix, games, audible books and headphones may help on the longer journeys, although there is always plenty of chat.
Graham "Remember, you are on a 10-day chasing trip, sitting close to strangers (who will become your new BFF's!) for nearly 2 weeks in close proximity – for the love of God, have a shower in the morning! "
Earplugs and a sleep mask, maybe a travel pillow. If you are worried about travel sickness, do know that the roads and cars in the US are large and straight. Travel there is not like heading through the UK countryside. The roads are mostly wide/straight/level and disappear miles away on the horizon. The cars are huge, so it is a steady journey. You may want to pack travel sickness remedies, nab the sick bag off the plane and pack diarrhoea tablets, although watching what you eat at gas stations might be a better option.
Sun cream – You'll spend most of your time in a car or outside. The back seats had tinted windows but not the front, so watch bare arms or uncovered ears. If there is a breeze it can feel more comfortable, but the sun is strong whatever the temperature or even with some cloud cover so just put it on early.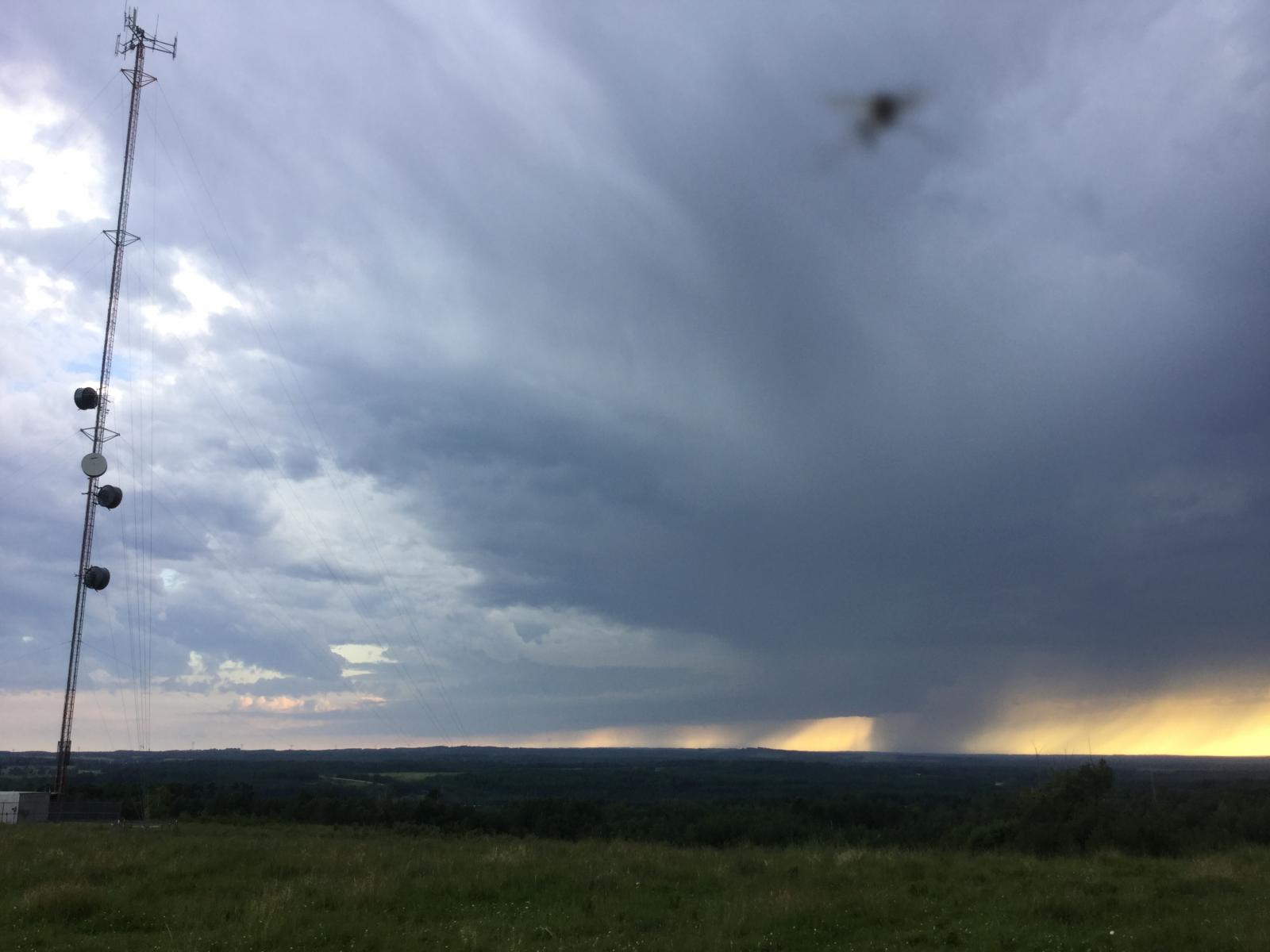 Mozzie photobomb
Bug spray – insect repellent, sometimes is buggy! You can buy in Walmart or bring it from home and keep it to hand. I had mine in the side pocket of my day bag, just put it on early, then they can choose to bite other people. Bite cream is useful.
Shoes – Trainers were fine, but I did take some shoe sandals as an airy change for breakfast and occasional evenings. Some wore walking shoes, those jumping over fences for photos. There can be puddles or hail but most of the time it is warm and sunny. Walking boots might be too hot. One guy had cowboy boots and really looked the part. Protecting against cactus, rattlesnakes, red ants and other insects. No flip flops as you may be asked to in the car quickly and tripping over flimsy sandal could hurt and delay the chase.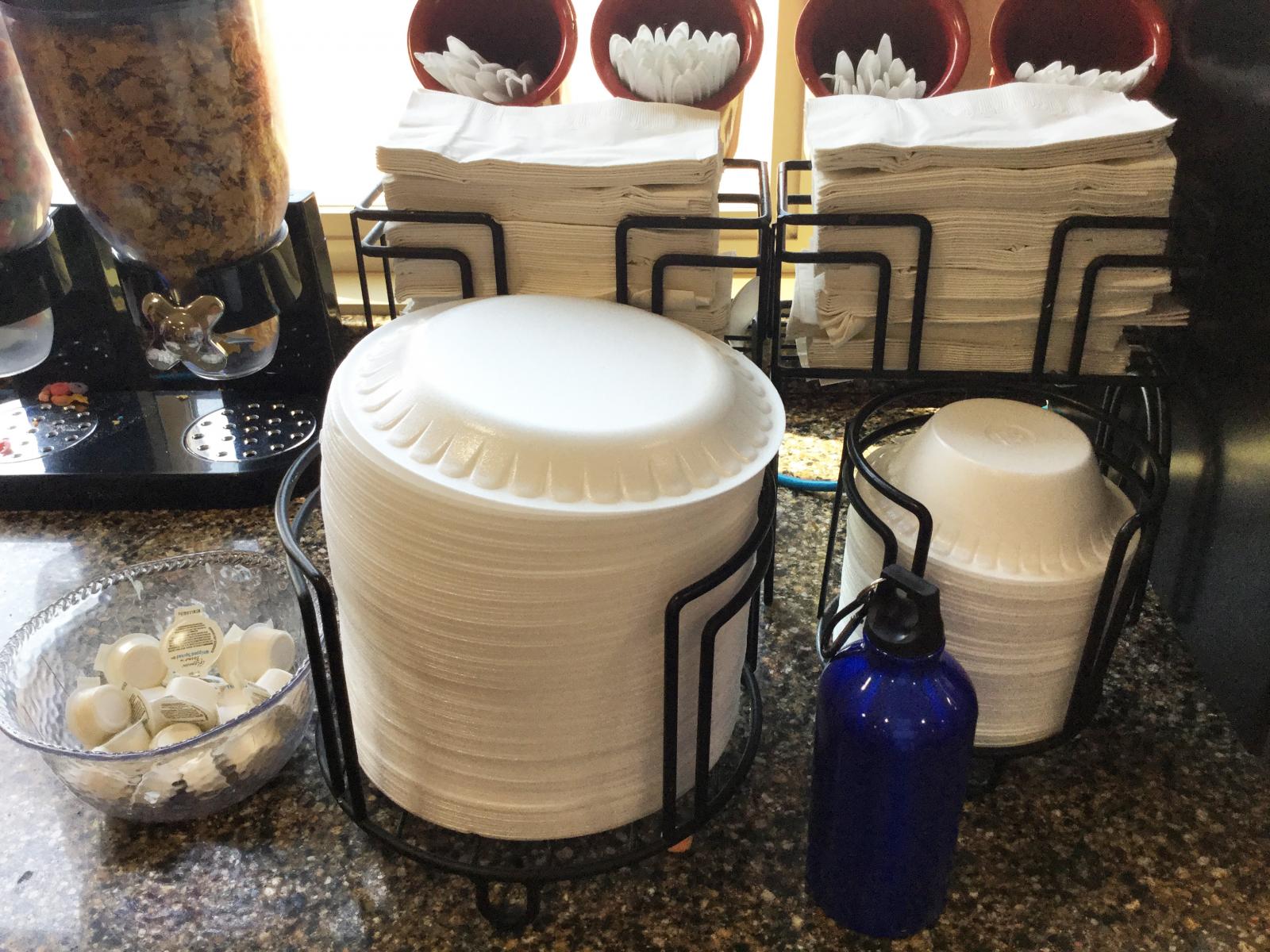 Other stuff
Reusable crockery, refillable water bottle. Do your bit for the war against plastic. Polystyrene plates and cups at breakfast and plastic cutlery are omnipresent for US motels. Take a reusable cup and plate. If you are packing snacks, do remember you can't arrive in the US with fresh fruit, so eat that apple in your hand luggage. Tea bags, a printed map of the states to plot your progress. It seems the motels provide towels, I packed one travel towel. RadarPro app, a bottle opener. I took multi vits and Vitamin C tablets as food on the road can vary. When you do stop at a restaurant and get a great meal it makes you appreciate it.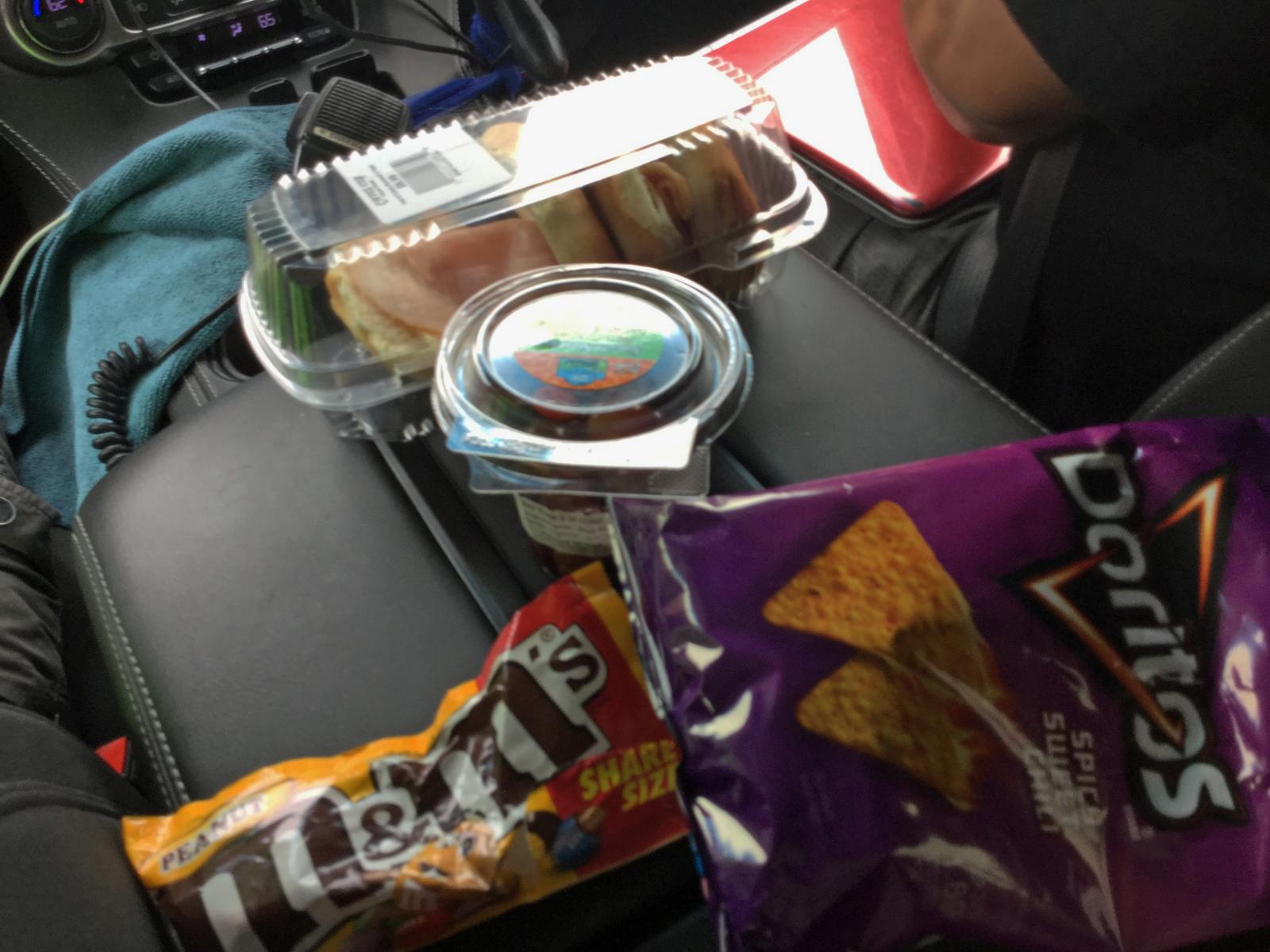 Michael Fish "You don't need anything special except maybe mosquito spray. You never venture far from the van. just t-shirts and trousers (to protect from rattlesnakes!!!) Obviously, a good camera. The ability to eat masses of junk food and large steaks. A hat. Patience at the immigration queue! Enjoy. I'm jealous and wish I could come with you."