Will it rain in Edinburgh?
The first full week of the Fringe festival starts with a widespread thunderstorm warning over Scotland, Monday to Wednesday. As always this is a risk, not a certainty for every part of the country. There has been some recent heavy rain for Edinburgh with lightning and even localised flooding for other areas further afield. The showers come and go, so take a raincoat or umbrella and keep your fingers crossed, especially if you are off to the open-air military Tattoo by night.
I was sitting next to two Japanese tourists on a flight from Heathrow to Edinburgh last week and they asked, "Is it hot?" Mmmm, depends on your definition of hot. 23C is pushing it a bit in Scotland yet in late July Edinburgh had seen over 31C, very hot for the capital, but the same temperature as the ladies had left back home.
Edinburgh's climate data in August would highlight 9 or 10 days of rain, so a third of the time. Air temperatures in the high teens, say 19C (66F) but plenty of sunshine too. Being tucked into the east of southern Scotland, near to the Forth, the city is protected from the prevailing SW winds but can get stuck in cloudy, cool conditions if an easterly wind sets in.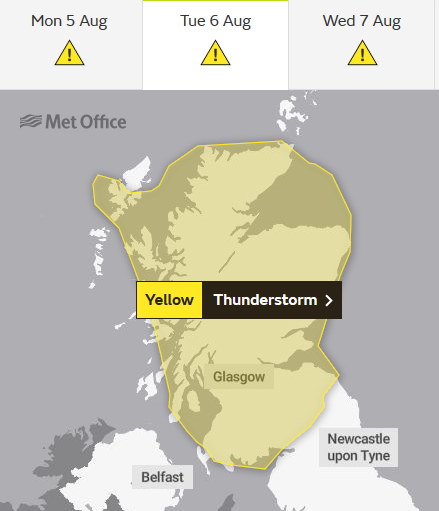 Forecast
It is looking unsettled this week. Temperatures will be around or below average 15 to 19C. A low pressure is moving slowly across the UK, bringing the heavy thundery showers mentioned in the warnings with a lull on Thursday and some drier weather with light winds. Friday will feel quite close but with a brisk easterly wind and a longer spell of rain. You may be walking into a venue from cloudy skies and out to a deluge. The start of next week looks cooler with the winds turning to the north.
The climate crisis and weather seem to feature as much as Brexit in Fringe shows. I saw Pathetic Fallacy @CanadaHub "pathetic fallacy – the attribution of human feelings and responses to inanimate things, like the weather" and tried to see one of the Extinction Rebellion shows at Summerhall but there was some commotion in the basement so it didn't work out. Hopefully all sorted now as their display and exhibition continue to support further shows. Lucy Porter at Pleasance courtyard gave a mention of climate change too in her cheery comedy about Girlguiding and Scouting, Be Prepared. The show list is huge, the possibilities endless.