An uncomfortable night
A close, humid and warm night follows, with temperatures not dropping below the high-teens or low-twenties for many. The highest minimum temperature record could well be broken, with some parts of London and the southeast perhaps not seeing temperatures fall below 24c or thereabouts. The record is 23.9c.
Heat peaking and records set to tumble on Thursday
Thursday is the day the heat will peak, but there will also be the threat of some big downpours and thunderstorms. Should any storms start to develop in eastern and central parts earlier in the day, temperatures may not reach record-breaking levels, but at this point, that looks unlikely. By mid-afternoon, temperatures are therefore set to widely climb into the thirties in central and eastern regions, with maxes of 38-39c likely in the east and southeast.
Further west, there is a risk of some showers and thunderstorms developing from the south fairly early in the day, but this isn't certain. By the afternoon or evening though, there are likely to be some storms and downpours affecting western regions. That threat then starts to extend further east during the evening and overnight. Some very lively storms and torrential downpours are possible with plenty of energy in the atmosphere for them to tap in to at this point.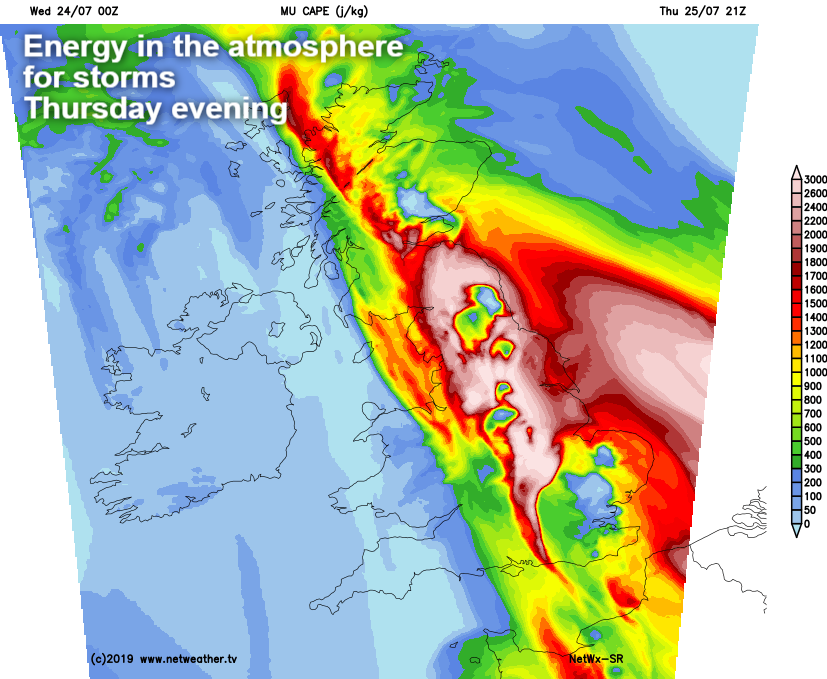 By Friday, there'll still be some heat in eastern regions high will reach 25-28c quite widely, with 29-31c possible in the southeast. Further west, a fresher 18-23c will be more typical. Through the day, there'll be the ongoing risk of thunderstorms and heavy showers, but with some bright or sunny spells to go with them.
Looking ahead to the weekend, more thundery rain will affect a good part of the country at times. The southwest and southern half of Wales may fair better and avoid much of the rain with just a scattering of showers and lots of warm sunshine. Temperatures will vary quite widely as under the cloud and rain maxes of 16-19c will be about your lot. But in the sunnier southwest, 22-25c isn't out of the question, as it isn't during any sunnier periods elsewhere too.