Tonight
Some more organised showery rain moving in across Ireland this evening will continue to spread east across northern, western and central areas later this evening and overnight, heavy in places, with perhaps the odd rumble of thunder. Drier across southern England, with clear spells. Everywhere warm and muggy overnight, temperatures no lower than 13-16C generally.
Thursday
A warm and humid day on Thursday, rather cloudy across northern areas again, with scattered slow-moving heavy showers and thunderstorms developing into the afternoon across eastern Scotland and northeast England. Elsewhere, scattered showers almost anywhere, perhaps locally heavy and thundery towards the east. But some will stay dry, particularly across central and southern areas – where there will be some warm sunny spells. Temperatures widely reaching 20-22C and feeling rather muggy too in light winds, perhaps 23-24C across SE England and East Anglia. Cooler across the far northwest.

Friday
Low pressure across the north on Thursday will tend to move away to the east of the UK on Friday, but will exert enough of an influence to allow further scattered heavy and perhaps thundery showers to develop across eastern areas of Scotland and England, drier and sunnier towards the west. Temperatures reaching 17-21C in the north, 21-23C in the south.
Weekend
High pressure builds in from the west on Saturday, the centre of the high moving in close to Ireland, so many areas are looking largely dry and fine with variable cloud and sunny spells, cloud bubbling up across northern, central and eastern areas to allow a few showers, perhaps heavy, to develop into the afternoon.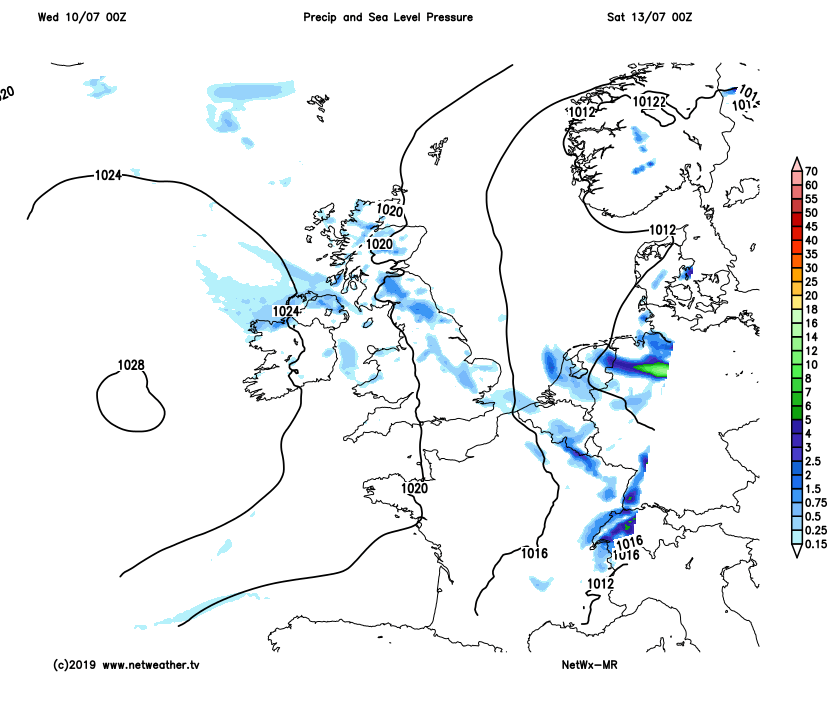 Sunday is looking largely dry with sunny spells for most, as high pressure drifts east across the UK, though the odd shower can't be ruled out across central areas. Temperatures both days ranging from 19-21C in the north to 22-25C in the south.