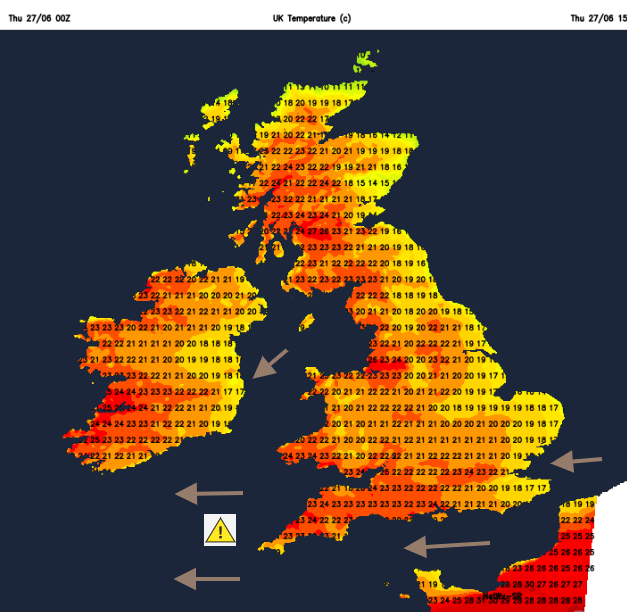 Again, on Thursday night the cool air moves in from the North Sea with low cloud. Western areas stay a bit warmer but the winds will be fresh and gusty, particularly for Devon, Cornwall and NW Somerset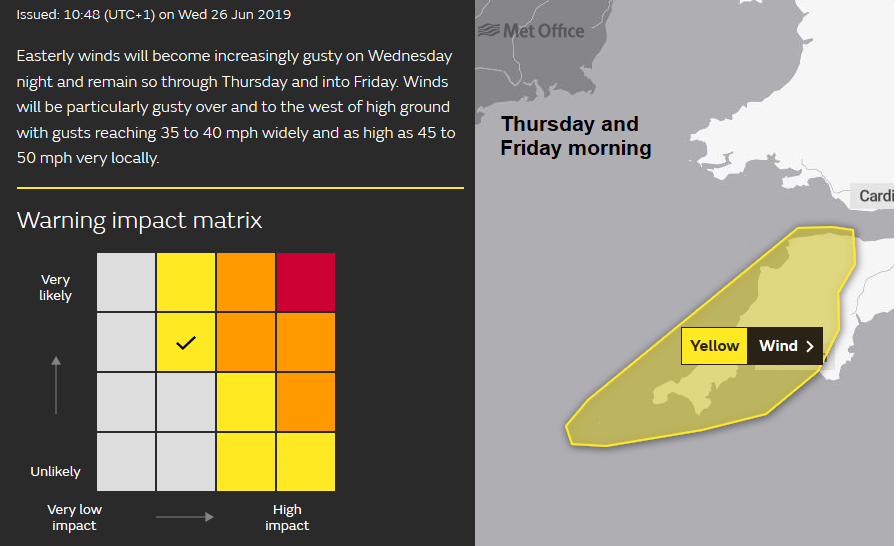 A windy start on Friday for Northern Ireland, Wales, SW England and English Channel coasts with high gusts for western Wales first thing. Gusty too over the Moors of the SW during Friday. The high is over the North Sea and a low pressure is developing out in the Atlantic. This will throw weather fronts over Ireland with the risk of a shower for Co. Fermanagh maybe Cornwall for the end of Friday. One of these, a cold front will be quite key to changes at the weekend.
Friday will be the peak of the heat for western Britain and Northern Ireland, Saturday for eastern Britain. 30C is expected around the west country on Friday and low 30sC possible for London or inland SE Britain on Saturday.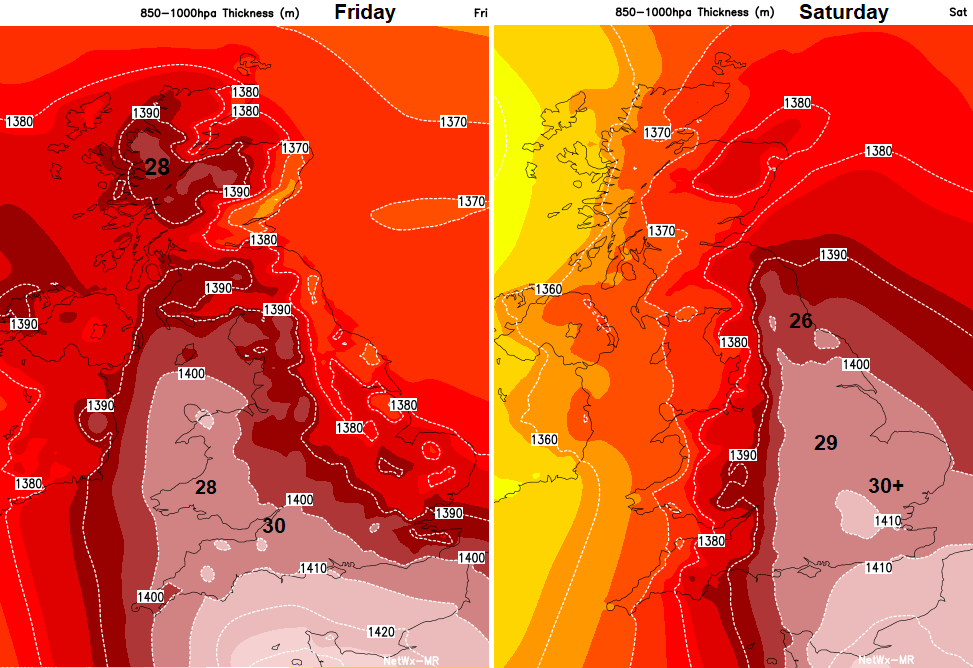 What changes?
On Friday the very warm humid air, which has travelled from North Africa, across Spain or France, been heated by more sunshine, reaches SW Britain and pumps up through Scotland. The North Sea follow is still having some effect for the east coast and again Friday night although it looks warm and muggy for SW Britain and Northern Ireland.
The wind veers to the south for Saturday, finally easing off for North Sea coasts and that cold front edges over western Britain. It will bring some showers, hit and miss who gets them but it does shift the hot and humid air away from Ireland and Western Britain further east. With more sunshine, even hotter air Saturday could see temperatures of 34C Hertfordshire, Bedfordshire, London looking like the most prone area. A sultry evening for the eastern half of England with the risk of some sharp showers along the frontal band stretched north-south through Britain moving east on Saturday. Keep an eye on the Netweather Radar at the weekend.
Sunday
A fresher feeling day with a blustery west wind. There will be sunny spells, showers from the west and a more comfortable 23C in London and cooler elsewhere.